Rank: 2012 NFL Draft QB Prospects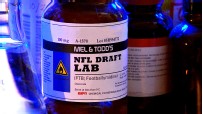 Who tops SN's Draft Lab charts?
Who is the top QB in the 2012 NFL draft?
There are plenty of big names at the quarterback position heading into the draft, but who gets your No. 1 vote? Is Andrew Luck a "can't miss" prospect? Or do you prefer the athletic ability of Robert Griffin III? And where do you rank 28-year-old Brandon Weeden?
Below we've listed the top college prospects according to our experts. Click on each player's photo to submit your rankings. And don't forget to watch Mel Kiper and Todd McShay's "NFL Draft Lab" on "SportsCenter" (Feb. 13-18), where they'll give you a Top 5 ranking each day!
More rankings: Running Backs | Receivers/Tight Ends | Back Seven | Trenches


Rank: 2012 NFL Draft QB Prospects

Andrew Luck


Robert Griffin III


Brock Osweiler

Brock Osweiler
Arizona State

Ryan Tannehill


Brandon Weeden

Brandon Weeden
Oklahoma State

Nick Foles


Kirk Cousins

Kirk Cousins
Michigan State
Your Rankings
1.

2.

3.

4.

5.

6.

7.