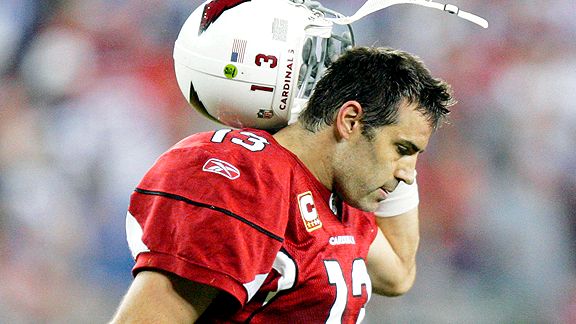 They said all week long Kurt Warner wasn't the type of guy to call a press conference to announce he was returning next season. They were right.
The 12-year NFL veteran with over 32,000 passing yards and a 65.5 percent completion percentage called it quits on Friday after a productive season in which he led the Arizona Cardinals to the divisional playoffs. In a refreshing change compared to another recent future Hall of Famer who waffled with retirement well into the offseason, Warner made the announcement 83 days before the NFL draft. He leaves the Cardinals with ample time to figure out their quarterback position which right now rests in the hands of Matt Leinart.
"

Warner a future HOF player deciding on his future and letting his team plan way ahead. Always the class act showing what the REAL greats do, he conducts himself with such dignity to him and to his peers, something you cannot say about Favre. I will be honest, I thought he was the product of the Rams system and never thought he would amount to much (even with a ring on his finger), now how many of us were proven so wrong. Favre should be ashame to see what a true LEADER is all about. Whatever you do Kurt wish you the very best, you deserve it because of your commitment to the game, to your community and the fans you have even from other teams. Look in the thesaurus the words CLASS and WINNER, there should be picture of Kurt Warner.

"

-- aioria_de_leo
"

On one side of the curtain will be Kurt Warner's retirement press conference.... On the other side, Michael Vick's "Welcome to Arizona" press conference...... Can you see it????

"

-- tjdixon81
"

Well Kurt, you might be a class act, but as a 49er fan, I believe I speak for all the "Faithful" when I say.......good riddance!......you'v e been a pain in our butt for too many years now, let's get the Leinart era going so the 9ers can get back to OWNING the division again!

"

-- forty9rfaithful
BEST OF THE BEST
Best triple-double?
Who had the best triple-double -- Michael Carter-Williams, or Victor Oladipo? Cast your votes! »