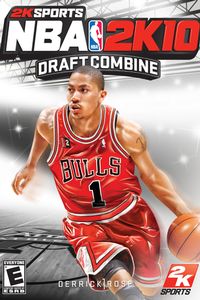 Welcome to SportsNation! On Thursday, Chicago Bulls guard Derrick Rose stops by to chat about the upcoming NBA season and being the cover for a new 2K Sports video game.
The No. 1 overall pick in the 2008 NBA draft, Rose earned the league's rookie of the year award while leading the Bulls and all NBA rookies in assists per game.
Rose is the cover athlete for 2K Sports download-only game NBA 2K10: Draft Combine. The game, available for XBox Live and PlayStation 3, allows fans to create their own draft prospect. Fans take their custom players through pre-draft workouts and drills to improve their draft stock before finally importing the player into the career mode in NBA 2K10, which launches Oct. 6.
Send your questions now and join Rose Thursday at 1:30 p.m. ET!
More Special Guests: Previous chats | SportsNation
Jeff (Bartlett, IL)
What has your relationship with Adidas been like, and how does it feel to have your own signature shoe?
Derrick Rose
(1:32 PM)
It feels good. They are great people to do business with. I feel with them, they can make my career bigger. As far as the shoe, it's not really my shoe. It's the commander and creator. Its nice comfortable shoe and I like it. My shoe signature shoe should be out next year.
Rick (Oakland CA)
Derrick, as a rookie your offense was way better than your defense. What did you do to improve your defense this summer?
Derrick Rose
(1:33 PM)
I did a lot of foot work and agility stiff. I worked on my angles because that's what defense is about, angles.
David (Orlando Fl)
Hey Derrick How are you. What part of your game did you work at most this offseason
Derrick Rose
(1:34 PM)
I worked mostly on my jump shot because I need to have a more consistent jumper next season.
Jeff (Bartlett, IL)
How did you feel the first time you saw your picture on a basketball card?
Derrick Rose
(1:35 PM)
It felt good knowing that I was on a card. It is part of being in the NBA. It's even better being on a video game.
Andrew (Seattle, WA)
Are you a big gamer? did you play video games alot when you were younger?
Derrick Rose
(1:36 PM)
Not when I was younger because I was always in the park. Now that I'm older, I'm a little bit of a gamer. I only play 2K though.
Ryan (Ohio)
Hey Derek, what are your main goals for the upcoming NBA season, and how does it feel to be on the cover of an NBA 2K10: Draft Combine?
Derrick Rose
(1:38 PM)
My goal this season is to win. With winning, everything else will fall into place. Being on the cover of NBA 2K10: Draft Combine is a great feeling. I'm just happy and blessed to have this opportunity.
Patrick (Chicago)
Hey Derrick, we all know you have ridiculous hops. Will we see you dunk the ball more when you get near the hoop this year?
Derrick Rose
(1:39 PM)
(Laughing) Right now in the NBA you want to save your legs for a playoff run. You will only see me dunk when needed but you will see me attack the hoop more often.
Isaac Matthew (Illinois )
What is it like to travel to china and to see anther side of the world and helping children with D-Howard?
Derrick Rose
(1:40 PM)
It was a new experience. It was the first time that I've been overseas. It was great to see how excited people were about the game of basketball. I see why they have so many great players over there.
John Diamond (Chicago, IL)
With losing Ben Gordon, do you think you are ready to put the team on your shoulders, and be the main focal point of the offense?
Derrick Rose
(1:41 PM)
Losing Ben hurt a little bit but it's the NBA. The reason the Bulls picked me is because they were planning for the future. I will do my part and hopefully we will continue to improve and win.
Karen Gibbs (Montgomery Alabama)
Derrick playing for your home team is exciting, but how have you been able to stay so focus?
Derrick Rose
(1:43 PM)
It's my mom. She tells me to stay focused and worry about basketball. There is nothing more important that playing basketball and providing for my family. So she just tells me to stay focused on my goals.
Ben (Memphis, TN) [via mobile]
Derrick, by the end of the 2008 NCAA tournament it would be impossible to find a Memphis fan who didn't worship you. Now, many people are divided. What would you say to the fans who were Derrick Rose lovers who are angry about the recent recent NCAA ruling? Personally, no matter if the ruling is upheld and Memphis has to give up the season or not, it was one of the best years of my life. Thanks Derrick!
Derrick Rose
(1:45 PM)
It was a situation in the past and I would like thank all my fans that were behind me while I was at Memphis and the fans who are behind me while in Chicago.
Mariusz (Birmingham/England)
Hey!! DRose Who better Jordan or James?
Derrick Rose
(1:47 PM)
(Lauhging) Michael Jordan. He had that killer instinct about him. Every time he stepped on the court he made people fear him.
Derrick Rose
(1:48 PM)
Thank you to all my fans for chatting with me. Be sure to go get NBA 2K10 on October 6th!