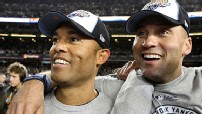 Are Mariano Rivera and Derek Jeter already Hall of Famers?
Which current players would get your Hall of Fame vote?
Not taking future success into account and looking purely at their accomplishments as of today, several players appear to have credentials worthy of Hall of Fame enshrinement. Mariano Rivera and his 600 saves would seem to be a lock, but what about Ichiro Suzuki, who has amassed more than 2,400 hits in just 10 years?
Vote for up to 10 players and compare your picks to SportsNation. Players must earn 75 percent of the vote to make the Hall of Fame.