Borussia Dortmund attacker Pierre-Emerick Aubameyang has told Sport Bild he is aware that his somersault celebrations are "not harmless" after being urged to stop by Gabon's Football Association and medical experts.
Gabon international Aubameyang, 26, has hit 18 goals in 18 Bundesliga games for Dortmund this season, and celebrated several of them with a somersault.
But Sport Bild reports that the forward has now been warned that his trademark celebration could seriously affect his health.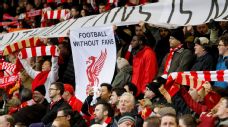 The German...