Commentary
Golf an outlet for contender Harvick
Updated:
October 5, 2010, 3:02 PM ET
By
David Newton
| ESPN.com
MARTINSVILLE, Va. -- Media members and perhaps a few groundskeepers were anxious to see Kevin Harvick drive when he arrived at Chatmoss Country Club last week.
Drive a golf ball, that is.
Unfortunately, wet weather isn't any more conducive to a long-driving contest against a bunch of duffers with notepads and cameras than it is to a stock car circling a track at 200 mph, so the event to promote the October race at Martinsville Speedway was canceled.
But golf is a big part of Harvick's life these days. It's helped provide an escape from a hectic schedule in which there was no balance between work and play. It's made him more bearable to be around during stressful times.
One could argue that if he wins his first Sprint Cup championship this season, that time on the links has made him a better driver.
In the car, that is.
"It provides a lot of relief," said Harvick, who played in four-time defending Cup champion Jimmie Johnson's charity event in San Diego on Wednesday. "If I'm stressed out, I can go to the golf course and get away from it for four or five hours.
"Like at Michigan, I was pissed off after the Nationwide race. I said, 'Screw it,' and went to the golf course down the street and played."
A lot of drivers such as Johnson, Denny Hamlin and Juan Pablo Montoya use golf as an escape.
Maybe Kyle Busch should take up the game, too. It might help him blow off a little steam after Sunday's exchange with David Reutimann that left him seventh in the standings, 80 points out of first heading into this week's race at California.
[+] Enlarge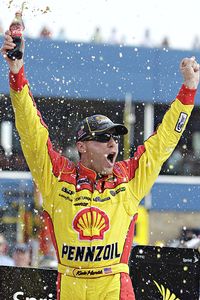 AP Photo/Carlos OsorioKevin Harvick has had plenty of fun on the track in 2010. It's the fun he's having off the track that might make the difference down the stretch in the Chase.
The game certainly has helped Harvick. With the exception of Hamlin in the Saturday practice at Dover and Joey Logano in the Cup race at Pocono, he's much more prone to take his frustrations out on a tiny white ball than an opponent's bumper.
It's therapeutic.
"It can be," Harvick said. "During the summer, it was great. I'm able to go out and kind of relax and meet new people and do something that's obviously very challenging and completely opposite from what I do on a weekly basis.
"I'm still not very good at it, but I enjoy being outside and trying to figure out what I need to do to get better."
It's not important that Harvick isn't the next Tiger Woods or even the next Jason Gore, a PGA player he befriended earlier this year at the Shell Houston Open. It's that he finally has something that takes him away from the stresses and politics of running his own Nationwide and Truck series program and driving full time in the Cup series for Richard Childress Racing.
"It was anything to get him from behind the steering wheel," said Gore, who like Harvick is a California native. "It could have been bowling. Sometimes you just have to step away from what you do.
"Being as competitive as he is, it probably didn't come right away to him. He just finally said, 'Screw it. I'm going to beat this thing.' Now he'll spend the rest of his life trying to do that and never achieve it like the rest of us."
Harvick, who is 30 points behind Chase leader Johnson, didn't care for golf more than a year ago. He thought it was boring, a waste of his precious time that could be spent wooing potential sponsors or building better cars and trucks.
He didn't realize the value of getting away from it all, that there is more to life than driving a race car. Had he, the pains of last season, when he was on the verge of leaving RCR during his worst year since replacing Dale Earnhardt in 2001, might have been easier to handle.
Had he realized it, maybe he would have avoided the one-race suspension he got for a 2002 Cup race at Martinsville after purposely spinning Coy Gibbs in the Truck race the day before. He already was on probation because of a physical confrontation with Greg Biffle at a Nationwide race at Bristol.
Had he realized it, maybe he would have not been so tough on reporters who had to ask him tough questions.
When asked how he used to release his frustration, Harvick stared directly into these blue eyes and said, "I released it on you."
He said this with a smile and a laugh, not the icy glare you saw after he confronted Hamlin in the garage at Dover after ramming Hamlin's car twice and swiping it once on the first lap of practice in defense of teammate Clint Bowyer.
That was one of those moments when Harvick wishes he could have escaped to the golf course for a few days. Unfortunately, he was restricted to nine holes at a Dale Jarrett charity event because of the tropical storm that washed out the long-driving contest in Martinsville.
"I would have liked to have played golf a couple of times, but that didn't happen," Harvick said.
You're probably wondering what Harvick's demeanor is on the golf course. It's nothing like what you might see on Sundays when he's being pressed by 3,500 pounds of machine in his rearview mirror. He doesn't swear -- OK, he might swear -- and he doesn't lose sleep over a bad shot like he would a bad finish.
He takes it seriously, but not too seriously.
"I don't break golf clubs or anything because it's not the golf club's fault," said Harvick, a member of Sedgefield Country Club in Greensboro, N.C. "I get frustrated still, but … if I go out and shoot 100 and quit halfway because I'm pissed off, it really doesn't matter.
"I can't pull over [in a car] halfway through the race and say, 'This is over; I'm going to head on out and see you guys the next week.' It's just a different mindset and approach."
Whether it's golf or simply better cars, there's no denying this could be Harvick's finest Cup season. He dominated the regular season, ending with a 228-point lead over second place before the standings were reset for the 10-race Chase.
He already has 13 top-5s, one shy of his career record and one more than he had the previous two seasons combined. He already has 19 top-10s, 10 more than a year ago and one short of his career best.
But more important, the man nicknamed "Happy" is happier and more relaxed than at any other point of his career.
"He's been on a mission this year to be the best," said Gore, who initiated his friendship with Harvick to get an autograph for his 6-year-old son, who is a huge No. 29 fan. "Sometimes you just need to step away from that and clear the mechanism a little bit."
It helps that Harvick isn't half bad at the game. It didn't take long for him to break 100, and he's shot a few rounds near the mid-80s.
"There are things he can do better, but for only playing off and on and now seriously for eight or nine months, [his swing is] pretty good," Gore said. "It's actually pretty good."
It might have been better had Harvick not given up on lessons before he really got started.
"I got bored, so we just started playing," Harvick said. "That was probably the worst thing that I did. Now I've developed a couple of bad habits I've got to break. But I've got all winter to fix that, right?"
Well, the champion's schedule does get pretty busy.
Harvick smiled.
He knows his chances are pretty good. He was second at California in the spring race and no worse than 13th in his last appearance at the remaining Chase tracks outside of Martinsville, where he finished 35th after starting on the pole. He knows he has the consistency to pull off a championship.
His golf game might need fixing, but his driving does not.
His driving in cars, that is.
David Newton covers NASCAR for ESPN.com. He can be reached at dnewtonespn@aol.com.
ESPN Staff Writer
Covered Panthers, NFL for 11 years
More than 25 years experience covering NFL, college football and NASCAR
Joined ESPN in 2006