Commentary
A little research turns up a few interesting trends in NASCAR
What kind of sport is NASCAR heading into 2009? A little numbers crunching reveals some interesting trends, writes Terry Blount.
Updated:
December 23, 2008, 7:44 PM ET
By
Terry Blount
| ESPN.com
As Christmas looms, a lot of unknowns remain about the 2009 Sprint Cup season.
Some drivers and teams still need a few things on their Christmas wish lists to come true if they hope to compete on a full-time basis next year.
[+] Enlarge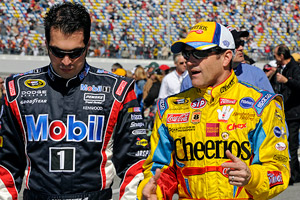 AP Photo/Paul KizzleSam Hornish Jr., left, and Bobby Labonte are from outside the typical NASCAR realm of the South. But is the South now typical NASCAR? The numbers don't appear to support it.
What's happening with the No. 43 car and Petty Enterprises? Will the new owners of Bill Davis Racing field a Cup car in 2009?
Will Bobby Labonte sign with Earnhardt-Ganassi Racing? Will drivers AJ Allmendinger, Scott Riggs, Regan Smith, Tony Raines and Dave Blaney find work?
Will Yates Racing, Earnhardt-Ganassi Racing, Gillett Evernham Motorsports, Michael Waltrip Racing and others find the additional sponsorship needed for fully funded operations?
Will the auto manufacturers' bailout help keep all the automakers in the sport over the long haul?
This December might be remembered as the time of greatest uncertainty in NASCAR's history. But let's talk about what we do know for 2009 and how the demographics break down.
There are so many gray areas these days, but this breakdown gives some interesting statistical information on cars, sponsors and drivers for 2009. It also adds some clarity about NASCAR today.
Cars and sponsorships

Cars committed to running the full schedule -- 37
We aren't counting the famous 43. That would make 38. And one or two others could run the full schedule.
Fully funded cars -- 29 of the 37
Four have no listed sponsorship. Four others have sponsors for part of the season but not the entire season.
Drivers

Age Breakdown

Over 50 -- 1
Mark Martin will reach the half-century mark Jan. 9.
Under 30 -- 14
However, Clint Bowyer, Sam Hornish Jr. and Carl Edwards all turn 30 in 2009. Joey Logano is the only driver under 20. He won't turn 19 until May.
In their 40s -- 3
We're counting Labonte (44) in this one. He will have a ride somewhere in '09. Jeff Burton (41) and Michael Waltrip (45) are the other two. Blaney (46) hopes he'll be included.
Married -- 19
We are including Edwards, Elliott Sadler and Jamie McMurray, all of whom have plans to get hitched in 2009.
Joe Gibbs Racing and Red Bull Racing Team are the two all-single teams.
Fathers -- 13
Travis Kvapil has three children, but Martin and wife Arlene are parents of five -- Amy, Heather, Rachel, Stacy and Matt.
Rookies -- 2
Logano and Scott Speed. Rookie status might be the only thing these guys have in common. Logano is a quiet teenager from Connecticut. Speed is a hip Californian who raced in Formula One.
Southerners -- 12
This stat will surprise a lot of folks. A sport with roots in the Deep South from the moonshine runners of the Carolinas no longer is dominated by Southern drivers.
[+] Enlarge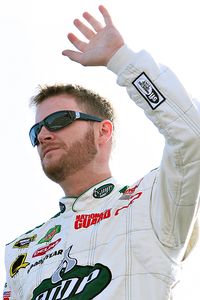 AP Photo/Ross D. FranklinSoutherner? Check. Son of a Cup driver? Check. When you think of NASCAR, it's hard not to think of Dale Earnhardt Jr.
Dale Earnhardt Jr. (born in Kannapolis, N.C.) and Brian Vickers (Thomasville, N.C.) are the only two Carolina drivers among the full-time competitors.
Cup has no current drivers from South Carolina, Tennessee or Alabama.
The other Southern drivers include three from Virginia (Burton, Sadler and Denny Hamlin), two from Georgia (David Ragan and Reed Sorenson), two from Florida (Aric Almirola and David Reutimann), one from Arkansas (Martin) and one from Kentucky (Waltrip).
West Coast -- 11
This includes seven from California (Jimmie Johnson, Jeff Gordon, David Gilliland, Kevin Harvick, Casey Mears, Robby Gordon and Speed). Two are from Washington (Greg Biffle and Kasey Kahne), and two are from Las Vegas (Kurt and Kyle Busch).
Midwest -- 10
This includes three each from Wisconsin (Matt Kenseth, Kvapil and Paul Menard) and Indiana (Tony Stewart, Ryan Newman and David Stremme). Two drivers grew up in Missouri (Edwards and McMurray), one is from Kansas (Clint Bowyer) and one is from Ohio (Sam Hornish Jr.).
Northeast -- 2
Logano (Connecticut) and Martin Truex Jr. (New Jersey).
International -- 2
Juan Pablo Montoya (Colombia) and Marcos Ambrose (Tasmania).
Black and female drivers -- 0
College graduates -- 1
Newman has an engineering degree from Purdue.
Edwards had an academic scholarship to Missouri and is only a few hours short of a degree in psychology. He worked as a substitute teacher while racing on dirt tracks in the Midwest.
Cup champions -- 6
Jeff Gordon (1995, 1997, 1998 and 2001), Labonte (2000), Stewart (2002 and 2005), Kenseth (2004), Kurt Busch (2005) and Johnson (2006, 2007 and 2008).
Former Daytona 500 winners -- 6
Gordon (1997, 1999, 2005), Waltrip (2001 and 2003), Earnhardt (2004), Johnson ( 2006), Harvick (2007), Newman (2008).
Drivers who competed in F1 or Indy cars -- 6
Hornish and Montoya are Indy 500 winners. Hornish and Stewart were IRL champions. Montoya and Speed raced in Formula One.
Mears raced in CART, and Robby Gordon raced in CART and the IRL. Gordon is one of only three men (joining John Andretti and Stewart) to race in the Indy 500 and the Coca-Cola 600 on the same day.
Sons of Cup drivers -- 1
With Kyle Petty's Cup career probably over, Earnhardt is the only one left.
Brothers of Cup champions -- 3
Kyle Busch, Waltrip and Labonte followed their older brothers into NASCAR.
Related to an Indy 500 winner -- 1
Rick Mears is the uncle of Casey Mears.
Hosted "Saturday Night Live" -- 1
Jeff Gordon on Jan. 11, 2003.
High school teammate of Tiger Woods -- 1
Gilliland and Woods were on the golf team together at Western High School in Anaheim, Calif.
Terry Blount covers motorsports for ESPN.com. He can be reached at terry@blountspeak.com.
ESPN Staff Writer
Covered the NFL at the Houston Post and Houston Chronicle, including eight Super Bowls
Received Citation for Writing Excellence from Hearst Newspapers
Also has covered NBA Finals, World Series, Finals Fours, Indy 500 and Daytona 500