Mark Clayton
WR | (5'10", 193, 4.43) | Oklahoma

Scouts Grade: 91

Flags: (B: BULK/SIZE) Lacks size/bulk for position
Selected by: Baltimore Ravens
Round: 1
Pick (Overall): 22(22)
You are signed into Insider
and have access to the exclusive draft content below.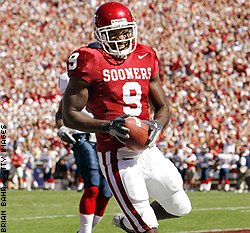 (WR) Mark Clayton - Oklahoma

Strengths: Has an excellent feel for finding soft spots in zone. Does a subtle job of setting defenders up with quick double-move. Is quick and crisp. Has excellent body control and a feel for running routes versus different coverages. Has very good speed. Gets downfield, accelerates to the ball and is a playmaker when the ball is in the air. Ranks among the elite in draft class in terms of consistency catching the football. "Pluck on the run" is impressive. Has a rare ability to find the ball and adjust. Has second-gear to track down deep ball. Is tough and isn't afraid of going over the middle. Has an uncanny feel for timing jumps and snatching ball from DB. Shows burst after the catch and has some elusiveness in space.

Weaknesses: Lacks elite size. Doesn't present mismatches in the red zone. Played in a wide-open system at Oklahoma and might struggle to adjust in the NFL. Might have more trouble getting off the LOS in NFL because of below average size. Gives a decent effort and is technically sound as a blocker, but he's undersized and will get pushed around on occasion.

Overall: Clayton redshirted in 2000 and has been a starting wide receiver for the Sooners since his redshirt freshman season in '01. As a junior in '03, Clayton broke several single-season and career records with 83 receptions for 1,425 yards and 15 touchdowns. His production wasn't been as awe-dropping as a senior in '04 (62 receptions for 855 yards) but that mostly was a result of the Sooners showing much more balance with the running game. Clayton's lack of size will always limit him, but he still has the potential to develop into a very good starting wide receiver in the NFL. In many ways he reminds us of a cross between Steve Smith (Panthers) and Peter Warrick (Bengals). His quickness, lateral movement skills, speed, body control and hands are what make him such a dangerous receiver as a route runner and after the catch. Clayton was absolutely dominant throughout Senior Bowl week, which should have solidified him a spot in the mid-to-late range of the first round.


* Player biographies are provided by Scouts Inc.