Erasmus James
DE | (6'4", 266, 4.78) | Wisconsin

Scouts Grade: 93

Flags: (D: DURABILITY) Player that can't stay healthy
Selected by: Minnesota Vikings
Round: 1
Pick (Overall): 18(18)
You are signed into Insider
and have access to the exclusive draft content below.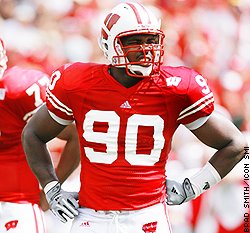 (DE) Erasmus James - Wisconsin

Strengths: Has adequate overall size, a terrific frame and the potential to get bigger. Has a powerful upper body. Knocks offensive linemen back upon initial contact. Is athletic and smooth. Has the COD skills to work back inside as a pass rusher. Has long arms and has learned to use them well. Has shown much improved array of pass rush moves. Is quicker than fast. Has very good anticipation and initial quickness. Fires off the ball quickly and with good leverage Has good instincts and does a fine job of locating the ball. Is disciplined for such a productive pass rusher. Does a good job of keeping contain. Played with a much higher motor in 2004. Fights through double teams and shows terrific stamina. Shows very good closing burst to the quarterback. Is a powerful tackler that also has improved in terms of wrapping up in space. Will chase and pursue versus the run.

Weaknesses: Lack of ideal base is a concern. Still needs to improve lower body strength. Must be able to hold his ground better at the POA in the NFL. Has adequate top-end speed for an edge rusher but not elite. Won't be able to turn the corner as easily in the NFL. Durability is a severe concern.

Overall: James improved his draft value as much or more than any other prospect in the 2005 class as a senior in 2004. After sitting out the entire 2003 season with a hip injury there were lots of questions about James' durability, shape, explosiveness and strength. With 34 total tackles, including 11.5 tackles for loss and eight sacks in 10-of-11 regular season games played in 2004, the fifth-year senior put a lot of those fears to rest. James did miss one game in 2004 due to an ankle injury but it was not serious and he showed no ill effects from the previous season's hip injury. James lacks elite top-end speed and he still must improve his bulk and lower body strength, but his improvement as a senior shocking. He played with better technique, a much higher motor, showed more power at the POA and also showed much more explosive burst when closing in on the quarterback/ball carrier. He could slip a little bit due to his durability concerns but James played his way into the first round of the upcoming draft.


* Player biographies are provided by Scouts Inc.