Commentary
Clinton Portis could end up in Philly
Breaking down the most important NFL offseason moves thus far
Originally Published:
March 2, 2011
By
Bill Barnwell
| Football Outsiders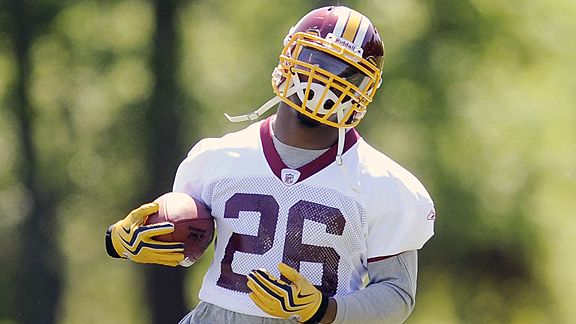 AP Photo/Nick WassClinton Portis still has some good years left. Where could he end up next season?
Teams in the NFL have been more aggressive about making roster moves this February than in past seasons and it's easy to understand why: With a lockout looming and an uncertain financial system lurking on the other side, teams are opting to get as lean as possible before heading into the darkness of labor strife. And by referring to "teams," we mean the same thing we always do: everyone but the Oakland Raiders.
While Oakland has locked up Richard Seymour and Stanford Routt to big contracts in an attempt to try to solidify its 15th-ranked defense from a year ago, the rest of the league is dumping veterans into free agency or trying to find new players on the cheap. Here, we'll examine the prudence of some of the more recent moves and project how they might shake out in 2011.
When Portis was healthy in Washington, he was a very good running back; he ranked ninth or better in DVOA during the 2005, 2006 and 2008 campaigns. Unfortunately, he's been beset by injuries in each of the past two seasons, including a separated groin that cost him most of 2010. The solution? Turn Portis into a devastating part-time back. He's young enough to make a recovery -- he doesn't turn 30 until Sept. 1 -- and unlike backs that rely on breakaway speed in their youth and age poorly, Portis' mix of skills should sustain a second act for his career. He's an intelligent runner, makes sure cuts at the line of scrimmage and no back in the league is better in pass protection. A pass-happy team like the Philadelphia Eagles or New England Patriots could easily find a role where Portis could contribute.
---
Although Washington has shown himself to be a valuable rusher and receiver in the past, the Seahawks gave him only 30 touches on offense last season, with 10 of them coming in the first two weeks. They also traded for Marshawn Lynch, who remains under contract for 2011 and is likely to start. With that in mind, it looks like Seattle gave Washington $3.5 million in guaranteed money to serve as an effective return guy, which he was last year. Washington produced 19.4 points of field position on kickoff returns, the second-best figure in football. If he can keep that up, he'll be worth the relatively small investment.
---
When the Bears made their run to Super Bowl XLI, Harris was the best player on a defense that featured Brian Urlacher and Lance Briggs in their primes. As a one-man wrecking crew up front, Harris was able to collapse the pocket and single-handedly create big plays against the run. Harris was forced out of the lineup that year by a knee injury, though, and he hasn't been healthy since. A steady decline in his performance has produced an ordinary defensive tackle, with Harris even serving as a healthy scratch against the Green Bay Packers in Week 3. While the Bears were still able to stop the run, as their linebackers shot through the gaps and sprinted from sideline to sideline, Harris' decline is best exhibited by how the Bears performed against "power" runs, those plays on third and fourth down with two yards to go or less (or within two yards of their end zone). The Bears had the league's second-best run defense on the whole, but they were second-worst in those power situations. Teams will show interest in Harris because Pro Bowl defensive tackles in their 20s don't grow on trees, but they're unlikely to find the player they're hoping to acquire.
---
While Bailey is no longer in his prime, even the best Bailey wouldn't have been able to do very much for the Broncos' defense in 2010. Thanks to a pass rush that produced a league-low 23 sacks, the Broncos finished with the second-worst pass defense in football. Although Bailey helped to limit opposing No. 1 wide receivers to 41.7 yards per game, teams simply avoided him and threw at rookie cornerback Perrish Cox or the diminished Andre' Goodman on the other side of the field. The problem is that teams should still be able to do that in 2011 and beyond; Denver has a significant rebuilding effort to undergo as part of its shift back to a 4-3, and Bailey turns 33 this summer. He will continue to make the Broncos better, but it's hard to imagine that he'll have enough of an impact to make them great.
Bill Barnwell covers the NFL for ESPN Insider. He has been the managing editor at Football Outsiders since 2008, and has also contributed articles to the New York Times and the Wall Street Journal. You can find his ESPN archives here, and follow him on Twitter here.
Insider on NFL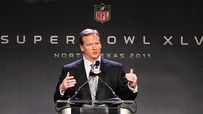 THE LATEST OFFSEASON CONTENT
Apr. 26: Scouts Inc.: NFC North team needs
Apr. 26: Schefter: McNabb fits with Vikings
Apr. 25: Scouts Inc.: NFC East team profiles
Apr. 25: Joyner: Fairley's stock should rise

Week of Apr. 18
Apr. 24:
Scouts Inc.: NFC West team needs
Apr. 23:
Scouts Inc.: NFC South team profiles
Apr. 22:
Schefter: Browns should draft Jones
Apr. 21:
Scouts Inc.: AFC North team needs
Apr. 20:
McShay Mock Draft 6.0
Apr. 20:
Scouts Inc.: AFC West team needs
Apr. 19:
FBO: Teams benefitting from lockout
Apr. 19:
Scouts Inc.: AFC East team needs
Apr. 18:
Schefter: Who the Jets should draft
Week of Apr. 11
Apr. 15: Kiper: Time to replace Brady, Manning?
Apr. 14: Joyner: Amukamara's stock is too high
Apr. 12: FBO: Forecasting NFL QB success
Apr. 11: Schefter: Fairley's stock is dropping

Week of Apr. 4
Apr. 8:
Schefter: Red flags surround Baldwin
Apr. 7:
Joyner: Why Julio Jones tops A..J. Green
Apr. 6:
Kiper: Mock Draft 4.0
Apr. 5:
FBO: How pro days impact 40 times
Apr. 4:
Schefter: Dalton could be a first-rounder
ESSENTIAL LINKS
NFL Rumor Central
Get news and rumblings before anyone
Adam Schefter's Blog
Weekly mailbags on hot topics
NFL Draft Blog
A look towards April 2011
Mel Kiper
Your source for the 2011 NFL draft
NFL Mock Draft Central
The place to go for the latest mock drafts

MOST SENT STORIES ON ESPN.COM