Top 25 names being called
Players from the offensive side of the ball dominate Mel Kiper's latest Big Board, including former No. 1 Mike Williams back on top.
Originally Published:
April 6, 2005
By
Mel Kiper Jr.
| ESPN Insider
The NFL draft is here and I'm updating my board as the day goes along, so keep coming back to see where the top 25 players have landed.
1. Mike Williams (jr.), WR, USC (6-5, 230) | previous rank: 3
Drafted No. 10 overall by Detroit Lions Williams dominated the collegiate game for two full years before his bid to join the NFL draft as a sophomore was ended by the courts and he was declared ineligible by the NCAA. Williams is eligible for the 2005 draft, though, and after keeping his weight near 230 and performing adequately at the combine (4.56 in the 40), he is in a race with Braylon Edwards to become the top wideout in the draft. Williams likely would have been a top-10 pick last season and should be among the top 5-7 this year. His size, strength and toughness make him a tremendous package, and he can use his body control and hands to go after the ball over smaller defenders. His two-year totals at USC: 176 receptions, 2,579 yards and 30 TDs.
2. Ronnie Brown, RB, Auburn (6-0, 230) | previous rank: 1
Drafted No. 2 overall by Miami Dolphins
Had an outstanding workout at the combine, running the 40 in 4.48 while weighing about 230, which only adds to the already impressive profile Brown has. Against several opponents in 2004, he showed he's one of the most complete backs in the nation, running and catching the ball with equal skill. He averaged more than six yards per carry in 2004 and had 34 catches. Brown has the size, instincts, power and quickness to put up unbelievable numbers and would have been a Heisman contender had he been the clear-cut No. 1 on the depth chart. An explosive powerhouse with speed and strength.
3. Braylon Edwards, WR, Michigan (6-2½, 210) | previous rank: 2
Drafted No. 3 overall by Cleveland Browns
Edwards has been steadily moving up based on a tremendous overall 2004 season, when he took over games and showed off his unbelievable athletic skills. He has the size, athleticism and pass-catching skills to dominate cornerbacks, and he has corrected the problems he had with concentration lapses and dropped balls. Edwards and Mike Williams are vying to be the top wideout on the draft board.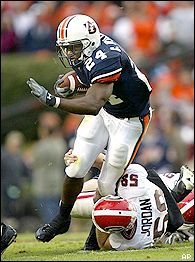 While not physically imposing, "Cadillac" Williams is still a tough inside runner.
4. Carnell Williams, RB, Auburn (5-10½, 207) | previous rank: 8
Drafted No. 5 overall by Tampa Bay Buccaneers
A very creative and deceptively strong runner who has few peers in terms of pure running skills. Williams does not have imposing size but can still get tough inside yards by finding cracks, a skill that contributed to his 1,165 rushing yards and 12 TDs last season. He has bulked up to about 217 pounds and performed well at the combine, showing better hands than most expected and running the 40 in the 4.4 range.
5. Cedric Benson, RB, Texas (5-10½, 222) | previous rank: 4
Drafted No. 4 overall by Chicago Bears
Benson is a strong, tough runner who was incredibly productive in his four years in Austin. He rushed for 1,000 yards in each season, and his ability to catch the ball and block makes him a complete back. Benson has tremendous vision and quick feet, and thanks to his powerful lower body, the first tackler rarely brings him down. He isn't flashy, but he put up big numbers against top competition. Benson had a good workout, but it wasn't enough to place him above the Auburn tandem of Carnell Williams and Ronnie Brown.
6. Alex Smith (jr.), QB, Utah (6-3, 207) | previous rank: 5
Drafted No. 1 overall by San Francisco 49ers
A mobile quarterback who rushed for 631 yards and 10 touchdowns, Smith is also a very efficient passer who completed 68 percent of his attempts with 32 TDs against only four interceptions. He is tremendously intelligent and will pick up an offensive system quickly at the next level. The one knock is that he's a finesse-type passer who didn't have to muscle many throws into tight spots in college. Smith has ability very similar to that of California's Aaron Rodgers but gets the nod because of his height advantage.
7. Aaron Rodgers (jr.), QB, California (6-1½, 205) | previous rank: 7
Drafted No. 24 overall by Green Bay Packers
Don't put too much stock in Rodgers' performance in the Holiday Bowl, where he was without his top three receivers. A smart, accurate passer with good athletic ability, Rodgers completed 68 percent of his passes in 2004. His arm strength is good enough and his release is quick, and the fact that he seems a bit mechanical at times is simply a product of the way Cal head coach Jeff Tedford coaches his quarterbacks to hold the ball at shoulder level. Rodgers is a better prospect than former Golden Bears QB Kyle Boller, now of the Baltimore Ravens. Rodgers and Alex Smith have very similar abilities.
8. Derrick Johnson, OLB, Texas (6-3, 233) | previous rank: same
Drafted No. 15 overall by Kansas City Chiefs
Johnson led the Longhorns in tackles each of the past two seasons, totaling 255 stops and a team-high 39 tackles for loss in that time. A great athlete who has a nose for the ball and is all over the field, Johnson forced nine fumbles in '04 and also had nine interceptions in the past three years. His combine performance solidified his status as the best pure linebacker in the draft, and he is positioned to move up the board before all is said and done.
9. Adam "Pac-Man" Jones (jr.), CB, West Virginia (5-10¾, 191) | previous rank: 6
Drafted No. 6 overall by Tennessee Titans
Jones is lethal not only as a cover man but also as a kick and punt returner. He is a bit raw technically, but he's still an outstanding cover corner. He has tremendous closing speed and is more than willing to give up his body in run support. In today's NFL, where the rules are tilted in favor of the receivers and corners are unable to become true lockdown defenders, Jones' tackling ability in the open field will be just one more asset to complement his speed, aggressiveness and special-teams skills. Having answered questions about his height at the combine, Jones is now solidly among the top 10.
10. Antrel Rolle, CB, Miami (6-0½, 200) | previous rank: 17
Drafted No. 8 overall by Arizona Cardinals
Rolle has consistently proven his mettle against the top wideouts in the country. A perfect example of that came in 2003 when he shut down former Pittsburgh wideout and eventual No. 3 overall draft pick Larry Fitzgerald. Teams did not throw his way much in 2004, yet he was still a force for the Hurricanes with solid run support and tackles in the backfield.
11. Alex Barron, OT, Florida State (6-7, 325) | previous rank: 13
Drafted No. 19 overall by St. Louis Rams
Athletically gifted with great footwork as a pass blocker, Barron started 30 games during his career. He is the clear-cut No. 1 among offensive linemen because of his strength and experience, and he should be a solid starter at the pro level.
12. Carlos Rogers, CB, Auburn (6-0, 194) | previous rank: 23
Drafted No. 9 overall by Washington Redskins
With 4.4 speed in the 40, Rogers is a physical player who can tackle in the open field, and he's an asset in run support. He is a respected cover man with good ball skills who was Auburn's best defensive player in 2004. Consistency, durability and experience against top-level competition in the SEC have all boosted his stock.
13. Troy Williamson (jr.), WR, South Carolina (6-1½, 200) | previous rank: 16
Drafted No. 7 overall by Minnesota Vikings
Williamson can flat-out fly (boasting a 4.38 40) and will likely end up being the fastest wide receiver in this year's draft. He put up 19.4 yards per catch this season in a non-passing offense. With his size-to-speed ratio, Williamson should continue to zoom up the draft board.
14. Dan Cody, DE, Oklahoma (6-4, 265) | previous rank: 10
Drafted in the second round (53rd overall) by Baltimore Ravens Cody continues to occupy a prime position on the board because of his impressive overall body of work this past season. He has been utilized as both a stand-up outside linebacker and a defensive end with his hand on the ground, in much the same way as former NFL standout Kevin Greene. In 2004, Cody finished with 42 tackles (17 for loss, including 10 sacks) and 12 QB hurries.
15. Shawne Merriman (jr.), OLB/DE, Maryland (6-3, 255) | previous rank: 11
Drafted No. 12 overall by San Diego Chargers
A combo guy on the edge who will test the charts, Merriman benches 385, squats 590 and has a 41½-inch vertical jump – the best ever for a Maryland defensive lineman. Don't forget his production: He led the Terrapins with 17 tackles for loss and nine sacks. Merriman could play outside linebacker in either a 3-4 or 4-3 scheme, or put his hand on the ground and play end in a 4-3.
16. Demarcus Ware, DE, Troy (6-4, 235) | previous rank: unranked
Drafted No. 11 overall by Dallas Cowboys
A combo end/linebacker, Ware proved himself against top competition in the past two seasons. He has good burst and speed and plenty of natural pass-rush skills.
17. Travis Johnson, DT, Florida State (6-4, 292) | previous rank: 15
Drafted No. 16 overall by Houston Texans
Johnson has improved significantly in the past two seasons. He dominated offensive linemen all year and spent a lot of time in opposing backfields, collapsing the pocket or getting penetration against the run.
18. Marcus Spears, DE, LSU (6-4, 295) | previous rank: 14
Drafted No. 20 overall by Dallas Cowboys
Boosted his stock with an impressive week at the Senior Bowl. Spears won't turn into a 10-12 sack performer at the next level because he lacks great closing speed, but he looks like a five-sack guy who will be an outstanding run stopper and be disruptive to the passing game because of his size and long arms. He is a great athlete who began his career as a tight end, and because of that, he will be able to play in any defensive structure and should be a solid pro.
19. Roddy White, WR, UAB (6-1, 205) | previous rank: 12
Drafted No. 27 overall by Atlanta Falcons
Runs a consistent 4.42 in the 40, giving him a size/speed combination in the elite category. In 2004, White finished second in the nation in receiving yards per game (121.0) while averaging 20.0 yards per catch. He also kept his drops to a minimum. In 2003, White averaged 21.6 yards per catch.
20. Mark Clayton, WR, Oklahoma (5-10, 188) | previous rank: unranked
Drafted No. 22 overall by Baltimore Ravens
The best wideout after the catch we've seen in quite some time, Clayton led the Sooners in 2004 with 66 receptions for 876 yards and eight TD catches. In 2003, Clayton set OU records with 83 receptions for a 17.2-yard average and 15 TDs.
21. Marlin Jackson, CB, Michigan (6-0½, 202) | previous rank: unranked
Drafted No. 29 overall by Indianapolis Colts A versatile performer who played safety in 2003, Jackson switched back to corner in 2004 and had a very good season. He has top-notch athletic ability to go with his good size and proved in workouts that he has the speed to be a true NFL corner. And don't forget that Jackson lined up against Braylon Edwards every day in practice while battling the Big Ten's best wideouts on Saturdays.
22. Khalif Barnes, OT, Washington (6-5, 311) | previous rank: 20
Drafted in second round (52nd overall) by Jacksonville Jaguars
A wrist injury cost Barnes the final six games of the season, but he was outstanding up to that point. He has quick feet and good balance in pass protection, something he displayed in some outstanding one-on-one battles with Matt Roth at the Senior Bowl. Roth said afterward that Barnes is the toughest left tackle he faced all season. Barnes can also be effective in the running game and has all the necessary skills to be a good pro player.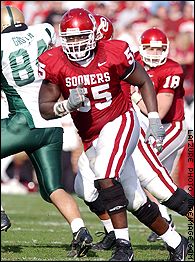 Jammal Brown was a big, mobile obstacle between Jason White and defenders.
23. Jammal Brown, OT, Oklahoma (6-5, 313) | previous rank: 21
Drafted No. 13 overall by New Orleans Saints
Equally adept at run- and pass-blocking, Brown has long arms that allow him to get his hands on defenders and move them off the ball using his good feet and balance. He's fighting it out with Barnes to see who will be the second offensive tackle off the board.
24. Heath Miller (jr.), TE, Virginia (6-4½, 255) | previous rank: 19
Drafted No. 30 overall by Pittsburgh Steelers
Miller is a precise route runner with tremendous body control and great hands. He has three seasons of outstanding productivity under his belt, including 70 receptions in 2003. His yards-per-catch average has improved steadily during his career, and Miller is also a willing, reliable blocker who does a nice job augmenting the running game along the offensive line. He has the skills to be a top-15 selection, but an injury issue has caused him to drop down the board some.
25. Erasmus James, DE, Wisconsin (6-4, 260) | previous rank: 18
Drafted No. 18 overall by Minnesota Vikings
James nursed an ankle injury late in 2004 but still commanded double-team blocks. An outstanding pass rusher who is also strong against the run, James has dropped because of a slow 40 time at the combine and his injury history. He still must prove his durability. James missed most of 2003 with a hip injury, but he had a great showing in preseason camp and carried that momentum into the 2004 season.
Click here to send a question for Mel Kiper for possible use on ESPNEWS.
Football analyst
ESPN NFL Draft analyst since 1984
Contributes to SportsCenter and ESPN Radio
Writes weekly for ESPN Insider
EDITORS' PICKS
Jameis Winston's pro day workout wasn't exceptional, but he confirmed he's worthy of being the top pick.
McShay

As ESPN.com celebrates two decades of coverage, we rank the top players and teams of the past 20 years.
Story »

Mailbag: John Clayton explains why expanded playoffs are on hold and discusses overtime rules and extra points.
Story »

MOST SENT STORIES ON ESPN.COM