Delhomme deal was no-brainer for Carolina
Updated:
June 28, 2004, 1:52 PM ET
By
Randy Mueller
| ESPN NFL Insider
In the wake of the Carolina Panthers signing quarterback Jake Delhomme to a six-year, $38 million contract, many have weighed in on whom the deal favors. Let's take a closer look at the deal and the specifics behind the structure in order to form an informed opinion.

There is no doubt that the recent signings of fellow NFC South quarterbacks Aaron Brooks in New Orleans and Marc Bulger in St. Louis set the bar for this renegotiation. No team of sound mind would have let the quarterback who had just led it to a Super Bowl in the previous year play out the last year of a two-year deal he signed in free agency before the 2003 season. Every day that passed by, the pendulum of leverage swung more into Delhomme's favor. The Panthers couldn't risk not signing him.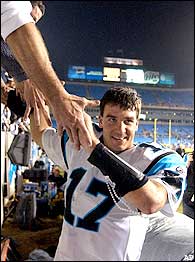 AP/Mark HumphreyJake Delhomme won't have contract negotiations hanging over his head in training camp.

To get the deal done before camp starts is big for several reasons. For one, it puts a potential distraction behind them. Contract issues hang over training camps like a black cloud and no team wants to deal with it if it can be avoided. For the Panthers, they secure a player at the most important position and gain $200,000 in cap space to help sign this year's rookie class and give them a bit more flexibility to do other things if they need to.

For Jake, it takes away the risk of practicing under a contract that would only protect him to the tune of $1.37 million (his old base salary) if he were injured. On any given play a player could have a career-ending injury, even in practice.

One day of practice in pads under the old deal would have put at risk at least $10.5 million in this case. Now the risk of injury is still there, but Jake's bank account will take away some of the sting of a serious injury.

The fact that the deal has garnered some criticism is no surprise either. This is the same guy 30 teams expressed very little interest in last year. Carolina was the only team willing to pay the $2 million a year he and his agent were asking when he left the Saints after the 2002 season. Dallas expressed some lukewarm interest, but really only made a token offer. Even after his performance last season the detractors are out in full force. As a player Jake probably has more natural leadership skills than Brooks and more physical skills than Bulger, so why isn't he worth the money?

This was far from a long-term deal. A four-year extension in this day and age of spreading out cap charges is not "long term." The official signing bonus amount is only $6.1 million. Bulger got $9 million and Brooks received $10 million-plus. Jake will also get $3 million more in 2005 as an option payment to execute year six (2009) of the deal.

That makes the magic number of guaranteed money to $9.1 million, or $100,000 more than Bulger. This gives Rick Smith (his agent) bragging rights in any conversation that compares Jake's deal with Bulger's. Believe it or not, this is big for agents when they are recruiting their next superstar. Agents are competing with every deal they do and not just against the club.

Some big-money deals are back loaded. This means the majority of the money is paid at the end of the deal and the player may or may not ever see it. Teams or players sometimes will dress up a deal with big numbers in the later years so it distorts the average for some crazy reason. Usually this is done to stroke somebody's ego. One way a deal is truly measured within NFL circles is to figure the average according to how the money is disbursed.

This deal stands up as a $6.65 million average for two years all the way through $6.33 million if it stays in this structure for the full six years. That's a very even pay out by NFL standards.

The fact that there is $4.5 million in roster bonus money due throughout the deal adds more flexibility for the club, should it need to restructure some dollars for cap purposes. By simply guaranteeing a roster bonus a team can spread out the charge much like a signing bonus on a pro-rated basis.

I think what makes this a fair deal for all is that it's nothing more than the price you pay for doing business. Six million a year is not an enormous price for your starting quarterback. Let's remember these numbers if and when the Seahawks sign Matt Hasselbeck or the Jets sign Chad Pennington, neither of whom has taken his team to where Delhomme went last year and both are entering the last year of a contract. I'm betting Jake's deal will look like a bargain soon enough.
EDITORS' PICKS
Jameis Winston's pro day workout wasn't exceptional, but he confirmed he's worthy of being the top pick.
McShay

As ESPN.com celebrates two decades of coverage, we rank the top players and teams of the past 20 years.
Story »

Mailbag: John Clayton explains why expanded playoffs are on hold and discusses overtime rules and extra points.
Story »
Nike Men's Carolina Panthers Sideline 2015 Ko Black Pullover Shop »

MOST SENT STORIES ON ESPN.COM