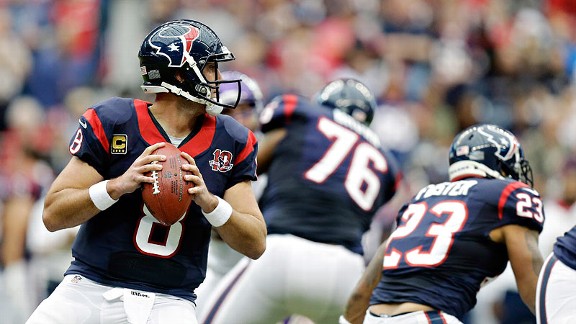 Steady Hand
Thinking the Texans' recent slide has prompted Matt Schaub to change his routine? Think again.
Kuharsky »Doomed by third-down woes?

Scouts preview

Bengals-Texans matchup »
AP Photo/Patric Schneider

FANTASY FOOTBALL
The Last Patriots
Gronk is out, but New England has two top-10 options in Week 15.
Ranks: RB | TE | WR
NFL PHOTO GALLERIES
LATEST GALLERIES
Evan Habeeb/USA TODAY Sports
15 Photos
AROUND THE LEAGUE
Did Sunday's loss to the 49ers knock Seattle out of its No. 1 spot? Power rankings »

Also see:
•
Yates: Brady ready for life after Gronk
•
PFF: Offseason winners and losers

•
Barnwell: Is Cousins the answer in D.C.?
•
Fox: Snow Bowl could threaten game's integrity
•
Playoff odds: Cowboys' loss no biggie

NFL DRAFT 2014
Think Big


Who is comparable to Brandon Marshall and Alshon Jeffery in the '14 draft? Steve Muench

2014 Key Dates
Feb 18-25: Scouting combine, Indianapolis
March 11: Free agency period begins
May 8-10: NFL draft, New York
NFL AUDIO