Huskies searching for Orlovsky's replacement
Originally Published:
March 25, 2005
By
Joe Bendel
| Special to ESPN.com
How do you fill the shoes of a Connecticut icon, a golden-armed quarterback who racked up 10,706 career passing yards and 84 touchdowns during four wondrous seasons?
Connecticut coach Randy Edsall is about to find out, as he closely evaluates junior Matt Bonislawski and redshirt freshman D.J. Hernandez in search of Dan Orlovsky's successor. Suffice to say, spring ball 2005, which opened last week, should be more interesting than Jose Canseco's memoirs.
Not to add any pressure.
"It's going to be good competition," said Edsall, who relied heavily on Orlovsky to help the program move into Division I-A and, ultimately, into the Big East Conference last season. "I'm not sure our quarterback will be asked to do as much as what our quarterback did a year ago, based on whom we have back and based on their abilities. We have to find out what these guys do best and accentuate those things as we go."
Bonislawski, known affectionately as Bones, sits atop the depth chart at the moment. The 6-foot-4, 215-pound Western Pennsylvania product has barely seen the field in two years — he's attempted just seven career passes — but he's worked closely with Orlovsky.
The key for Bonislawski is to establish an identity, while embracing the inevitable pressure that comes along with following a legend. That means utilizing his running skills and demonstrating his unflappable demeanor.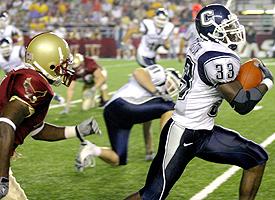 Marc Andrew Deley/WireImage.comCornell Brockington led the Big East with 1,218 yards rushing in 2004.
He can also take solace in the fact that Edsall is not asking him to be an instant superstar, and that Cornell Brockington (the Big East's leading rusher last season) and Terry Caulley (the nation's leading rusher as a freshman in 2003 before a knee injury) will be around to ease the transition in 2005 A.D. (After Dan).
"I'm looking forward to the challenge of leading the offense this spring," said Bonislawski, who would like to follow in the long line of successful Western Pa. quarterbacks. "Everyone has to get on the same page."
That includes Bonislawski, a two-sport star in high school who's made a solid impression on Edsall at practices but has no significant game experience. Edsall, though, does not seem overly concerned about life after Orlovsky at this juncture.
"Matt has a good grasp of the things we're doing," Edsall said. "He's got a good arm. He remains cool under pressure. He can run. He can make all the throws that we want to make."
And what about Hernandez?
"The thing with D.J., first and foremost, is his work ethic and how bad he wants something," Edsall said. "He had to learn to be a quarterback. He was like a single-wing tailback in high school. He's learned a great deal. His throwing has improved dramatically. His presence in the huddle has gotten better."
Hernandez, 6-1, 196, came to Storrs with loftier credentials than Bonislawski. He was the 2003 Gatorade High School Player of the Year in Connecticut and was the first player in state history to rush and pass for 3,000 career yards.
Hernandez conceded that he struggled during his first year in the program, but pointed out that Orlovsky also endured struggles as a freshman.
"He said he was awful when he came in here," Hernandez said. "He kept at it, kept working hard. Hard work pays off. I'm confident that whoever gets the job we're going to work hard and put everything we have into it."
With a young offensive line protecting the next UConn QB — the Huskies lost three starters to graduation — it is important that Orlovsky's heir is mobile.
Otherwise, that 8-4 record and bowl victory in 2004 could turn into a 4-7 mark and no bowl game at all.
Ain't that a kick ...
Death, taxes and a kicker named Gramatica at South Florida. These things we could count on over the years.
Until now.
For the first time in seven seasons, coach Jim Leavitt is looking for a kicker with a different last name, somebody who is Gramatica-lly incorrect, if you will.
Santiago Gramatica booted for the Bulls in each of the past four seasons, and his brother, Bill, was South Florida's kicker the three years prior.
Two walk-ons — Kyle Bronson and Justin Teachey — are battling for Santiago's old job this spring and will be joined in the fall by recruit Mike Benzer.
Whoever emerges will have big shoes to fill. That's because Santiago Gramatica converted 60 percent of his field-goal tries and 90 percent of his extra points for a school-record 246 career points. Big brother Bill made 68 percent of his field-goal attempts, including a USF record long of 63 in 2000, and 97 percent of his extra points for 193 career points.
Naturally, Leavitt is concerned about his Gramatica-less kicking game, not to mention the departure of long snapper Justin Daniel.
"I know it sounds crazy, but that's two very important positions," said Leavitt, whose team was 4-7 last season. "We had to play the final three games last season without Santiago, who was hurt and Justin Daniel missed a game at Louisville that forced us to adjust our punts with a backup snapper. Field position is so crucial and a minor adjustment like that can really have an impact."
Around the Big East
Dave Wannstedt is shuffling the deck on his offensive line at Pittsburgh. The first-year coach moved 2004 All-Big East left guard Charles Spencer, 6-5, 330, to left tackle. Wannstedt is holding out hope that Spencer can fill the void left by four-year starter Rob Petitti, a two-time All-Big East first-team pick. Spencer proved to be a quick study last season, switching from the defensive line and promptly earning all-league honors. The Panthers opened drills this past weekend. ... First-year Syracuse coach Greg Robinson, who opens drills Monday, is giving nothing away, including starting positions. That's why quarterbacks Perry Patterson and Joe Fields are listed as co-starters this spring, even though Patterson started nine games last season in leading the Orange to the postseason and a 6-6 record. He completed 58.1 percent of his passes for 1,851 yards with seven TDs and 10 interceptions. Fields started three games, completing 44.8 percent of his throws for 192 yards with one TD and three picks. ... Rutgers returns seven running backs who saw action last season, most notably Brian Leonard, who played in 10 of 11 games. He picked up 732 yards on the ground, while grabbing 61 passes for 518 yards, scoring nine total touchdowns. He led the Big East in all-purpose yardage at 125 per game and was the top pass-catching running back in the country. He was a First Team All-America pick by Pro Football Weekly — the first since Marco Battaglia in 1995 to earn the honor at Rutgers. The Knights open drills Friday. ... West Virginia coach Rich Rodriguez opened his fifth set of spring drills Saturday, mindful of how much work he and his staff have to do. The Mountaineers lost 26 letterman from last year's ballyhooed team, which fizzled at season's end and finished 8-4. "It's one of the most important ones we've had probably in a couple of years because we've got so many young players that are going to be playing this fall," said Rodriguez, who lost star quarterback Rasheed Marshall, along with leading rusher Kay-Jay Harris and leading receiver Chris Henry. "Last year we had more of a veteran team and the spring was just to kind of fine tune things. This spring it's going to be more critical because those young players have got a lot to learn and we've got to get a lot of questions answered, and I don't know if we can get them all answered this spring; but we'll have an idea after 15 practices exactly where we stand and what we need to work on for the fall." ... Louisville offensive lineman Jason Spitz clearly is a quick study. The dependable senior moved from guard to center this spring and already is on the watch list for the Rimington Award, given to the nation's top center. Spitz earned second team All-Conference honors at guard last season and has a string of 25 consecutive starts. ... Cincinnati is young, a contrast from 2004 when 26 seniors formed the core of the team. The Bearcats lost 17 starters — nine defensive and eight offensive — and a total of 23 of their top 44 players. Coach Mark Dantonio, whose 7-5 record was the second-best among new Division I-A head coaches in '04, faces a stiff challenge in trying to develop a team that matches or surpasses his first-year success. He opens his second spring Monday.
Joe Bendel covers the Big East for the Pittsburgh Tribune-Review.
EDITORS' PICKS
Jameis Winston, the potential No. 1 overall pick, drew coaches from all 32 NFL teams to Florida State's pro day.
Jared Shanker »

Trending in NOLA: The latest Saban-Miles battles.
Crabtree

Dynamic duo
MORE COLLEGE FOOTBALL HEADLINES

MOST SENT STORIES ON ESPN.COM