A look around the Big 12
A team-by-team look at the Big 12.
Updated:
November 16, 2004, 2:59 PM ET
By
Chip Brown
| Special to ESPN.com
Why is Bill Callahan angry with Oklahoma's fans? Which Big 12 star quarterback's father claims his son is unhappy with the school's head coach and system? And what's the good news and bad news for Oklahoma star Adrian Peterson? These questions and more are answered in our Big 12 notebook.
Baylor
Baylor, believe it or not, was the first team to really test Oklahoma's protection schemes last year in the second half of a 41-3 loss in which the Bears blitzed like crazy, sacking Jason White five times.
OU scored only one touchdown in the second half of that game, which might have served as the blueprint for Kansas State and LSU, which gave the Sooners back-to-back losses to end last season.
"We were pretty effective," Baylor coach Guy Morriss said. "(Kansas State coach) Bill Snyder called and we shared film with him as we do in the conference and then LSU followed suit."
Morriss said he believes the Sooners, who travel to Waco this week, "went to work on" repairing their protection schemes during the off-season.

"If someone exposes something, you have to make sure it doesn't happen again," Morriss said.
The Bears got a strong performance from redshirt freshman quarterback Terrance Parks after sophomore Shawn Bell went out with a broken left hand in a 49-21 loss at Oklahoma State on Saturday. Parks (6-4, 244 pounds) completed 18 of 34 passes for 261 yards and two touchdowns, drawing praise from Morriss.

"I think he could be a big-time quarterback for us," Morriss said.

Colorado
Well, look who's bowl eligible and in the thick of the Big 12 North race after a jaw-dropping 38-31 victory over Kansas State.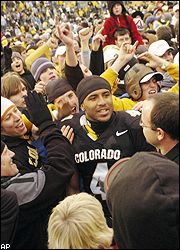 Monteilh's miracle score was also his first career TD reception.

Joel Klatt's 64-yard touchdown pass to Ron Monteilh with five seconds left to secure the victory was the senior receiver's first career touchdown catch in 55 receptions for 546 yards.
Colorado must beat Nebraska and have Iowa State and Missouri each lose a game to win the Big 12 North and go to the conference title game. The Buffaloes, who will close the season at Nebraska on Nov. 26, are off Saturday.
Coach Gary Barnett says beating Kansas State and becoming bowl eligible at 6-4 is not about vindication after his program endured allegations of sexual assault from nine women during the off-season.

"It's about our players and the team they've become," Barnett said. "Every team goes through adversity. Ours was a little different. Our players survived it and achieved and we're still playing. That's what this is about for us."

Iowa State
Don't think coach Dan McCarney didn't pay attention to the preseason prognostications that had his team picked dead last in the Big 12 coming off a 2-10 season last year.

At 5-4 and with destiny control in the Big 12 North, McCarney recently refreshed his players' memories of those forecasts to let them know how far they've come.

"We started the season as an underdog at home against a Division I-AA team, Northern Iowa. That's a fact," McCarney said.
McCarney, by no means, is feeling fat and happy with games at Kansas State and home against Missouri to finish the schedule.

"This team, for as young as it is, has shown a high-level maturity," McCarney said. "We know if you want to be remembered, it's how you finish the season. That's what we're focused on."
McCarney beat Iowa in the recruiting battle for 6-5 receiver Todd Blythe, who has a Big 12-leading nine touchdown catches this season. McCarney now looks like a genius for redshirting Blythe as a freshman last year.

"We had five receivers back last year, but it was still hard to hold him because we knew we had something pretty special," McCarney said.

Kansas
Coach Mark Mangino lost his mind after last week's 27-24 loss to Texas in which the Jayhawks coughed up a 10-point lead in the final seven minutes. Mangino accused the Big 12 officiating crew of protecting Texas' BCS hopes with an offensive pass interference call against KU late in the game.

Mangino can't fly off the handle like that, no matter how emotional he gets, because it's a black eye nationally for the league – not to mention himself and Kansas. The entire country saw Mangino on every sports news show Saturday night basically accusing his conference of rigging the system for one of its big boys.
To Mangino's credit, his team is still playing together, playing well and has a bright future if he can keep recruiting players like sophomore Charles Gordon, who played receiver last year and now plays cornerback and has six interceptions.
Everyone's talking about how Kansas got robbed on the offensive pass interference call, but the Jayhawks still would have won if they could have stopped Texas quarterback Vince Young on fourth-and-18 on UT's final drive. Instead, Young ran for 22 yards and a first down. If you can't defend fourth-and-18, you don't deserve to win.

Kansas State
The Wildcats will have a losing record for the first time since 1992 after suffering a heart-breaking 38-31 loss at Colorado on a last-second, 64-yard touchdown pass. K-State's string of 11 consecutive bowl appearances will also come to an end. Coach Bill Snyder, however, put a halt to any talk that the program is taking a turn for the worst.

"Does that mean we're not going to be a good football team again? That's not the case," Snyder said.
K-State's defensive coaches put their unit in a zone pass defense that the team hadn't practiced much recently – and it left the door open for a breakdown. The breakdown occurred on Colorado's 64-yard touchdown pass, on first-and-10 from CU's own 36 with 16 seconds left. Some K-State defenders said they were thinking the Buffaloes would throw underneath and try to get out of bounds to help set up a field goal with the game tied at 31.

In any case, Snyder called it one of the most deflating losses he's had simply because of how it ended.
K-State was clearly in a rebuilding year after losing key leaders and playmakers on offense and defense after last season's Big 12 championship. The Wildcats still have questions at quarterback and on defense, but they at least appear to have improving options in both cases.

Missouri
It was another eventful week for Missouri, even with a bye last week. Quarterback Brad Smith's estranged father, Phillip, who is trying to rebuild a relationship with Brad, contacted Kansas City Star columnist Jason Whitlock and said that his son is disenchanted with Tigers coach Gary Pinkel and his offensive system. Smith's father said Brad won't say anything publicly because he's a team player.
Missouri has had some major collapses this season, gagging 14-, 17- and 21-point leads against Troy, Oklahoma State and Kansas State. Even reeling from a four-game losing streak, Missouri still has a chance to win the Big 12 North. The Tigers must beat Kansas and Iowa State and hope Colorado knocks off Nebraska.
Saturday's game between Pinkel and Kansas coach Mark Mangino will be a battle of the two most volatile coaches in the Big 12. Pinkel suspended his best running back earlier this year for speaking critically of the coaching, and Mangino probably deserved a suspension for accusing league officials of cheating on behalf of Texas last week.

Nebraska
Forget about Nebraska calling timeout to kick a 39-yard field goal on the last play of the game to avert a shutout in a 30-3 loss to Oklahoma Saturday.

All the talk was about coach Bill Callahan's lashing out at OU's long-time tradition of allowing its student spirit group the Ruf/Neks to shoot off pop-guns near the end zone where the visiting team warms up. Callahan, who made a profane comment "(bleep) hillbillies" toward OU fans on the field after the game, also unloaded on Sooner fans for throwing oranges on the field and at Nebraska players on the last play.
| | | |
| --- | --- | --- |
| | " | On the field I stick up for my players, and I don't think any team should be subjected to the type of treatment we were subjected to. . . .I am distressed when people are shooting off guns and throwing fruit at our players. " |
| | | — Nebraska coach Bill Callahan, complaining about incidents last week after the 30-3 loss at Oklahoma |
"I'm an emotional guy and I'm a competitive coach," Callahan said.
"On the field I stick up for my players, and I don't think any team should be subjected to the type of treatment we were subjected to. & I am distressed when people are shooting off guns and throwing fruit at our players."
During the pre-game warm-ups, Nebraska offensive tackle Darren DeLone allegedly used his helmet to head-butt a member of the OU Ruf/Neks, causing the spirit group member to go to the hospital with several teeth knocked out and facial lacerations.

Nebraska officials issued an apology and wished the injured young man a speedy recovery. While apologetic for the incident, Callahan was also in disbelief that OU would allow students with loud guns to be on the field in the same area where opposing players warm up.

"It's a safety issue," Callahan said. "They're putting those students in harm's way. I wouldn't put my son or daughter where these guys are warming up."
The Cornhuskers' NCAA-record of 35 straight bowl appearances is on life support. Players are feeling the pressure of not wanting to be the ones to lose it. Nebraska is 5-5 and must beat Colorado in Lincoln on Nov. 26 to qualify for a bowl.
After throwing it a school-record 43 times in a loss at Iowa State, Nebraska ran it 40 times and threw it 13 against Oklahoma. Nebraska might think it's a passing team, but it isn't. It's a running team that needs to keep running Cory Ross to beat Colorado.

Oklahoma
Coach Bob Stoops was once again in the position of having to defend throwing into Nebraska's end zone late in a game with a 30-0 lead.

"Given the opportunity again, I probably would have done it differently," Stoops said. "But in the heat of the game, I unfortunately got caught between sportsmanship and BCS points. In my mind, I probably chose the wrong one."
Stoops says this year's offensive line is the best he's ever had. It certainly has adjusted to the blitz schemes that sunk the Sooners against Kansas State in the Big 12 title game and against LSU in the national title game last season. OU has given up only seven sacks, after giving up 28 last season.'
Bad news and good news for freshman running back Adrian Peterson, who got only 58 yards on 15 carries against Nebraska while nursing a shoulder injury – the first time this season he was held under 100 yards rushing.

Bad news: His Heisman Trophy campaign is probably over. Good news: After much deliberation, the SMU Athletic Forum decided to amend bylaws and allow a freshman to be considered for the Doak Walker Award, given to the nation's top running back.

Peterson was then promptly named one of eight semifinalists.

Oklahoma State
There's no shortage of talented running backs at Oklahoma State. After Vernand Morency, the nation's sixth-leading rusher, left Saturday's 49-21 victory over Baylor to have fluid drained from his knee, Seymore Shaw stepped in. Shaw ran 30 times for 172 yards and a touchdown. Les Miles, a pupil of Bo Schembechler at Michigan, knows the value of a strong running game.
The Cowboys showed no aftereffects from squandering a 35-7 lead against Texas in a 56-35 loss in Austin the week before. OSU led comfortably, 21-0 in the third quarter, before Baylor put points up in garbage time.
Oklahoma State is off this week before finishing the season at Texas Tech. That game is most likely for a berth in the Holiday or Alamo bowls. If Texas gets into the BCS, the game will be for the Holiday Bowl because Texas A&M would go to the Cotton. If UT doesn't get into the BCS, the Longhorns will go to the Cotton Bowl and Texas A&M heads to the Holiday Bowl with the OSU-Tech winner headed to the Alamo Bowl.

Texas
Everyone can sense another BCS pratfall for Texas coach Mack Brown coming at the end of the season. Utah has moved into the top-six in the BCS and California is at No. 4. That leaves Texas, which is No. 5, on the outside looking in if the rankings hold for the rest of the season. The Rose Bowl would take California and the Fiesta would take Utah as the two at-large teams. UT would be picking Cotton.
The Longhorns were as flat as Donald Trump's hair against Kansas Saturday and the coaches didn't do anything to jumpstart their team.

Freshman running back Ramonce Taylor, the most electric player on the UT squad who averages 12 yards a touch, didn't get a single offensive touch.

And the defense, which has used the blitz effectively the last three weeks, hardly blitzed at all, getting no pressure on Kansas' third- and fourth-string quarterbacks who torched UT for 308 passing yards.
The good news is quarterback Vince Young has shown the last two weeks he can bounce back from early adversity and lead his team to victory.

Just like he did against Oklahoma State, when UT fell behind by 28, Young threw two interceptions against Kansas as UT fell behind by 10 with seven minutes left. Young produced mind-boggling runs, including a 22-yarder on fourth-and-18, to lead two scoring drives, the final march capped by a perfect 21-yard TD strike to Tony Jeffery will rolling left with 11 seconds to play.

Texas A&M
The Aggies' fourth straight game came down to the final play in a 32-25 victory over Texas Tech in College Station.

A&M went 2-2 in that stretch: Beating Colorado in overtime, losing at Baylor in overtime; losing to Oklahoma when a Hail Mary failed on the last play; and beating Tech in overtime. "I guess we're one play better or one play worse than everybody we've played for the last month," coach Dennis Franchione said.
Four A&M receivers came to College Station after high school careers at quarterback – seniors Terence Murphy and Jason Carter, junior L'Tydrick Riley and sophomore Chad Schroeder. Those four combined for 10 of the Aggies 16 receptions against Tech.
The Aggies are off this week before finishing the season at Texas on Nov. 26, a game that could send the winner to the Cotton Bowl. That would be just like old times for these former Southwest Conference icons. A&M has lost four straight to the Longhorns.

Texas Tech
The Red Raiders saw their three-game winning streak over Texas A&M come to an end with a 32-25 overtime loss in College Station. The A&M defense was able to confuse quarterback Sonny Cumbie, who threw three interceptions. Four of Cumbie's five multiple-interception games have come on the road: At New Mexico (two in loss); at Kansas (four in a victory; at Oklahoma, (three in a loss).
For the third straight season, Tech has a 1,000-yard receiver. With 62 catches for 1,012 yards, receiver Jarrett Hicks clinched the sixth 1,000-yard season by a Tech receiver. There were three 1,000-yard receivers last year and one in 2002.
With 3,941 passing yards, Cumbie has two games (against Oklahoma State and a bowl opponent) to reach 5,000 yards, which seems unlikely. If Cumbie falls short, that would end the two-year string of 5,000-yard passers at Tech. B.J. Symons had 5,833 passing yards in 2003, and Kliff Kingsbury had 5,017 in 2002.

Chip Brown covers the Big 12 for The Dallas Morning News.
EDITORS' PICKS
Jameis Winston, the potential No. 1 overall pick, drew coaches from all 32 NFL teams to Florida State's pro day.
Jared Shanker »

Trending in NOLA: The latest Saban-Miles battles.
Crabtree

Dynamic duo
MORE COLLEGE FOOTBALL HEADLINES
Nike Men's Missouri Tigers Black Hypercool 3.0 Fitted Performance T-shirt Shop »

MOST SENT STORIES ON ESPN.COM