A look around the MAC
Ohio's spread offense ambushed Kentucky, giving the Bobcats' program a historic victory.
Updated:
October 5, 2004, 1:02 PM ET
By
Adam Rittenberg
| Special to ESPN Insider
After a decade of the multiple-option offense, Ohio coach Brian Knorr had, well, only one option left heading into the 2004 season: Change the system.
It proved to be a gutsy decision. Knorr, a former quarterback at Air Force, had mastered the peculiar scheme. But five games into the experiment, Knorr and his players aren't looking back.
Playing without starting QB Ryan Hawk in crunch time, the Ohio offense tallied 28 points in an impressive win at Kentucky. Sophomore Austen Everson led the Bobcats to 14 fourth-quarter points as Ohio won in Lexington for the first time in 33 years.
The Bobcats rank sixth in the MAC in both scoring offense and passing offense, two categories where they struggled in 2003. With a lockdown defense that allows only 18.8 points and 286.4 yards per game, Ohio (3-2) already has surpassed its victory total (two) from a year ago.
"Confidence and believing in things are a lot easier when you have success," Knorr said. "We have a long way to go offensively. Our quarterbacks have adjusted well."

Coordinator Phil Earley came to Ohio from the West Coast and instilled a three-receiver spread attack. The new scheme has actually increased the Bobcats' "options" by featuring playmakers such as Scott Mayle and Chris Jackson.

Mayle ranks fifth in the league with 131 all-purpose yards a game. He caught four passes for 157 yards and two touchdowns in the win at Kentucky. Mayle also led the Bobcats with 52 yards rushing.

"His speed alone is something we wanted to find ways to get in the football game," Knorr said. "I don't know if there's many people who are going to catch him in the open field. The defensive coaches say if he's in the open field, they better get that kickoff cover team ready."

Opposing defensive coordinators used to dread preparing for Ohio's multiple option. Unfortunately for the Bobcats, the foes usually contained the run-oriented attack. Ohio scored 30 points or more only three times last year.

Now Ohio is giving those coaches another reason to worry.

"They've always played good defense and now their offense is a little more explosive," said Marshall coach Bob Pruett, whose team travels to Ohio on Saturday. "When they were in the triple option, if you had a good game plan, they didn't have the option to open it up.

"They've gotten better."

Knorr said the new system and the success has increased players' confidence in themselves and in the coaches.

Hawk is expected to return for the Marshall game. The defense, meanwhile, will welcome back safeties Chip Cox (separated shoulder) and Rob Stover (knee), as well as LB Dennis Chukwuemeka.

"Our kids are excited," Knorr said. "They're buzzing about being able to go down and beat Kentucky. But they're grounded in realizing the tough task that's ahead.

"The players certainly bought into it early, but now since we're able to win some games, they're buying into it more."

Crash course pays dividends for Buffalo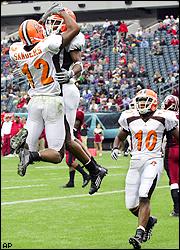 Steve Sanders and the Falcons celebrated a rout at Temple on Saturday.

Go ahead and criticize Jim Hofher's record at Buffalo.

Talk about the losing streaks and the lopsided scores. But don't ever question his character. At least not after last week.

Hofher survived one of the roughest stretches of his coaching tenure and was rewarded with an impressive 48-20 victory over Central Florida. The Bulls coach used two freshman QBs after suspending starter P.J. Piskorik indefinitely for conduct detrimental to the team.

Hofher chose to bypass senior Randall Secky in favor of Chris Moore and Datwan Hemingway, a decision that meant revamping the offense.

"All week in practice was a learning experience for me," Hemingway said.

"I was more calm (Saturday) than I was the entire week of practice, so I was just trying to have some fun and lead the team down the field."

According to the Buffalo News, Hofher stayed up several nights piecing together a scheme his freshmen could handle. Moore started the game and threw for 195 yards and a touchdown, while Hemmingway led Buffalo to 17 points in the second quarter.

"There was some measure of relief," Hofher said. "I know the players earned it. The coaches earned it. It was a very challenging week, not only at a specific position, but challenging for our team in general. The players did a terrific job maintaining their poise."

So did their coach. With Buffalo riding a seven-game losing streak, Hofher stuck to his gut. The Bulls rushed for 245 yards and scored the most points since entering Division I-A in 1999.

Buffalo averaged 8.5 yards per play in the victory.

"We got really solid performances from so many guys and it probably did relieve some of the pressure," Hofher said. "We're going to be a work in progress."

Knights still snoozing, losing
When George O'Leary took over as Central Florida's coach, he called the program "a sleeping giant."

Four games into the 2004 season, the Golden Knights have not stopped tapping the snooze button.

O'Leary hopes last Saturday's 48-20 loss at Buffalo sets off an alarm for his young team. The Knights defense allowed 440 yards on only 52 plays. Although starting QB Steven Moffett made some strides, Central Florida is staring at an 0-5 start as Northern Illinois comes to the Citrus Bowl this weekend.

"Defensively we played as bad as we could from an assignment standpoint and a tackling standpoint," O'Leary said.

With a move to Conference USA on the horizon, UCF has lost eight straight games.

"I haven't seen anything like that in a long time," O'Leary said of UCF's defensive play. "It's disheartening."

Suddenly an NFL coordinator job doesn't sound so bad.

Rockets' secret weapon emerges
The name Kenny Higgins usually doesn't come up in conversations about Toledo's receiving corps.

After all, the Rockets have Lance Moore, who led the nation in receptions last season.

Toledo also features sophomore Steve Odom, who averaged 13.6 yards a catch and scored six touchdowns in 2003.

But last Saturday it was Higgins who stole the spotlight.

The senior set a school record with 233 receiving yards and reached the end zone four times against Ball State. Higgins had only 11 catches for 194 yards in his first four games.

"I had to look in the game program to see who he was," Rockets coach Tom Amstutz joked. "Kenny has been working very hard the last couple of years. He can run and he's a big target. He's got the ability to make some big plays, and we were fortunate to give him the opportunities."

Toledo's offense is starting to cook, and with Higgins added to the mix, opposing defenses will be in trouble.

"Teams might take not of where Lance or Odom are," Amstutz said. "A safety may lean toward one receiver. That allowed Kenny to get open this week."

Proving grounds
Bowling Green coach Gregg Brandon didn't need to wait long to see how his team would rebound from a 17-point loss at Northern Illinois.

Whatever Brandon said to his players, it worked.

Bowling Green routed Temple 70-16 in a game that was over at halftime.

The Falcons broke a 45-year-old record for points in a half with 42 against the Owls. Bowling Green set a record for yards in a half (442) and posted the fourth-highest points total in school history.

After struggling to finish drives at NIU, QB Omar Jacobs and the Falcons played flawlessly at Temple.

"We had something to prove," Brandon said. "We didn't play well at Northern and our guys were really hacked off. They wanted to show the football world that we were an offense that has to be reckoned with."

Special operations work wonders
With a new coach and major schematic changes, Central Michigan is a program in transition.

But Chippewas coach Brian Kelly has identified one area to accelerate progress: special teams.

Central Michigan blocked two field goals and a punt in last Saturday's 24-21 win over Kent State. The big plays gave QB Kent Smith and the offense a short field and Central Michigan converted for 14 points.

Chippewas DE Dan Bazuin blocked both field goals, including a game-tying attempt with 35 seconds left.

"He's an effort guy, a hard-working, blue collar guy," Kelly said of Bazuin.

"That's who we are. If we work hard, we have a chance. Dan is the epitome of that."

Jason Smith's punt block led to the Chippewas' first score. Central Michigan capitalized later after a Kent State punt hit a Golden Flashes player and Raeshon Ball recovered.

"The kicking game's cost us three games," said Kent State coach Doug Martin, who is shuffling his punt teams.

"Our players are playing not to lose instead of playing to win."

The Chippewas, meanwhile, have found a loophole.

"Special teams is a combination of making your own plays and keeping pressure on the other unit to execute," Kelly said.

"We're trying to get this program to be competitive, and special teams has really been a watch word for us."

Adam Rittenberg covers college football for the Arlington Heights (Ill.) Daily Herald.
ESPN Staff Writer
College football reporter.
Joined ESPN.com in 2008.
Graduate of Northwestern University.
EDITORS' PICKS
Jameis Winston, the potential No. 1 overall pick, drew coaches from all 32 NFL teams to Florida State's pro day.
Jared Shanker »

Trending in NOLA: The latest Saban-Miles battles.
Crabtree

Dynamic duo
MORE COLLEGE FOOTBALL HEADLINES

MOST SENT STORIES ON ESPN.COM