Tigers counting on Campbell
Originally Published:
September 30, 2004
By
Todd McShay
| Scouts, Inc.
Saturday night's game represents the 48th meeting between these two storied programs, but just the third time both have been ranked in the top-10. Following Auburn's win over LSU and Tennessee's win over Florida two weeks ago, the Tigers and Volunteers find themselves in the pole position in their respective divisions. While both teams have treacherous conference schedules, the winner of this game will be one giant step closer to advancing to the SEC championship game in Atlanta, Ga.
Game Information
vs.
Who: Auburn (9) vs. Tennessee (8)
When: Sat., 7:45 p.m. ET (ESPN)
Where: Neyland Stadium, Knoxville, TN

Neither team was expected to rank this highly in 2004 after losing key players from a season ago. Auburn head coach Tommy Tubberville was fortunate to retain both of his premier running backs, Carnell "Cadillac" Williams and Ronnie Brown.
The play of QB Jason Campbell remains the "X-factor," particularly in big games. The biggest personnel turnover came on defense, where the team lost its best three starters – OLB Karlos Dansby (Cardinals), MLB Dontarrious Thomas (Vikings) and DE Reggie Torbor (Giants).
While the unit has allowed an average of only 6.5 points in four games, including just nine in the LSU win, its toughest test to date will come against the Volunteers. Tennessee's offense can be overpowering on the ground with its own two-headed monster at running back – Cedric Houston and Gerald Riggs.
For Tennessee, the challenge has been to replace four-year starting quarterback Casey Clausen and three-fourths of its secondary from a season ago. The Vols have gotten terrific play from their freshman quarterback tandem of Erik Ainge and Brent Schaeffer. They also have been able to overcome an inconsistent offense by generating 10 sacks and four interceptions in three games.
Ainge and Schaeffer showed moxie in their first SEC test against Florida, but can they repeat that success when Auburn comes to town? Furthermore, while the Tigers don't strike fear with their aerial attack, can the Vols stop the one-two punch of Williams and Brown? MLB Kevin Simon was lost for the season as a result of an ACL injury he suffered in the win over Florida.

Key individual matchups
1. Auburn RBs Carnell Williams and Ronnie Brown vs. Tennessee WLB Kevin Burnett
The Vols are going to miss Simon. In his absence, Burnett will have to pick up a lot of the slack. Burnett has terrific range versus the run and is fluid in coverage. While he can't make up for what the team is missing at middle linebacker, he can help limit Auburn's perimeter runs.

Burnett can also play an impact role in the passing game. The Tigers rely on Brown more than Williams to provide a security blanket for QB Campbell as a check-down option underneath. If Burnett can limit Brown's production in the passing game, the Vols will be in much better shape than most defenses against Auburn.

2. Auburn QB Jason Campbell vs. Tennessee FS Jason Allen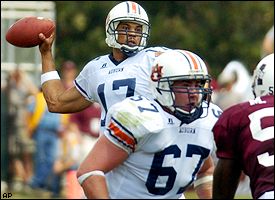 A strong running game should afford Jason Campbell with opportunities for big plays.

One of Campbell's biggest challenges when he comes to the line of scrimmage will be to find Allen on each play. Allen, who made the move to safety from cornerback in the offseason, is the Vols' lone returning starter in the secondary from a season ago. He is tied with Burnett for the team lead in tackles. He also has 2.5 sacks, one interception and one pass defended. His versatility is what makes him such a valuable asset; he is capable of defending the run, blitzing the quarterback and covering the deep middle of the field.

Campbell has a tendency to throw the ball up for grabs. He doesn't do a consistent enough job of looking off safeties when he's making vertical throws. If Campbell continues to make ill-advised throws, Allen will be there to capitalize. As has been the case for Campbell and Auburn in the past, one or two of those mistakes could be the difference.

3. Tennessee WR Tony Brown vs. Auburn DC Carlos Rogers
The Vols don't have a primary receiver. Tennessee's quarterbacks completed passes to 10 different skill players in last week's win over Louisiana Tech. However, Brown is the lone senior starter with very good size and excellent hands, which makes him a reliable target on third down.

Auburn has an advantage here, because it can move Rogers around. At times, the Tigers might want to utilize Rogers' size and experience against other Tennessee receivers with more vertical ability, such as Bret Smith or Jayson Swain. But they will likely match Rogers up against Brown on third and short-to-intermediate situations.

Because Rogers has developed into a reliable cover corner with the size, toughness and savvy to hold up one-on-one, it will allow defensive coordinator Gene Chizik to be more liberal when it comes to blitzing the young Tennessee quarterbacks.

Auburn's keys to success
1. Time for Campbell to come of age
Dating back to his freshman season, when Campbell started eight games, the theme has always been the same. As a senior with significant starting experience, the Tigers are still trying to protect Campbell.

While his overall statistics haven't been awful, Campbell continues to make mistakes in critical junctures of big games. He also fails to make big plays for his offense. Auburn was able to beat LSU earlier in the season, wtih Campbell completing 16 of 27 passing attempts with one touchdown and no interceptions. But had he made a couple big plays, Auburn would have put the game away a lot earlier.

The Tigers need Campbell to finally have the breakout performance in a big game they have been anticipating for the past two seasons. It will be imperative for the experienced quarterback to outplay the freshman duo of Ainge and Schaeffer.

2. Williams and Brown must find room
This game will most likely be won or lost on the play of the quarterbacks for each team. But the team that runs the football with more success will be the one that puts its quarterback in the best position to succeed.

The Vols have been relatively stout against the run, allowing 121.7 yards per game on the ground. But they aren't any tougher than LSU's run defense (ranked 10th nationally), which Auburn was able to penetrate for 131 yards just a few weeks ago. As has been the case when both backs are healthy, look for Williams to carry a heavier load on the ground. Brown figures to get close to 10 carries, and also to be more involved as a receiver and blocker on passing downs.

If Williams and Brown can combine for more rushing yards than Houston and Riggs, they will put their team in an excellent position to win on the road.

3. Cornerbacks need to hold up in heavy-blitz scheme
Defensive coordinator Gene Chizik has used a lot of "man-free" coverage this season, with cornerbacks Rogers and Montavis Pitts playing one-on-one on the perimeter and FS Junior Rosegreen helping deep. This has allowed the Tigers to cheat SS Will Herring up into the box on a more consistent basis.

This aggressive eight-man front will be crucial against a Tennessee team looking to establish a strong running game. As long as Rogers and Pitts hold up on the outside in man-to-man coverage, Chizik will continue to get away with it.

Tennessee's keys to success
1. Build confidence of quarterbacks early
Ainge and Schaeffer have very different styles. Ainge is a more traditional drop-back passer, while Schaeffer is much more of a running back at the quarterback position. The one common denominator is they both need to be eased into Saturday night's game.

Offensive coordinator Randy Sanders needs to be intelligent in his approach, while also being careful not to be too conservative early on. Sanders knows Auburn is going to blitz Ainge early on. Running some three-step drops, screens, flair-routes and even draws in the first couple of series will help to exploit the pass rush.

When Schaeffer is in the game, the Tigers will blitz less in order to protect themselves from the athletic quarterback taking off and running. Getting Schaeffer involved in the "shotgun read option" right away is likely the best means to get his feet wet.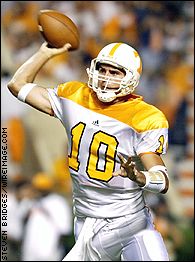 Auburn will look to rattle Tennesse's young signal-callers.

2. Houston and Riggs must find room
The Volunteers need their two offensive horses to carry a heavy load. It will be important for Houston and Riggs to get established early on. A strong running game will put their young quarterbacks in a better position to succeed, and will help wear down Auburn's defensive front. The Tigers have talented starters but lack ideal depth.

The concern for the Vols is that LSU's top two backs -- Justin Vincent and Alley Broussard -- were able to muster just 118 yards on 22 carries. LSU has a better offensive line and even more talent at the running back position than Tennessee. If Houston and Riggs don't combine for more than 150 yards against Auburn, the Vols will have an extremely tough time winning this football game.

3. Take advantage of punter Dustin Colquitt
Colquitt was a Ray Guy Award finalist as a sophomore in 2002, and as a junior in 2003. He finished sixth in the nation with a 45.3 yards per punt average last season and is off to another strong start in 2004.

Colquitt is hands down the best all-around punter in the nation this season. He has good size, leg strength and understanding of angles and placement. He also has very good control of his punts. In a game where both teams are looking to establish good field position, Colquitt could be the "X-factor."

While Auburn punter Cody Bliss is no slouch, Colquitt is simply better. If Colquitt can "flip the field" when the Vols have their backs against the wall and consistently pin the Tigers when the Vols are punting from midfield, he could make a big difference.

When Auburn has the ball
New Auburn offensive coordinator Al Borges has installed a version of the West Coast offense. The offense features a lot of pre-snap shifts and motions designed to make the scheme look complicated. One of the main goals is to put Campbell in position to make quicker reads and get the ball out of his hands.

The Tigers have been using a lot of three receiver sets this season with Courtney Taylor, Ben Obomanu and Anthony Mix. Taylor leads the team with 11 receptions for 157 yards. Obomanu and Mix both have nine receptions and two touchdowns. The other receiver who will see playing time is Devin Aromashodu, who is clearly the big play specialist of the bunch.

The Tigers like to take some chances downfield early, in an attempt to loosen up the opponent. Campbell has rarely been able to exploit the man-to-man coverage he is afforded because of all the attention given to Williams and Brown. If Campbell can hit on one of those early attempts, it would go a long way towards forcing the Vols to play more honest.

The Tigers have been pretty consistent with the breakdown in playing time and carries for Williams and Brown. Williams will carry a much heavier load on the ground and should finish with somewhere between 15 and 20 carries. Brown will be used mostly on third downs because of his superior blocking and receiving skills. The Auburn offensive line has been very consistent so far this season. Not only has it paved the way for an average of 210.5 rushing yards per game, it has allowed just six sacks in four games.

The problem the Tigers will have on is the lack of respect that Tennessee is likely to give to their passing attack. The Vols lack the personnel in their secondary to play as much man-to-man coverage as LSU did, but look for defensive coordinator John Chavis to be aggressive.

The Vols were obviously dealt a huge blow when they lost Simon to a season-ending ACL injury. They still have loads of talent in their front-seven. LDE Parys Haralson, who is active against the run and provides good consistency as a pass rusher, leads the front four. Burnett is now the anchor of the unit and his athleticism provides this defense with a lot of versatility. The unit also got a huge performance from Omar Gaither in his first start last week against Louisiana Tech, as he led the team with 11 tackles.

The only real question mark on defense for Tennessee is in the secondary, where Allen is the only returning starter from a season ago. The unit has given up too many big plays and ranks 85th in the nation with 241.7 yards allowed per game. The Tigers have done very little to prove they can consistently exploit this weakness, but don't be surprised if Borges opens things up early on to test the Vols' inexperienced trio of cornerbacks in Jonathan Wade, Jonathan Hefney and Roshaun Fellows.

Auburn special teams
The Tigers are solid on special teams but they aren't quite as strong as Tennessee. Punter Cody Bliss had a solid freshman season in 2003 and is off to another strong start as a sophomore. He is averaging 41.2 yards per punt and has landed seven of his first 16 attempts inside the opponents' 20-yard line.

PK John Vaughn split time with Philip Yost last season, but won the job outright in the summer. He has connected on three of his first five attempts so far this season, with a long of 43 yards. Yost is handling kickoff duties and has had 10 of 22 attempts go for touchbacks.

The return game has been less than spectacular for Auburn, as Tre Smith has handled the majority of the punt returns and is averaging just 7.5 yards per return. Cadillac Williams and Silas Daniels have also returned punts this season. In a key situation, the Tigers could have Cadillac return a punt. As for the kickoff return game, Brad Lester has handled three of five attempts and is averaging a respectable 25 yards per return. However, none of the five returns have gone for more than 32 yards.

When Tennessee has the ball
While the play of Houston and Riggs has carried the Volunteers' offense, the story has been the rotation at the quarterback position between Ainge and Schaeffer. When Ainge is in the game, the offense looks a lot like last year's, when Casey Clausen was at the helm.

Ainge still has a lot of room to grow in terms of his ability to make pre-snap reads and to check off from receivers who are covered. He has a lot of potential as a pure passer and has completed an impressive 64.3 percent of his attempts with eight touchdowns and just one interception.

When Schaeffer is in the game, the offense takes on an entirely different identity. Tennessee has tailored a system to highlight Schaeffer's running ability, while also masking his limitations as a passer. Schaeffer will run a lot of option out of the shotgun and will be used on a lot of rollouts.

While Schaeffer is the more exciting athlete of the two, it seems coach Fulmer is leaning toward Ainge as the long-term starter. Ainge has begun to see more playing time and has been in the game during the most critical junctures to date.

The Vols have a lot of depth at wide receiver with Chris Hannon (11 receptions for 122 yards), Brown (seven receptions for 103 yards), Smith (six receptions for 126 yards and Swain (five receptions for 91 yards). But no elite playmaker has emerged from the bunch.

The Vols have to establish a strong running attack in order to take the pressure off their young quarterbacks. Houston is the starter and has proven to be a special back, but his inconsistency can be frustrating.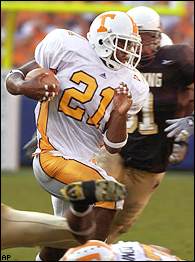 RB Cedric Houston is capable of producing some big plays.

As Riggs has become more consistent in terms of his receiving and blocking skills, he has begun to get more playing time. Riggs actually has seven more carries than Houston on the season. But Houston has proven to be the more explosive of the two, averaging 2.5 more yards per carry than Riggs.

The Vols are counting on the tandem to combine for over 30 carries and 150 yards. That won't be an easy task against an Auburn run defense that kept LSU's vaunted running game in check, and has allowed an average of just 114.8 rushing yards per game this season.

Defensive coordinator Gene Chizik is aggressive by nature. With three returning starters and the impressive play early on from new starting cornerback Montavis Pitts, Chizik is turning up the heat. The Tigers lost four key starters from their outstanding front seven from a season ago. They've been able to overcome those losses with a more aggressive scheme and some emerging young talent.

The Tigers are getting strong play in the middle from NT T.J. Jackson and DT Jay Ratliff. Jackson is a classic two-gap run-stopper, while Ratliff is more of a penetrating defensive lineman who disrupts plays in the backfield. MLB Travis Williams and WLB Antarrious Williams are doing a fine job of playing from sideline-to-sideline versus the run. Because of the aggressive play at cornerback, Chizik has been using SS Herring as an extra linebacker with SLB Kevin Sears essentially lined up as a wide-end.

The 5-3 alignment makes it very difficult for opponents to create running lanes and also allows Chizik to be as aggressive as he likes in terms of blitzing. If the Vols can't find a way to beat man-to-man coverage on the perimeter against Rogers and Pitts, it could lead to a frustrating night for RBs Houston and Riggs on the ground.

Tennessee special teams
PK James Wilhoit has obviously been the big name of this unit, but his inconsistency remains a big concern. He went from goat to hero when he hit a game-winning 50-yard field goal against Florida. But he also missed an extra point that would have tied the game. Last week against Louisiana Tech, Wilhoit missed his only field goal attempt of the game. Wilhoit is now 1 of 3 on field goal attempts this season. He does a terrific job on kickoffs, but if the game comes down to a field goal, he is very much a question mark.

The area that gives the Vols the biggest advantage is the punting game. Colquitt has the potential to bail the Vols out of a lot of bad situations, while also creating some for Auburn's offense. Colquitt is averaging 44 yards, while placing six of his 11 attempts inside the opponents' 20-yard line. He also has the Vols ranking first in the SEC and second nationally in net punting with a 43.8-yard average.

The Vols' weakness is in the return game. They are averaging just 5.5 yards per punt return and 15.5 yards per kickoff return. Corey Larkins and Gerald Riggs have handled all four of the teams' kickoff returns, while Hefney, Fayton and Larkins have combined to return all eight punts for the Vols. Hefney has established himself as the primary punt return specialist, but he is averaging just 6.3 yards per return.

Bottom line
The Tigers were more impressive against LSU than the Vols were against Florida. Auburn should win this football game simply because they are more experienced at key positions on both sides of the ball.

Campbell is nothing to brag about at the quarterback position, but he's far more battle-tested than Ainge and Schaeffer. Campbell didn't put up big numbers in the first big game of the season against LSU, but he led his team on a late scoring drive and did not throw an interception.

Against a Tennessee defense that has struggled to stop the run, the Tigers have the potential to establish a much more balanced offensive attack. Furthermore, because of the strong play of the Auburn secondary, look for defensive coordinator Chizik to crowd the line of scrimmage with 5-3 fronts.

Inexperienced mistakes will lead to Tennessee turnovers, giving Williams, Brown and Campbell all the possessions they need to soften up an overrated Volunteers' defense. It won't be easy, but the Tigers' experience will result in fewer mistakes.

Prediction: Auburn 26, Tennessee 24
Scouts Inc.
ESPN College Football and NFL Draft Analyst
Joined ESPN in 2006
Played quarterback in high school and was a backup QB for the University of Richmond.
EDITORS' PICKS
Jameis Winston, the potential No. 1 overall pick, drew coaches from all 32 NFL teams to Florida State's pro day.
Jared Shanker »

Trending in NOLA: The latest Saban-Miles battles.
Crabtree

Dynamic duo
MORE COLLEGE FOOTBALL HEADLINES

MOST SENT STORIES ON ESPN.COM