Return of the King: LeBron's back to MVP form
Updated:
March 25, 2007, 12:15 PM ET
By
Brian Windhorst
| Special to ESPN.com
This was supposed to be the year LeBron James won the Most Valuable Player award.
That was the penetrating thought in the early evening of Feb. 4, a frigid Sunday in Cleveland. The Cavs had lost, again, on national television, humbled by the Detroit Pistons, 90-78. The Pistons looked like the better team by far, placidly wrestling the Cavs' offense to a halt just as they had in Game 7 of the Eastern Conference semis almost 10 months earlier.
Nathaniel S. Butler / Getty ImagesWhat was with LBJ's slump? The search for answers continues.
James had a modest 21 points and was a nonfactor in the fourth quarter, in which the Cavs seemed to be going through the motions. In the visitors' locker room, Tayshaun Prince calmly explained exactly how the Pistons had shut James down, revealing their strategy to isolate him with the ball, tilt the defense and wait for James to fire up an off-balance jumper. It wasn't brash, it was the dead honest truth.
About 150 feet down the hall, James and teammate Larry Hughes were openly questioning their coach and his offensive philosophy. Without fear of consequence, James said the players and the coaching staff weren't on the same page, that the players wanted to run more and Mike Brown was holding them back.
The Cavs were a feeble six games over .500 at the time, way below their own lofty projections.
James had shown up on the first day of training camp in October and, without being prompted, proclaimed the Cavs ready to contend for an NBA title. His leadership, he said, had blossomed while he was the captain of Team USA over the summer. The bar had been established, he insisted, by Dwyane Wade and his June heroics when he put the Heat on his shoulders and lifted them in those clutch victories on the way to a ring.
When practices ended early in the season, James would step to the center of the huddle and speak, and the Cavs would break with the chant "Championship!" That looked good.
On the third night of the season, James took the Cavs into the SBC Center in San Antonio, where the franchise hadn't won since James was 5 years old, and his 35 points scored a statement victory. That looked good.
Even that day in February against the Pistons, the stat sheet said James was averaging 26 points, six rebounds and six assists. That looked good, too.
But it was a facade, just like the post-practice chants and a few quality victories. The Cavs weren't playing like a championship team, and James wasn't playing like an MVP.
It was hard to explain or quantify, yet it was so visible. James spent huge chunks of games playing passively. Instead of driving or looking for open lanes, he often settled for jump shots even when matched up with inferior defenders. In several games, Cavs losses, he didn't even score in the fourth quarter, the time when superstars take over.
The team was suffering because of it. At the end of last season, the Cavs won 16 of their last 19 games that were decided by four or fewer points. They won seven straight one-point games, three of them in the first-round playoff series victory over the Washington Wizards.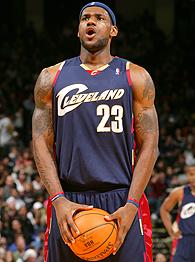 Rocky Widner/Getty ImagesEarlier this season, all eyes were on LeBron's FT woes.
James had been the late difference maker in virtually the entire late-season flurry, hitting the first four game-winning shots of his NBA career in the remarkable run of tight victories. Yet by the time midseason hit this year, the Cavs were about .500 in such games and James was remembered more for missed free throws and disappearing acts in tight games than for any heroics.
There was no obvious reason, though there were several theories.
Was there a lag from his participation in the FIBA World Championship? Was it that new offense, which was designed to take the pressure off him? Were a series of injuries -- a sprained toe, a sore elbow, some back spasms -- slowing him down? Was he resting on his laurels?
LeBron refused to discuss any of it, repeatedly denying he was in a slump while his teammates and coaches defended him.
Meanwhile, he was giving interviews and referring to his goal of being sports' first billionaire and a "global icon." When he arrived in various cities on the road, he was headlining parties at nightclubs. He was posing for magazine covers to hype his new marketing company's goal of making him a megastar in China by the start of the Beijing Olympics.
The defeat by the Pistons made it five straight losses on national television and in none of them was he the best player on the court. That, combined with the post-Super Bowl news hole, opened the national critical floodgates. The columns and commentaries covered plenty of bases.
James, they said or wrote, had hit a ceiling ... wasn't a finisher ... was coasting through the regular season ... wasn't focused ... couldn't make free throws ... was trying to get his coach fired ... or cared more about making commercials and selling shoes in the Far East than winning basketball games.
It wasn't just media types, either. Gilbert Arenas and Wade gave interviews in which they questioned their fellow All-Star.
"Just watching on TV, you can see he doesn't have that same pep in his step, his normal attitude," Wade said before the Heat visited the Cavs, less than a week after that rock-bottom loss to the Pistons. "He has to find a way to get it back."
It was raining down on James in those first few weeks of February, and he was feeling it. Although he says he doesn't read papers or listen to critics, he does. He has read and saved news clippings since he was a young teen. He consumes basketball on television and the commentary around it. Not only will he occasionally comment to reporters about what they write but also he will point out if he has proved someone, or a group, wrong.
So then perhaps there was a column that proved to be the final straw. Maybe it was a private call from Wade or another peer. Maybe James' bed at a posh Beverly Hills hotel was particularly comfortable. Whatever it was, something cracked Feb. 15 in Los Angeles.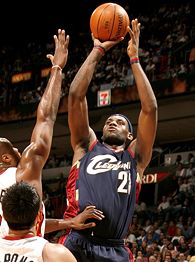 Issac Baldizon/Getty ImagesLeBron James is rising from his uninspired start to the season.
From the moment James arrived at the Staples Center, his neurons seemed to be firing. He was wide-eyed and energetic before the game, showing charm in his pregame media chat. Yes, it was a big game against Kobe Bryant and the Lakers, but the Cavs and James play in a lot of high-profile games and he and the Cavs had just beaten the Lakers in Cleveland four days earlier. Something was different, and it was profound.
From the moment James took the floor, he seemed to have suddenly tapped into a new energy stream. He attacked the basket, finished at the rim, even made his free throws (18 of 22). Late in the game with the outcome hanging in the balance, Bryant guarded him and James backed him down in the post and got several key baskets to assure victory.
The game didn't end until nearly 2 a.m. in the East, and it was the final NBA game before the All-Star break, so perhaps it slipped by on the radar. Maybe it wasn't a masterpiece -- 38 points can qualify as just an ordinary night for a pure scorer like Bryant -- but the persona shift was evident. And now, looking back, all the more important.
Since that night in L.A., it has been a different James reporting for duty and the Cavs -- not coincidentally -- have become bona fide. He has been attacking the basket, moving with motivation in transition and showing aggression at the defensive end. No longer does he wait for the ball to come to him in crunch time -- he goes to get it. Seldom does he wait for a pick-and-roll to develop 25 feet from the basket at the end of the shot clock.
There are still flaws and regressions that emerge. Tuesday night James attacked the Charlotte Bobcats' interior defense for dunks, layups and fouls (making 11-of-12 free throws) all night on his way to 37 points. Yet with the ball in his hands in the final seconds of regulation with the score tied, James meekly tossed up a 23-footer even as he was being checked by smaller, slower Matt Carroll.
The eventual defeat in overtime ended the Cavs' eight-game winning streak. Despite the bad loss, the Cavs have gone 11-4 since James first looked refreshed in Staples Center. In the 15 games, he's averaged 32.6 points, 6.7 rebounds and 5.9 assists while shooting better than 50 percent from the field -- numbers that are almost identical to those he posted last season when finishing second to Steve Nash in the MVP voting.
He had a 16-point fourth quarter to lead the Cavs to a comeback win in Milwaukee, put up 41 points in an overtime win in Detroit, scored 13 points in two minutes in a game in Memphis, won a crucial jump ball in the closing moments of a home victory over the Rockets and had 17 rebounds in a home victory over the Jazz. He also scored 39 points in a near miss in Dallas as the Mavericks survived 13 fourth-quarter points from James, who played shutdown defense on Dirk Nowitzki in the stretch run. He won the Eastern Conference Player of the Week award last week for the first time since November.
"I'm just getting ready for the playoffs," James deadpanned when asked about the fast reversal in his intensity level. "I am feeling good and seeing things better now, for some reason."
Just what is the reason? Brown has made some adjustments to his offense, moving James favorite Sasha Pavlovic into the starting lineup and switching Hughes to point guard. He has given up some of the play-calling duties. But that doesn't explain why James has rediscovered his mixture of power and swagger.
That "pep in the step," as Wade calls it, could be frightening because in a playoff series -- as James and Wade proved last year -- one unstoppable player can overwhelm even the most rock solid opponent. That's especially true with the East very much up for grabs.
The reversal may have come too late for James to grasp that elusive MVP trophy. He is, however, showing MVP qualities at the most important time of the season.
Ask any opponent who has encountered James in the past month and he'll attest. Ask James' teammates, coaches and friends and they'll nod in agreement. Maybe no one can explain where he went for three months or why he has come alive now, but there is little questioning that LeBron is back.
Brian Windhorst covers the Cleveland Cavaliers for the Akron Beacon Journal.
ESPN.com
ESPN.com NBA writer since 2010
Covered Cleveland Cavs for seven years
Author of two books
SPONSORED HEADLINES
MORE NBA HEADLINES
MOST SENT STORIES ON ESPN.COM
EDITORS' PICKS
LeBron struggled in his return to Cleveland as New York ruined the King's homecoming.

Westbrook hurt

Two games, two blowouts. Are the Lakers really that bad? Kobe Bryant says no way.