Is the foreign invasion a joke?
Updated:
January 28, 2005, 12:01 PM ET
By
Chad Ford
| ESPN Insider
Projecting top international draft prospects these days creates about as much consensus as a Bush-Kerry debate.
Just mentioning names like Nikoloz Tskitishvili and Darko Milicic can start a shouting match. Critics have come out of the woodwork claiming the foreign invasion is a joke, and so far most of the young international players the NBA has drafted recently haven't been able to silence the haters.
Even Insider readers have turned on them to a large extent. Here's an e-mail from Rex in Idaho that I received this morning:
"Love the draft coverage but please, when you get through ranking all of the American kids, can you just skip the international players this year? Admit it, they suck. I can't help but think that this rise in their popularity in the draft directly coincides with your decision several years ago to go to Serbia to scout these kids. Since then you've been all over the world. While the stories are a great read ... where are the basketball players? You've been the first guy to tell the world about players like Manu Ginobili, Marko Jaric, Skita, Darko, Mickael Pietrus, Maciej Lampe, Carlos Delfino and Pavel Podkolzine and none of them have done a thing. Maybe if you quit writing about them, NBA teams will quit drafting them. Just a thought."
It's an interesting theory. But I don't buy it. When I go overseas, I follow NBA scouts and write what they see and think, not the other way around. There are a plethora of explanations out there why each of these players are struggling. Their age, lack of experience and, to a large extent, available minutes in the rotation are more plausible explanations.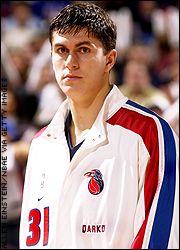 Milicic is the poster child for skepticism about NBA internationals.
Does Darko not play because he stinks, or because he's too young and has
Ben Wallace
,
Rasheed Wallace
and
Antonio McDyess
ahead of him on the
Pistons
' depth chart? Even Larry Brown, Darko's biggest critic, would point to the latter.
The truth is, international players are just like everyone else. Some will get better with age and minutes. Some will be busts. That happens in every draft, regardless of a player's nationality.
Still, the backlash is duly noted.
We're pressing on anyway, in part, because NBA scouts and GMs still are paying attention to prospects overseas, and a record number could end up being drafted in the first round this year. Scouts claim this might be the deepest pool of international talent ever (in part because of the record number of prospects that pulled out of the draft last year) and plan to take full advantage.
Teams are more convinced than ever that with the style of play in the NBA changing, big, skilled players who can shoot the basketball are going to be in high demand.
This year's international crop offers a lot of interesting options, with all of the same pitfalls that have plagued the past few classes. Several of the top prospects are too young and still unproven. The older prospects are getting minutes, but have other flaws that have to be addressed.
There is no perfect prospect here, and the parity is evident. These rankings seem to be changing by the week. Insider consulted five NBA scouts and two GMs who specialize in international scouting to rank the players. Few of them agreed on an order, and draft ranges were all over the place.
Several top young prospects – guys like Ersan Ilyasova, Yi Jianlin, Sergio Rodriguez, Oleksiy Pecherov, Peja Samardziski and Andrea Bargnani – were not included because evidence suggests they won't be in the draft this year.
With that long preamble out of the way, here's Insider's first look at the Top 10 international prospects this year ...
To continue reading this article you must be an Insider
Welcome
!
We see that you are not an ESPN Insider. Upgrade today and gain access to our exclusive coverage.
ESPN The Magazine subscribers

Need more information?
SPONSORED HEADLINES
MORE NBA HEADLINES
MOST SENT STORIES ON ESPN.COM