Next season's free-agent crop pretty sparse
Originally Published:
February 1, 2005
By
Jerry Crasnick
| ESPN Insider
The Hot Stove winter of 2004-05 will be remembered for its wall-to-wall eventfulness. Starting pitchers generally regarded as average hit the mother lode. Randy Johnson and Sammy Sosa were dealt. Roger Clemens returned to Houston, but Carlos Beltran didn't. And contrary to the early speculation, Scott Boras' clients didn't have to wait until Valentine's Day to get lucky. We'll find out about Magglio Ordonez shortly.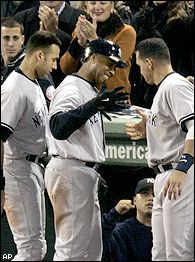 How much longer will Bernie be in center for the Yankees?
A potential theme for next winter's free-agent market? It could be the tug-of-war between business and sentiment.
Craig Biggio
,
Bernie Williams
,
Frank Thomas
and
Trevor Hoffman
– players who have been synonymous with their franchises since the late 1980s and early 1990s – have a year left on their contracts and are no longer stars. Will their teams take one more plunge for old times' sake, or proceed with the painful breakups?
There's always room for surprises on the free-agent market. Who would have thought a year ago that Jaret Wright would fetch $21 million over three years, or that J.D. Drew and Adrian Beltre – injury-prone underachievers – would sign five-year deals for a combined $119 million? Somebody always emerges to make a grab for the cash.

But at first glance, the 2005-06 free-agent crop certainly looks like a downer. It's short on starting pitching, and there's no Vladimir Guerrero or Beltran with the potential to be a franchise anchor-type for a decade.

Under the theory that it's never too late to speculate on how teams will spend their money, here are some of the names we expect to see making news next November:

Aging icons




Frank Thomas
He's 36 and coming off ankle surgery that might force him to miss the start of spring training. With 436 career homers, Thomas has the lure of 500 as incentive to keep playing. But his tenure in Chicago has been rocky in recent years – marked by injuries, bouts of petulance and charges that he's selfish. The White Sox have a $10 million option on Thomas for 2006. At this point, a change of scenery might be therapeutic for Thomas.
CAREER STATISTICS

GM
BA
H
HR
RBI
SLG
1590
.315
1829
378
1161
.562
Piazza's performance during his seven-year, $91 million contract with the Mets illustrates why teams are hesitant to give deals of that length to catchers. Piazza has made five All-Star teams in New York, and he broke Carlton Fisk's record for career homers by a catcher. But injuries have limited him to 31 homers and 88 RBI over the last two seasons, and even when he's on the field, the Mets aren't quite sure where he belongs. If Piazza can rebound in 2005, maybe he can parlay it into a two-year deal as a catcher-DH with an American League club. If not, he'll be another year closer to retirement with his Baywatch bride, Alicia Rickter – which isn't necessarily a bad thing.

Sammy Sosa
Sosa reportedly is willing to approve a trade to Baltimore without a contract extension, but the expectation is that it will happen eventually. "We're hopeful this will be a long-term relationship,'' Sosa's agent, Adam Katz, told ESPN's Jayson Stark. While the reaction to Sosa's arrival in Baltimore hasn't been as euphoric as he might have hoped, a nice 40-45 homer season could help facilitate the transition.

Craig Biggio
Biggio, 39, returns this season to play lord-knows-which position for the Astros. He's 361 hits shy of 3,000 and willing to work cheap ($3 million a year). Given his 18 years as an organizational favorite and team guy, it will get progressively tougher for Houston management to cut him loose as he approaches the 3,000 mark.

Bernie Williams
Williams is forever a gentleman and a professional, and he provides a heartwarming link to the start of the Yankees' big run in the mid 1990s. He's scored 100 or more runs in eight of the last nine seasons. But he's slipped defensively at 36, and his slugging percentage has taken a big dive. If the Yankees decide they want to get younger and more dynamic, center field would be the logical place to start.

Catalysts




Johnny Damon
Torii Hunter and Juan Pierre won't go on the market until after the 2006 season. So if the Yankees are looking for a speedy flycatcher to bat leadoff, they might want to take a look at Damon. It'll be a sad day for New Englanders if Caveman Johnny gets in the barber's chair and goes corporate.

Rafael Furcal
Furcal, a dynamic package of speed, power and range at shortstop, has 54 stolen bases over the past two seasons -- and 55 errors. He's had his problems off the field as well, recently serving 21 days in jail for his second drunken driving offense. He signed a $5.6 million deal with Atlanta last week to avoid salary arbitration. Unless the Braves sign him to a long-term deal this season, he'll be the prime shortstop alternative to Garciaparra next winter.

Staff ace material




Tim Hudson
Atlanta general manager John Schuerholz laughs at the perception that Hudson is far and away the crown jewel of next winter's free-agent pitching group. "How do you know he's going to be out there?'' Schuerholz said. Although the Braves prefer not to negotiate deals during the season, they worked out a six-year, $90 million extension with Chipper Jones in August 2000 – the year after he won the MVP award.

The Braves have a new ace in Tim Hudson.

In November, Hudson's agent, Paul Cohen, established a March 1 deadline for negotiating a contract with Oakland. After the A's traded Hudson to Atlanta, Cohen told reporters that the deadline still applies to the Braves, because Hudson doesn't want his contract situation to be a distraction. Whatever happens, Schuerholz will go to great lengths to keep developments under the radar.

A.J. Burnett, Brad Penny, Jeff Weaver and Ramon Ortiz are among the other starters who'll be available as free agents in November. The 2006 crop will be stronger, with Johan Santana, Mark Mulder, Ben Sheets, Barry Zito and Brad Radke among the pitchers who'll be on the market.

Closing time




Billy Wagner
He's still awfully formidable – when he's able to take the mound. Last year Wagner had an eye-popping strikeout-to-walk ratio of 59-to-6, but he was limited to 45 appearances because of groin and shoulder injuries. Billy the Kid turns 34 in July, so you have to wonder how much longer he'll be gassing it up there at 100 mph.

The producers




Lance Berkman
Berkman, who turns 29 in February, is a career .303 hitter with a .416 on base percentage. He's averaged 32 homers and 113 RBI over the past four seasons. He's expected to miss the first month of the season with a knee injury, but his agent, Michael Moye, continues to talk to the Astros about a multiyear deal. Astros GM Tim Purpura recently told the Houston Chronicle there's a 50-50 chance the team will get it done before the start of the season.

Carlos Lee
Traded from the White Sox to Milwaukee for Scott Podsednik and Luis Vizcaino as part of Chicago general manager Kenny Williams's speed-and-defense makeover, Lee will bat cleanup for the Brewers this season. El Caballo is trending upward at 28, and should generate plenty of interest from teams in search of power from the right side.
2004 SEASON STATISTICS

GM
BA
H
HR
RBI
OPS
159
.284
173
23
94
.849
Brian Giles
Giles turned 34 in January, and the scouts look at that stocky physique and expect him to break down physically. Then you look at his output last season, and he's still a pretty productive player. Although Giles' .849 OPS was low by his career standards, it still tied him for 12th best among National League outfielders. The transition to pitcher-friendly Petco Park also didn't help him much. You have to like a guy with 783 career walks and only 567 strikeouts.

Paul Konerko
Konerko has clearly benefited from playing in hitter-friendly Comiskey Park. He hit .317 with 29 homers and 70 RBI at home last year, while going .239-12-47 on the road. Given that the White Sox have already parted company with Magglio Ordonez and Carlos Lee, they might be more inclined to try to keep Konerko. But if he's looking for a four-year, $50-million Richie Sexson deal, the Sox might have trouble paying him.

Nomar Garciaparra
Baseball people liked the Cubs' one-year, $8 million investment in Garciaparra – because he's a motivated, star-caliber player looking to prove people wrong. Garciaparra is intent on answering the critics who've ripped his defense and questioned whether he can stay healthy. If he regains his pre-injury Red Sox form, there'll be money available. As Edgar Renteria, Orlando Cabrera, Cristian Guzman and Omar Vizquel showed this winter, there's always money available for a productive shortstop.

Aramis Ramirez
After spending so many years in search of a third-base solution, the Cubs want to lock up Ramirez to a multiyear deal before spring training. Ramirez, 26, hit .318 with 36 homers and 103 RBI last year. He's seeking $10.25 million in salary arbitration, while the Cubs have offered $8 million.

Bret Boone
While Boone's power numbers slipped last year, he still ranked third among major-league second basemen in RBI behind Jeff Kent and Alfonso Soriano. The dropoff was partly a reflection of playing for a bad team and not having much help. Even though Boone won his fourth career Gold Glove largely on reputation, he's still fine in the field. The big issue: he's a 36-year-old middle infielder coming off his worst season in four years. Was 2004 an aberration or the start of a decline? He'll provide the answer in 2005.

Jerry Crasnick is a regular contributor to ESPN Insider. He can be reached via e-mail.
ESPN.com MLB Sr. Writer
ESPN.com senior writer
Author of "License to Deal"
Former Denver Post national baseball writer
EDITORS' PICKS
The BBTN 100 counts down the top 25 players in baseball for 2015.
Rankings »

MLB players weigh in on baseball's best player, PEDs and what they really think about A-Rod's return.
MLB Confidential »

Where does the recently-signed Yoan Moncada land on Keith Law's prospect rankings?
Top 50 update
MOST SENT STORIES ON ESPN.COM