Crosby, Greene head rookie class
Oakland's Bobby Crosby and San Diego's Khalil Greene are at the head of this season's rookie class.
Originally Published:
October 31, 2004
By
Rob Neyer
| ESPN Insider
Here's something I'll bet you didn't know: The two American League rookies who finished with the most at-bats in 2004 played for the same team.
Here's something else I'll bet you didn't know: Were it not for a stupid technicality, the two best American League rookies would have played for the same team.
And I'm talking about different rookies and different teams.
The two rookies who finished with the most at-bats were Oakland's Bobby Crosby and Marco Scutaro.

The two best American League rookies, almost, were Minnesota's Lew Ford and Justin Morneau. Except Ford wasn't a rookie, because of an obscure rule that counts time on the DL against your rookie eligibility. Ford didn't play a lot in 2003, but he did spend nearly seven weeks on the disabled list, which cost him rookie status in 2004. Morneau was outstanding this season, but because the Twins didn't think they needed him (as things turned out, they didn't), he wasted the first half of the season in a bush league.

Scutaro's not a real candidate, not with his .297 on-base percentage. So we'll confirm the obvious in a moment, but first, there are a couple of rookie pitchers who deserve at least a glance from the voters (and us, since we're here). I'm referring, of course, to 20-year-old Zack Greinke and 35-year-old Shingo Takatsu.

If Greinke had thrown just 17 more innings and posted the same ERA (3.97), he'd have finished the season with the 10th-lowest ERA in the league, right between Kelvim Escobar (3.93) and Rich Harden (3.99). Which isn't an argument in itself, but Greinke also struck out 100 batters and walked only 26 in his 145 innings. He won only eight games because the Royals were a bad joke, but don't let his record fool you: Zack Greinke was the best young pitcher in the majors this season.

It's hard enough to give the Rookie of the Year nod to a pitcher over an everyday player, but when that pitcher didn't even crack 150 innings & well, it's tough to make that case. And even tougher to make the case for Takatsu, who pitched brilliantly for the White Sox (6-4, 2.31, outstanding ratios) but pitched only 62 innings and saved 19 games.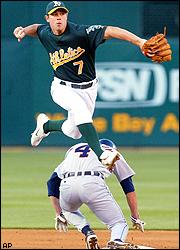 Crosby likely will be Oakland's fifth ROY since 1986.

So in the American League, the answer is Bobby Crosby, with the caveat that Crosby's not one of the stronger candidates in recent years. He played well at shortstop, but his .319 on-base percentage was a serious drag on an Oakland lineup that really didn't score enough runs this season. It pains me to admit this: The Athletics were my preseason choice as division winners -- but they easily could have finished in third place, considering they finished with the third-best run differential (the Rangers were better by just a hair).

In the National League, we can also quickly dispense with the pitchers. Just like in the American, not a single National pitcher managed to total even 162 innings. Believe it or not, Noah Lowry led NL rookies with 92 innings. The only real Rookie of the Year candidate among NL pitchers is Expos reliever Chad Cordero, who went 7-3 with a 2.94 ERA and 14 saves, and looks like a future star. But Cordero would draw serious consideration only if there weren't any deserving everyday players, which of course there are: Padres shortstop Khalil Greene and Pirates outfielder Jason Bay.

Greene put up impressive numbers in a season that ended three weeks early because of a broken finger. He played in 139 games and posted a .349 on-base percentage, .446 slugging percentage. Mighty impressive for a rookie shortstop (and noticeably better than Crosby's numbers).

Bay put up more impressive numbers in a season that started five weeks late because of a shoulder injury. He played in 120 games and posted a .358 OBP, .550 slugging percentage.

At first glance, this looks like a matter of taste. Do you want the guy who played a lot, but not brilliantly? Or do you want the guy who played brilliantly, but not quite a lot?

Your preference is really a matter of philosophy, rather than precision. Or as a wise man recently said, "You can teach it round. You can teach it flat. We'll know Tuesday night."

Except for one thing: The raw numbers do not tell the whole story. There is, of course, a wide chasm between the defensive value of a good shortstop (like Greene) and an adequate left fielder (like Bay). There's also a wide chasm between Greene's and Bay's home ballparks. Pittsburgh's home field, where Bay plays half his games, is one of the half-dozen or so hitter-friendliest parks in the National League. San Diego's home field, where Greene plays half his games, is one of the two pitcher-friendliest parks in the National League (Dodger Stadium being the other). How did their ballparks impact their stats?

Here's a stark answer, just Greene's and Bay's road numbers:
AB 2B 3B HR Avg OBP Slug
K. Greene 256 24 1 12 .301 .353 .543
Jason Bay 180 9 1 11 .256 .351 .500
I'm not going to suggest -- as these numbers might -- that Greene is actually a better hitter than Bay. I don't think that he is. Funny things happen in small samples of at-bats, and I don't expect Green to hit 24 doubles on the road, with only seven at home, again in 2004. But it's pretty clear that if Greene and Bay were teammates (as they would have been, if the Padres hadn't traded Bay to the Pirates) their 2004 statistics would be more similar than they are.
For that reason, and because Greene did play significantly more games than Bay played, I think the evidence calls for a clean sweep for kid shortstops this year: Bobby Crosby in the American League and Khalil Greene in the National.
Rob Neyer is a senior writer for ESPN.com.
EDITORS' PICKS
The BBTN 100 counts down the top 25 players in baseball for 2015.
Rankings »

MLB players weigh in on baseball's best player, PEDs and what they really think about A-Rod's return.
MLB Confidential »

Where does the recently-signed Yoan Moncada land on Keith Law's prospect rankings?
Top 50 update
MOST SENT STORIES ON ESPN.COM