Griffey regaining sparkling form
After two fallow years, it's heartening to see Ken Griffey Jr. pop up on "SportsCenter'' again for the right reasons.
When Ken Griffey Jr. was chosen by fans as one of nine outfielders on Major League Baseball's All-Century Team -- beating out Roberto Clemente, Stan Musial, Frank Robinson, Rickey Henderson and Barry Bonds, among others -- an intriguing sentiment made the rounds on the talk shows and chat boards.
With another good decade of baseball in front of him, did Griffey have a legitimate chance to appear on the next All-Century team, as well?
Griffey was 29 years old and a Silver Slugger-hoarding, Gold Glove-collecting machine of unparalleled skill and versatility when he joined Willie Mays, Hank Aaron and the other greats in the first All-Century outfield. He had averaged 52 homers and 141 RBI over the previous four seasons with Seattle, and it seemed likely he'd maintain that level of production given how tough it was to get him out of the lineup.
From 1997-99, Junior appeared in 157, 161 and 160 games for Seattle despite the demands of batting cleanup, covering tremendous amounts of ground in center and making an imprint on numerous walls throughout the American League. He was a burgeoning iron man.
The advent of the 21st century showed that perception and expectations can change at the drop of a hat -- or the pull of a hammy. Aaron once proclaimed Griffey the player most likely to break his record of 755 home runs. Then Seattle traded Junior to Cincinnati, and he made five trips to the disabled list with injuries to his hamstring, shoulder, ankle and knee.
Griffey was never as joyful and sunny-side-up as the media portrayed him during the "Kid'' hype years, but his world suddenly became a smile- and swagger-free zone. Always thin-skinned about his treatment from the press, he surfed the 'net and seized upon anything remotely derogatory as another reason to grouse. Between the injuries and the paranoia, it was no wonder companies that had flocked to him for endorsements began taking a pass.
But as Griffey zeros in on 500 homers, it's suddenly resurgence time. His recent staredown with Marlins manager Jack McKeon, while juvenile, was a sign that he's back in fighting mode. And barring a setback, he'll beat out Fred McGriff and become the 20th member of the 500 club.
With luck, maybe Junior can even wrest that lucrative Tom Emanski endorsement deal away from the Crime Dog.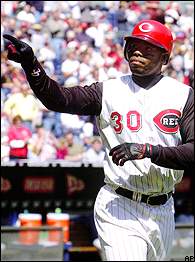 Ken Griffey Jr. has enjoyed an amazing resurgence.
Statistics don't always make the man, but in Griffey's case they speak eloquently. While Junior has a .249 average, he's tied for the National League lead with 17 home runs and is tied for second in the league with 47 RBI. Each time he stands at the plate, hands aloft in admiration of another cloud scraper, it's a welcome flashback. And in both NL front offices and the heart of the scouting section, the buzz is building: He's back.
After Griffey scorched the Astros for eight RBI in the Reds' recent four-game sweep in Cincinnati, he was the talk of Houston's charter flight home.
"Anybody who takes this guy lightly and thinks he's the player of the last two years is foolish,'' said Tim Purpura, Houston's assistant general manager. "He's going to be a little slower because he's older now. But the bat speed is there, the power is there, and he's got that bounce in his step again.''
After a terrible start, Griffey hit .260 with 10 homers and 29 RBI in May. A National League coach whose team recently played the Reds got the sense that every time Griffey busts it down the line or into the gap and doesn't feel a twinge, the nagging doubts dissipate and he's emboldened to come back stronger the next day.
"He's always been that guy, like Barry Bonds, that you point to in the lineup,'' the coach said. ""Another good two or three weeks of baseball out of him, and I think people will start looking at him the way they used to.''
If you walked onto the field today and took a snapshot of Griffey's game, you'd still be impressed with his grab bag of skills. Although he no longer plays the outfield on a par with Andruw Jones, Mike Cameron or Torii Hunter, he still glides to balls and gives third-base coaches reason to wonder if he'll come up firing.
Speed-wise, he gets the job done. Griffey isn't a blazer on the basepaths, but he'll score from first base on a double or go from first to third on a single. Even at his peak, he was usually good for only 15-20 steals a season.
Regardless of where his career goes from here, Griffey will have to resign himself to people obsessing over what-ifs. The standard line is that things came so easily for him, he never had to worry about stretching or conditioning while in his twenties. Roberto Alomar, who fell victim to the same syndrome, learned that lesson too late.
"When you're young, you tend to rely on your physical tools,'' said an NL scout. "As you get older, you rely more on conditioning and staying in shape. Look what Roger Clemens and Randy Johnson have done. That's always been the question with Junior -- how much he conditions himself. But the last year or two, I think he's realized how important it is.''
Baseball people who saw Griffey toy with his competition at Moeller High in Cincinnati still get wistful and glassy-eyed in hindsight. "He was the best young player I ever saw,'' said Al Goldis, a long-time scout now working in the New York Mets front office. "He was a big-league guy playing in high school. Everything was so fluid and athletic and rhythmic.''
Griffey was so good, no strategy sufficed. Like all good lefty power hitters, he crushed down-and-in fastballs. But he also had the quickness to catch up to balls up in the zone. When his legs were hurting, teams could pound him with hard stuff on the hands. Now he's turning on those balls. And if the catcher sets up outside, he'll take it over the fence in left center.
Is Griffey's bat fast enough to make time stand still? Unfortunately, no. But after two fallow years, it's heartening to see him pop up on "SportsCenter'' again for all the right reasons. The journey to 500 is almost complete, and Ken Griffey Jr. won't be limping to the finish.
Jerry Crasnick is a regular contributor to ESPN Insider. He can be reached via e-mail.
ESPN.com MLB Sr. Writer
ESPN.com senior writer
Author of "License to Deal"
Former Denver Post national baseball writer
EDITORS' PICKS
The BBTN 100 counts down the top 25 players in baseball for 2015.
Rankings »

MLB players weigh in on baseball's best player, PEDs and what they really think about A-Rod's return.
MLB Confidential »

Where does the recently-signed Yoan Moncada land on Keith Law's prospect rankings?
Top 50 update
MOST SENT STORIES ON ESPN.COM