April offers Edmonds fresh start
Pardon Jim Edmonds for being slow to warm to a discussion about quick starts. Hitters will drone on forever about buzzard luck and line-drive outs hit right on the screws, but it's bad form to dwell on success. Do that and it might lead to really reckless behavior -- like stepping on the foul line while jogging off the field after a great catch.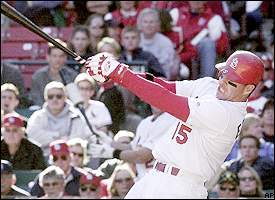 Jim Edmonds has always thrived (.344 career average) in the month of April.
So why does Edmonds rake so routinely in April? That question was posed to him as he fished around the bat rack before a recent Grapefruit League game against Atlanta.
"Who sent you here to ask me that question?" Edmonds said, only half-jokingly. "The Cubs or the Astros?"
The St. Louis Cardinals will begin their season Monday against Milwaukee, and if history is any indication, April will rain singles, doubles, triples and homers for Edmonds. He's a .344 hitter for the month -- 51 points better than his career average. For those of you who neglected to pay your SABR membership dues, .344 was also Ted Williams' career batting average.

Truth is, Edmonds has no idea why he goes from zero-to-60 between Florida and St. Louis. Health is part of the equation. Come August, Edmonds will already have done a face plant or two into the center field wall at Busch Stadium. He'll have an ice pack on his shoulder, a wrap on his hamstring and the pole position at the whirlpool bath.

Right now he's fresh and ready to go. He missed the first 14 spring training games because of offseason shoulder surgery, but 25-30 at-bats in Florida were enough for him to shake off the rust while honing his timing.

"The stronger I feel, the easier I swing and the more I stay on the ball," Edmonds said. "That's probably why at the end of the year you struggle, because you get a little tired and try to do too much. You'll overswing or your head will move, and it'll create big holes. At the beginning of the year I'm just trying to see the ball and hit it."

Edmonds, an 11-year veteran, is an anomaly in the major leagues. Baseball Insider culled through the 30 media guides to check out the career records of players with at least five years experience, with the intention of finding hitters whose April numbers deviate significantly from the rest of the season. For every Jim Edmonds, Mike Lowell or Phil Nevin who tears it up in the opening month, three or four hitters come out of the gate like Howard Dean at the Iowa caucuses.

Some numbers:
| | | |
| --- | --- | --- |
| Fast Starters | March and April | May through October |
| Jim Edmonds, St. Louis | .344 | .286 |
| John Olerud, Seattle | .329 | .292 |
| Moises Alou, Chicago Cubs | .329 | .296 |
| Shannon Stewart, Minnesota | .328 | .299 |
| Phil Nevin, San Diego | .322 | .268 |
| Mike Lowell, Florida | .322 | .264 |
| Darin Erstad, Anaheim | .317 | .283 |
| Troy Glaus, Anaheim | .293 | .245 |
| Slow Starters | March and April | May through October |
| Roger Cedeno, Mets | .202 | .287 |
| Derrek Lee, Chicago Cubs | .229 | .271 |
| Miguel Tejada, Baltimore | .242 | .275 |
| Steve Finley, Arizona | .243 | .282 |
| Dmitri Young, Detroit | .265 | .302 |
| Barry Larkin, Cincinnati | .271 | .299 |
| Bernie Williams, Yankees | .278 | .309 |
| Todd Helton, Colorado | .292 | .345 |
Johnny Damon, Gary Sheffield, Cliff Floyd, Reggie Sanders, Luis Gonzalez, Tim Salmon, Magglio Ordonez, Edgar Renteria, Julio Franco and Brian Jordan are among the other proven hitters who consider the switch to Daylight Saving Time their annual April highlight. They all get better as the season progresses.

April is the only month (other than October, which provides a miniscule sample) in which Seattle DH Edgar Martinez doesn't have a career batting average of at least .310. He's a .298 career hitter for April.
Lee

And Derrek Lee's motto for the first two months should be, "Wake me when they're over." Lee hits .226 in April and May, and .284 from June through October. His OPS (on base-plus-slugging percentage) for May is a feeble .659, then it spikes to .946 in June. Cub fans, consider yourselves forewarned.

Cincinnati hitting coach Chris Chambliss is at a loss to explain why some hitters typically get off to better starts than others. For example, Troy Glaus has Todd Helton beat by a point in April (.293 to .292). After that, Helton has Glaus by 100 (.345 to .245).

Like most observers, Chambliss cites weather as the overriding factor in shaping April stats. "Sometimes we go from 80-degree weather and our first game up north is 30-40 degrees," Chambliss said. "I think that favors the pitchers. The bats are stinging a little more, too." As an antidote, Chambliss said, hitters rely on handwarmers and park their bats next to the dugout heater to keep the wood toasty.
| | | |
| --- | --- | --- |
| | " | There might be a day in the middle of the winter when pitchers are ahead of the hitters. But there's no day between the 1st of April and the last day of October that it happens. " |
| | | — Steve Hirdt, Elias Sports Bureau |
Steve Hirdt of the Elias Sports Bureau doesn't buy the old standby that pitchers are ahead of the hitters coming out of spring training. As Hirdt points out, April 4 marks the 10th anniversary of one of baseball's watershed events -- Karl "Tuffy" Rhodes going deep three times against Dwight Gooden on Opening Day.

"There might be a day in the middle of the winter when pitchers are ahead of the hitters," Hirdt said. "But there's no day between the 1st of April and the last day of October that it happens."

Still, Hirdt concedes April is more pitcher-friendly than other months. Balls don't carry as well in the cold, and while pitchers can't enjoy working when it's 40 degrees, they at least have the option of riding a fastball in on the hitter's fists. Fear and discomfort can be great equalizers in places like Detroit, Boston and Chicago in the spring.

Hirdt also points out that No. 5 starters pitch less frequently in April, because there are more rainouts and off-days built into the schedule. By extension, it stands to reason that bullpens are fresher in the opening month.

It hardly seems to matter to Edmonds, who's bigger than H.R. Block in April. Just don't ask him to crunch the numbers.

"The minute I do that, I'll start off hitting .200," he said.

Spoken with the pessimism of a true big-league hitter.

Jerry Crasnick is a regular contributor to ESPN Insider. He can be reached via e-mail.
ESPN.com MLB Sr. Writer
ESPN.com senior writer
Author of "License to Deal"
Former Denver Post national baseball writer
EDITORS' PICKS
The BBTN 100 counts down the top 25 players in baseball for 2015.
Rankings »

MLB players weigh in on baseball's best player, PEDs and what they really think about A-Rod's return.
MLB Confidential »

Where does the recently-signed Yoan Moncada land on Keith Law's prospect rankings?
Top 50 update
Nike Men's St. Louis Cardinals Dri-fit Authentic Collection Flash Fly Red Performance Shorts Shop »
MOST SENT STORIES ON ESPN.COM