Bowa, Francona in must-win situations
Updated:
December 31, 2003, 11:12 AM ET
By
Jerry Crasnick
| ESPN Insider
Phillies manager Larry Bowa is not a man who enjoys vacations in the traditional sense. In October he traveled to Florida to check out prospects in the instructional league. Then he visited Arizona to look at prospects in the fall league. Hey, why waste time working on your long irons when you can get a sneak preview of the 2004 Scranton/Wilkes-Barre starting rotation?
In early January, Bowa will head to Hawaii for 10 days. He'll soak up the sun, write lineups on dinner napkins and wonder if this is the year Jimmy Rollins finally stops hitting the damn ball in the air so often. Then he'll return to Philadelphia to head up the winter caravan and -- time permitting -- monitor the spot welding at Citizen's Bank Park.
"I'll never be able to relax," Bowa said during the recent winter meetings. His National League East colleagues aren't helping much. Bobby Cox and Jack McKeon, in a blatant display of button-pushing, encountered Bowa in the hotel lobby in New Orleans and made sure to needle him about how formidable the Phillies look after all their off-season moves.
Bowa
Francona

"I like our team," Bowa said. "But we haven't done anything. The Marlins won the World Series. The Atlanta Braves have won the division 11 years in a row. We still have to do it."

Terry Francona, who preceded Bowa as Philadelphia manager, will encounter a similar brand of scrutiny this summer in Boston. He takes over a team that won 95 games and was a Grady Little strategic lapse away from making the World Series. Now that the Red Sox have added Curt Schilling and Keith Foulke and come up short in their bid to acquire A-Rod, Francona has expectations to meet, egos to heal, and the Yankees to overcome.

Never mind that Boston fans are so baseball-obsessed they actually debated the merits of the Mark Bellhorn signing, in light of his 339 strikeouts in 1,017 career at-bats.

When the Red Sox fired Little, they conducted their search for a replacement with a meticulousness befitting Supreme Court Justice nominees or "American Idol" contestants. Boston management liked Francona because he's a people person, but not so nice that he can't be tough. The Red Sox appreciated the fact that Francona is a ball guy, but not so rigid that he can't incorporate statistics and new-age analytical tools into his preparation. Francona is glib enough to handle the Boston media, self-assured enough to live with his decisions and realistic enough to understand that millions of New Englanders think they can manage the team better than he can.

At his introductory press conference, Francona showed he has the proper mentality for survival. "Think about it for a second," he told reporters. "I've been released from six teams. I've been fired as a manager. I've got no hair, I've got a nose that's three sizes too big for my face, and I grew up in a major-league clubhouse. My skin's pretty thick. I'll be OK."

As the most protracted free-agent signing season in memory continues to play out -- Vladimir Guerrero has to sign with someone eventually, right? -- this much is clear: No managers in baseball, even Joe Torre, will be under more pressure to get off to fast starts than Bowa and Francona.

The consensus throughout baseball is that the Phillies have a chance to be really good in 2004 -- if only the manager doesn't mess things up. As one American League executive put it, "I like their club, and I like their farm system. The biggest red flag is the manager. I haven't run across many people who are fond of his style."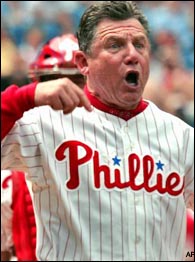 Larry Bowa's combustible personality will be put to the test with higher expectations.

The heat is on Bowa because the Phillies will be moving into a new ballpark and can't possibly have done more to upgrade. While Gary Sheffield, Javier Lopez, Greg Maddux, Ivan Rodriguez, Derrek Lee, Javier Vazquez and most likely Guerrero have left the NL East in a major divisional talent drain, the Phillies have used their projected Citizen's Bank revenue to upgrade a pitching staff that tied for seventh in the league with a 4.04 ERA. General Manager Ed Wade retained Kevin Millwood, added Eric Milton to the rotation and fortified the back end of the Phillies' pen with Billy Wagner, Tim Worrell and Roberto Hernandez.

Bowa, while well-intentioned, has a personal style that wears people out over time. His ranting and nitpicking were easier to justify when the Phillies were less talented, but it's time for him to back off now that the roster is filled with Larry Bowa-type players. Mike Lieberthal, Bobby Abreu and Pat Burrell are veterans now, and the Phillies have brought in enough self-motivated pros to police the clubhouse.

"We have a lot of low-maintenance guys, and you let them take care of the little things," Bowa said. "If a guy is late, you'll see Jim Thome or David Bell saying something. We've acquired guys like Wagner and Worrell who have great work ethics and like to win. The young players look up to them, and it makes your job easier."

The question is, can Bowa harness his competitive instincts and adapt? The Phillies tried to defuse any controversy over Bowa's status by picking up his contract option for 2005. But if the team gets off to a slow start, Charlie Manuel is just a phone call away as a Phillies roving instructor. He's a player-friendly, low-voltage alternative, and he has the potential to be the 2004 version of Jack McKeon if Bowa self-destructs.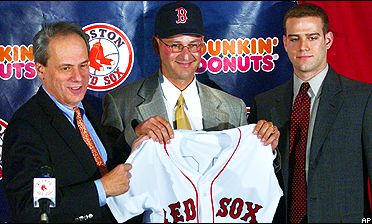 Terry Francona, center, takes over a veteran Red Sox team.

As for Francona, he's amused that people keep asking him if he expects problems handling so many superstars in Boston. Pedro Martinez and Nomar Garciaparra will be free agents after this season, and the emotional fallout from the A-Rod trade talks will make for a zoo-like atmosphere when Garciaparra and Manny Ramirez arrive at spring training.

From a public-relations standpoint, Francona seems equipped to handle the cleanup chores in a way that Little and certainly Jimy Williams weren't. He expects the shared sense of purpose in the Boston clubhouse to override chemistry issues once the Red Sox arrive in Fort Myers in February.

"Two days into spring training, you get that feeling that you've been with guys a long time," Francona said. "It never fails. Baseball is unbelievable in that aspect. The barriers go down, relationships build, and they build in a hurry. It's amazing."

Francona comes to Boston with a pre-packaged set of raps that are only partially rooted in reality. The SABR people took note that Randy Wolf threw 206 innings for the Phillies at age 23 and concluded that Francona is judgment-impaired when it comes to handling a pitching staff. When Dallas Green piled on and said Francona "coddled" players in Philly, it paved the way for the team to go in the opposite direction with Bowa.

Francona's Philly experience helped prepare him for what he'll encounter in Boston. Philadelphia sports fans obsess over the Eagles more than the Phillies, but they habitually wake up miserable and go downhill from there. Red Sox fans, in contrast, are relentlessly passionate, eternally hopeful, and absolutely convinced that something will go wrong in the long run.

"I understand there's a fervor for baseball here, and it's fantastic," Francona said. "If there's interest in the Red Sox like that, it's great. But I don't see how it affects what I do."

Francona will understand the first time he leaves his starting pitcher in too long and the second-guessing begins. But there's something to be said for perspective: A year ago Francona nearly died from infectious blood clots following routine knee surgery. He confronted a fate even more horrifying than death by talk radio or a flogging on the Sons of Sam Horn Web site.

And a sense of humor always helps.

"I think we're headed in the right direction," Francona said. "I got my wife to my first press conference on time. If I could do that, we're well on our way to going somewhere."

Jerry Crasnick is a regular contributor to ESPN Insider. He can be reached via e-mail.
ESPN.com MLB Sr. Writer
ESPN.com senior writer
Author of "License to Deal"
Former Denver Post national baseball writer
EDITORS' PICKS
The BBTN 100 counts down the top 25 players in baseball for 2015.
Rankings »

MLB players weigh in on baseball's best player, PEDs and what they really think about A-Rod's return.
MLB Confidential »

Where does the recently-signed Yoan Moncada land on Keith Law's prospect rankings?
Top 50 update
MOST SENT STORIES ON ESPN.COM