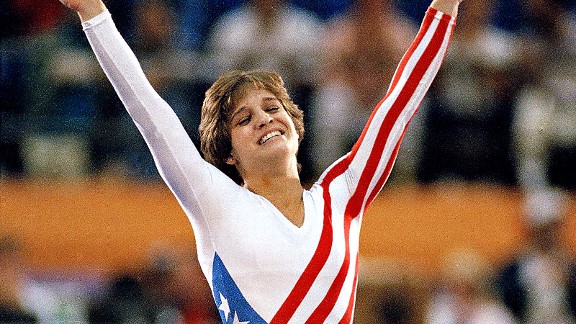 AP Photo/Lionel Cirroneau
No. 38
Mary Lou Retton
The name conjures an immediate image: little girl, pixie haircut, full-cheeked smile, stars-and-stripes leotard, triumphant pose.
But you don't end up on a Wheaties box -- you don't win over judges and fans and thousands of girls hoping to follow in your cartwheels -- if the performance doesn't match the pose. And at the 1984 Summer Olympics, Mary Lou Retton delivered.
She was 8 years old when she had her own Olympic epiphany, watching on TV as Nadia Comaneci scored perfect 10s at the 1976 Montreal Games. Setting off on her own path to gymnastics greatness, Retton left her home in Fairmont, W.Va., at age 14, heading to Houston to train with Bela Karolyi and his wife, Martha, who had coached Comaneci before their defection to the United States.
Although Retton's effervescent and explosive style was the antithesis of Comaneci's stoic grace, the two gymnasts did share one important trait. "The thing that was shockingly similar was their competitiveness," Karolyi says. "They had amazing drives to win and an amazing spirit of sacrificing to reach their goals."
The Russians, Hungarians and Romanians dominated the sport in those days, waiflike athletes performing balletic routines as full of elegance as technical difficulty. Then Mary Lou bounded onto the scene, with a body that looked more like a spotter's than a competitor's (Comaneci was 4-foot-11, 86 pounds; Retton was 4-9, 93 pounds), and she started beating the Eastern Bloc's best.
No one was really paying attention, though, until the Los Angeles Games took center stage. And with two rotations remaining in the all-around competition, Romanian Ekaterina Szabo was way ahead of Retton. A perfect 10.0 in the floor exercise barely kept Retton alive; she needed another 10.0 in the vault to win. So she threw her signature full-twisting Tsukahara, a move no one else dared try. Despite a knee that had been surgically repaired just six weeks earlier, Retton nailed the landing. Another 10.0.
Suddenly, the little girl embracing Karolyi was the first American woman with an Olympic gold medal in gymnastics. Retton took her second attempt anyway, maybe to prove the first was no fluke. She nailed that vault, too.
No athlete won more medals than Retton's five that fortnight, and the 16-year-old left L.A. as the darling of the Olympics. Although the Soviets and their satellites boycotted the Games, her performance needed no justification. In fact, in the months and years to come, it became clear that Retton hadn't just captivated a sport; she had transformed it. "After Mary Lou, we had to create a new type of gymnast who could impress with her sturdiness, energy and the physicality of her performance," Karolyi says.
By the end of the L.A. Games, the Mary Lou era had begun and it would inspire future U.S. all-around medalists Shannon Miller, Carly Patterson and Shawn Johnson. Each of those women was at some point labeled The Next Mary Lou. "It was an honor to be called that," says Johnson, the 2007 world champion and 2008 Olympic all-around silver medalist. "I mean, she's Mary Lou."
-- Alyssa Roenigk, ESPN The Magazine