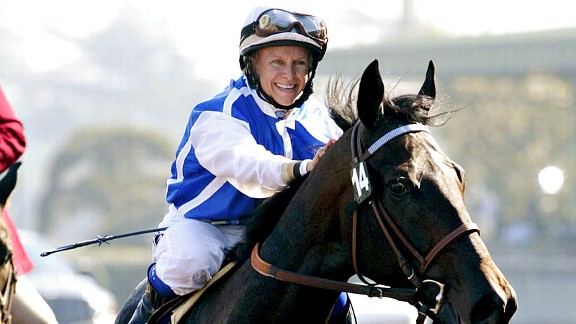 Robert Laberge/Getty Images
No. 39
Julie Krone
The first time trainer Richard Mandella saw Julie Krone on the back of one of his horses, he turned to the person next to him and said, "It's like she melts onto the horse."
The year was 2001, and Krone, who retired for the first time in 1999, had called Mandella and asked if she could work his horses at Del Mar -- in the mornings, just for exercise, just to get in shape. Mandella found this a stroke of luck: Who wouldn't want a hall-of-fame jockey running their horses? That's like a former NBA All-Star just stopping by for practice. "We had a great summer," Mandella says. "And you could just see a glint in her eye that she wanted to ride again."
She did. She missed the thrill of a horse's speed and power, the intimacy of knowing exactly what the animal needed, and when. Krone had become hooked on riding as a toddler when her mother, a champion equestrian, lifted young Julie onto the back of a horse to demonstrate its gentleness. So it's no surprise that retirement did not suit the jockey. Krone started racing again at age 39, and Mandella immediately put her aboard one of his best young fillies, Halfbridled. "There was just something about Halfbridled and Julie that worked together," he says.
Fast-forward to the 2003 Breeders' Cup Classic, where Krone and Halfbridled drew the farthest post from the rail, No. 14, for the $1 million Juvenile Fillies. Even with Halfbridled undefeated as a 2-year-old and going off as the favorite, everyone knew that such a daunting starting position could cause the race to go south, and quickly. Mandella said only one thing to Krone: I trust you.
"A lot of riders would have sent her out to make the lead, or they would have fallen back and tried to come from behind," Mandella says. "Neither of those would have helped the horse. Julie let her break out of there, then she found the quiet little spot to sneak her over. She didn't lose ground, and she found a great spot that gave Halfbridled confidence. Julie was like a maestro."
Halfbridled won, making Krone the first female jockey to win a Breeders' Cup race. A decade earlier, aboard Colonial Affair in the Belmont Stakes, she had become the first female jockey to win a Triple Crown race. Of course, these are just the two most famous of Krone's 3,704 career wins. She also won riding titles at Belmont Park, Gulfstream Park, Monmouth Park, The Meadowlands and Atlantic City Race Course -- the only woman to have done so at any of those tracks. In 2000, a year after her initial retirement, Krone became the first woman inducted into the National Museum of Racing and Hall of Fame.
"When I rode against Julie, people would say, 'How does she compare to a guy?'" says contemporary Gary Stevens, who won 4,888 races in his career. "And I would say: 'Let me tell you something. When you're coming down the stretch against Julie, you better not be thinking about that.'"
Stevens took over Halfbridled when a nasty spill forced Krone into permanent retirement in 2004. He quickly learned that Halfbridled was tempermental; the horse needed coddling. "That was one of the things about Julie -- she got along very well with every kind of horse," Stevens says. "She sensed them. But she was also an awesome, powerful competitor."
Adds Mandella: "You can be physically good and all of that, but you must also possess a sense of what a horse needs and how to encourage them to do their best. There are all kinds of ways of getting along, and Julie knew immediately what a horse needed.
"She was as good as anybody I ever saw."
-- Kate Fagan, espnW