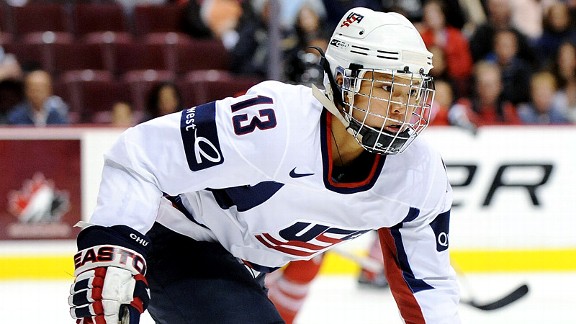 Harry How/Getty Images
Julie Chu
As a forward for the U.S. women's ice hockey team, Julie Chu has carved out quite a career: three-time All-American at Harvard, three Olympic medals, four world championship gold medals. When she's not competing, Chu is passing along her knowledge as an assistant coach at Union College. Here, she shares her experience from last summer at the International Ice Hockey Federation High Performance Women's camp in Slovakia. For Chu and her U.S. teammates, it was a welcome chance to help grow the game globally.
The event last July was the first time that the IIHF put together a training camp with 17 different nations, split into six under-18 teams and six over-18 teams. They mixed us up, so there were only one or two players from the same country on each team, which meant we were playing next to Swedish players, Finnish players, Norway, Germany, Japan.
It was an incredible camp, and it was a chance for the Americans and the Canadians to take a stronger lead in trying to grow women's hockey. In the U.S., we've been given a lot of opportunities and resources that players in other countries don't have. We started training for the 2010 Olympics in August. Sweden and Finland didn't get together full time until just after Christmas; they only had a month to get into peak form.
One of the great things about Title IX is that it has given us incredible opportunities to grow and be the best athletes that we can be, because we have a great funnel system with the NCAA. So the Slovakia camp was a chance for us to share what we've learned. For example, we know how important strength and conditioning is, but a lot of countries don't have those kinds of programs, or the players don't know how to follow through with a conditioning regimen.
The girls from Norway, an up-and-coming team, were the biggest sponges; they couldn't soak up enough information. That was inspiring. Now we keep in touch with players from a lot of the countries and help them in any way we can. And of course, we learned from them, too.
Our team still talks about how that was one of the best hockey moments we've experienced. There was something about the camp that really unified all of us at the core of women's hockey. This was about understanding that we need to work together in different countries to grow the sport to the point where we have many nations that are competitive, instead of maybe just four teams. It was a cool experience.
-- As told to Elena Bergeron, ESPN The Magazine