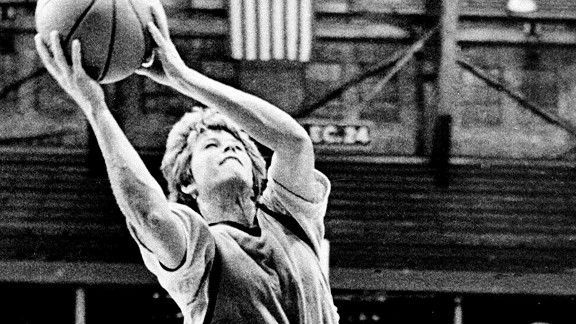 AP Photo
Ann Meyers Drysdale
Today, she is the general manager of the WNBA's Phoenix Mercury. But Ann Meyers spent her formative basketball years competing against the boys -- in the backyard against her brothers, on the courts of Laguna Beach, Calif., with neighborhood kids and inside UCLA's Pauley Pavilion, where she became a four-time All-American as the school's first woman to receive a full athletic scholarship. So when NBA owner Sam Nassi invited Meyers to try out for his Indiana Pacers in 1979, the 5-foot-9 guard was ready for the challenge. Here, she recalls those intense three days in Indianapolis: the good, the bad and even a coach's intervention.
Sam Nassi called out of the blue while I was home in California. He asked me, "How would you like to try out for the Indiana Pacers?" It was as simple as that. And then I had a huge decision to make. I had been playing with USA Basketball, and I wanted to represent my country again in the 1980 Olympics [after earning a silver medal with the 1976 U.S. squad]. But to try out for the Pacers, I'd have to sign a professional contract and relinquish my status as an amateur.
I knew I was being offered a once-in-a-lifetime opportunity, one that most men don't even get. Plus, the funny thing was, five years earlier I'd had a chance to play on the boys' varsity at my high school; I chose not to, but only because people talked me out of it. And I wasn't going to let anyone talk me out of this.
I signed a three-year deal for $50,000 a year. It was a difficult thing for people to accept, especially people in the Pacers organization. Of course, I knew that publicity had a lot to do with it, but I never looked at it that way. I went into those tryouts trying to make the team. I was more prepared to play the game -- mentally, physically, emotionally -- than I'd ever been before. The camp I attended was a rookie free-agent camp, and when I stepped onto the court, I wasn't intimidated. Nothing had changed for me; I'd played against 7-footers in pickup games at UCLA, and I'd played against guys all of my life.
But what I didn't realize was that just because I was used to playing with guys didn't mean they were used to playing with girls. They were walking on egg shells around me. For them, it was a lose-lose situation. If I made a shot on them, they were embarrassed; if they blocked my shot, they were blocking a girl's shot and it was no big deal. I remember there was one drill where I got knocked down and my defender said, "Oh, Annie, are you OK?" Certainly I was OK.
Finally, during the second day, assistant coach Jack McCloskey stopped practice and called us all over. He just lit into us: "Quit focusing on Annie! Quit focusing on all of the media! Start focusing on basketball!" I think guys felt relieved after that, like Jack had given them permission to start playing basketball again, which was fine with me.
I felt I was competitive on the court. I made shots. I would pass to the open man. Sure, I turned it over and got beat on defense, but that's just part of the game. The media wanted to focus on all of the things I couldn't do, but I held my own. People would say, "Are you gonna take a charge from Bob Lanier [Detroit's 6-foot-11, 250-pound center]?" And I would say, "Who in this league is going to take a charge from Bob Lanier?"
One thing I was always thankful for was the honesty of the players. I remember one of them said about me, "Yeah, she's good, but she doesn't deserve to be here." I was glad when I was treated like an equal. Many of those guys didn't know how to play hard against me, but they also couldn't afford not to play hard.
At the end of the three days, coach Bobby Leonard called me over and basically said that he appreciated my hard work, but that the Pacers were going to move forward without me as a player. I stuck around the organization for a couple of months, doing broadcasting and community relations. But I was only 24 years old; I didn't want to be done playing. So the Pacers let me out of my contract, and I joined the New Jersey Gems of the Women's Professional Basketball League.
Even though it didn't work out on the court with Indiana, so many other good things came from that tryout. I developed some name recognition, and I began doing broadcasting work, which turned into my next career. To this day, I consider the decision to try out for the Pacers the best decision I ever made.
It made me a stronger person.
-- As told to Kate Fagan, espnW