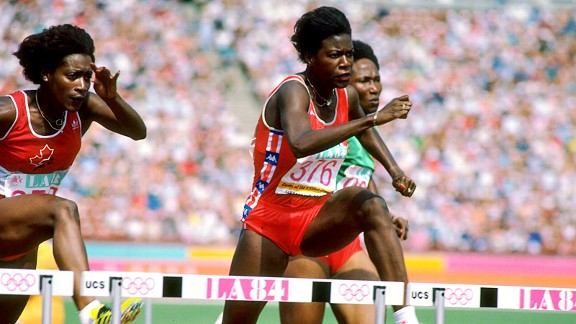 David Cannon/Getty Images
Benita Fitzgerald Mosley
As a young kid in Virginia, Benita Fitzgerald Mosley wanted to be the next Olga Korbut, until a middle school gym teacher steered her from the balance beam to the track. Smart move. She earned a scholarship to the University of Tennessee, and at the 1984 Summer Olympics in Los Angeles, she became the first African-American woman to win gold in the 100-meter hurdles (and only the second American woman, after Babe Didrikson). Now 51 and a successful executive currently serving as chief of sport performance for USA Track and Field, Fitzgerald Mosley (center right) is busy helping athletes get ready for the London Games. They'd be wise to adopt the mindset she discovered while preparing for her own big moment, as she explains here.
After making the 1980 Olympic team, and not getting to compete in Moscow because of the boycott, I knew that 1984 would be my next -- and maybe last -- shot. There was a lot of pressure, because there were a lot of good hurdlers who really wanted to get to the Olympics. The trials were held at the L.A. Coliseum, the same place where the Olympic track events would take place. That made it really special.
When four of us ended up in a photo finish, we had to sit there for like 20 minutes, waiting for the results. All these thoughts run though your head: Did I make it? Did I stick my chest out ahead of her? Am I going to miss out? The officials had to meet, blow up the picture and look at it with a magnifying glass to tell who had won. Only one one-hundredth of a second separated us. They determined I had finished second, and the top three go to the Olympics. I made it.
I was so happy; I threw myself into training when I got back to Tennessee. But one day on the track -- I remember it was hot and steamy -- I got this feeling and voice in my head, saying, I'm not just going to the Olympics; I'm going to win. It was like God had sent this angel down, divine intervention, to open up my heart and see the vision of what I could do.
That changed everything for me. It's not enough to show up. What do you do with the chances you are given? I was a woman from Dale City, Va., who got to run in college, got to make the Olympics on my talent -- but was that enough? When opportunities are placed in front of you, either because of a law like Title IX or fate, do you pursue them? That is the question, and I decided I was going to win in L.A.
And I did. I ran the race of my life. I felt like I was floating over those last few hurdles. The crowd was roaring; it was electric in the Coliseum. Even if I had not won gold, I still would have walked away happy, because I did my best. No regrets.
I tell my athletes today: Will you just be satisfied with making the Olympic team? Or will you push yourself to be your absolute best? I did the latter, and it's changed the rest of my life in so many ways.
-- As told to Joanne C. Gerstner, espnW