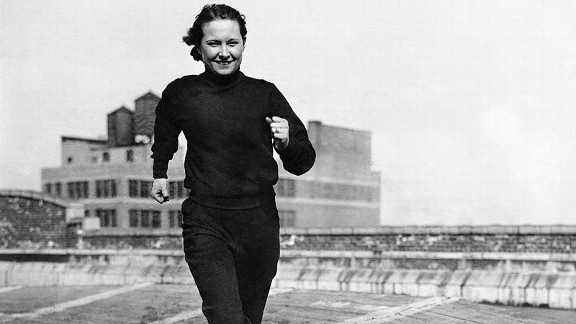 AP Photo
Nine ahead of their time
Elizabeth "Betty" Robinson
The first female sprinter to win Olympic gold was discovered in the most unlikely way. "I was running to catch a train when one of my teachers saw me," Betty Robinson told a newspaper. The teacher was also the track coach at her Illinois school, and he coaxed the teenager to enter a meet. She finished second -- just shy of a world record in the 100 meters. That record fell in her next race, and by her third, the 16-year-old Robinson had qualified for the 1928 Summer Olympics, the first in which women would compete in track and field. Robinson got her gold in the 100 meters, but she missed the 1932 Games after a plane crash left her so mangled that the person who recovered her from the wreckage drove her to a morgue. She remained unconscious for seven weeks and was wheelchair-bound for six months; her legs were so badly shattered, they were different lengths. But Robinson returned to the track, and while she could no longer crouch in the starting blocks, she ran the third leg for the 4x100 relay team
that upset the heavily favored Germans to win gold at
the 1936 Summer Olympics.