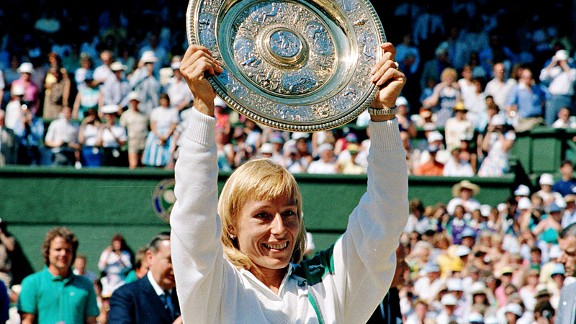 AP Photo/Robert Dear
Sweet streaks
Martina Navratilova
Won 74 straight singles matches.
Grass, clay, hard court … didn't matter. In 1984, Navratilova dominated on every surface. From Jan. 20 to Dec. 6, she won every match she played, and she made it look easy, losing just seven sets along the way. Today, she makes it sound easy, too. "When you win that consistently," Navratilova says, "you forget how to lose." During her run, she also teamed with Pam Shriver on a doubles win streak that hit 109 before ending in 1985. The singles streak was finally stopped by Helena Sukova in the semifinals of the Australian Open (then the final major of the calendar year). Not that pressure played a role for Navratilova. "I never felt any," she says. "I knew once I broke Chris Evert's streak of 55 and kept winning, no one would get that far again."