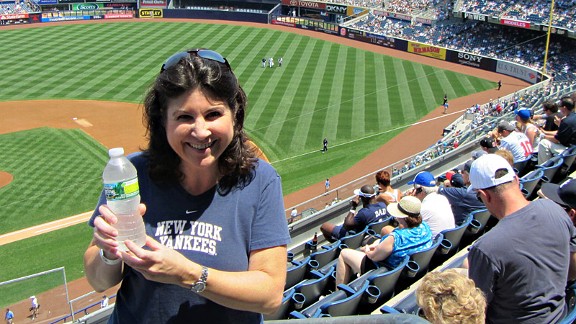 Courtesy of Amanda RykoffTwo games, two parks: New Yorker Amanda Rykoff takes in a day Yankees game at Yankee Stadium before heading to Citi Field for a night Mets game.
I've lived in New York City for a long time (too many years to admit publicly) and have always wanted to see the Yankees and Mets play on the same day in their two home ballparks. But Major League Baseball works hard to make sure teams in their two-team markets (New York, Chicago, L.A./Anaheim, Oakland/San Francisco and Baltimore/Washington, D.C.) don't have homestands at the same time. And if they are home at the same time for even a few days, you need one team to have a day game and the other to play at night. Even when this happens once or twice a season, if you have a "normal" job like I did for many years, it's not easy to take an afternoon off in the middle of the week to feed a baseball addiction.
This season, the scheduling gods smiled upon me. When I made plans a few weeks ago to go to the Yankees-Braves game at 1 p.m. at Yankee Stadium (is there anything as indulgent as a mid-week day game?) I happened to notice that the Mets were hosting the Orioles at 7 p.m. that night. I knew I had to be at both games. I asked my friend if he wanted to join me on this most daunting of baseball adventures and he was in. When the forecast called for temperatures in the upper 90s, we didn't waver in our commitment to make this baseball lovers' dream a reality.
At noon, armed with approximately six bottles of frozen water (tip: Yankee Stadium allows fans to bring in sealed bottles of water), sunscreen, my phone charger and a change of clothes, I headed up to the Bronx for the rubber match of the Yankees-Braves interleague series. Despite the best efforts of the MTA to keep me from making it to the Stadium (I waited 20 minutes for a 4 train!), we arrived at our seats in time for the Yankees' pregame ceremony honoring Braves third baseman Chipper Jones. Jones, who has announced he will retire after this season, played what might be his final game at Yankee Stadium on Tuesday night (oh yeah, I also went to that game) and wasn't in the lineup on Wednesday. Yankee PA announcer Paul Olden did indicate that it might not be Chipper's last game: "We could see him again in the World Series."
1:07 p.m.: First pitch. Game time temperature: 94 degrees.
The Braves jumped out to an early 3-0 lead when Yankees starter Phil Hughes surrendered an obligatory home run to Freddie Freeman (Hughes has given up at least one home run in 12 of his 13 starts this season). Derek Jeter led off the bottom of the first with a solo shot of his own off Tommy Hanson and we knew the balls would be flying out of the building on this hot day. No kidding. Atlanta hit five home runs (Jason Heyward hit two) and the Yankees had four solo shots. I've seen a lot of home runs at the new ballpark, but the nine set a single-game record for new Yankee Stadium.
The heat emerged as a theme of the day along with baseball. The Yankees frequently reminded fans to use the cooling stations throughout the Stadium to stay hydrated, but they also had some fun with the high temperatures. Of course they broke out "Summer In the City" by the Lovin' Spoonful but at some point in the middle of the game, they played "Let It Snow" in an effort to get fans to think wintery thoughts.
4:28 p.m.: Game over. Five water bottles, one chicken sandwich and three hours and twenty-one minutes later, the Braves celebrate a 10-5 win.
Since the game didn't involve extra innings (a risk we had to take when making a plan like this), we had time to change before heading to Citi Field. I swapped my Yankees T-shirt for a solid top that didn't indicate a preference for either the Mets or the Orioles (I don't wear anything with the logo of a team that isn't playing).
5:11 p.m.: Board a downtown express 4 train at Yankee Stadium/161st Street
5:31 p.m.: Arrive at Grand Central
5:35 p.m.: Board 7 express train to Flushing
6:05 p.m.: Arrive at Citi Field
Yes, we made it from Yankee Stadium in the Bronx to Citi Field in Queens in under an hour. By arriving early, we could get our photo taken with Mr. Met (mascot stalking is my specialty) and also take advantage of Citi Field's fantastic food options. Although I normally have the delicious tacos at El Verrano Taqueria (across from the long line at Shake Shack), I decided to try the BLT Hot Dog from Box Frites. Wow it was tasty. It isn't a controversial statement to say that Citi Field's food offerings are far superior to Yankee Stadium's and are among the best in all of major league baseball.
As for baseball, we settled in for Mets-Orioles from lovely seats in Section 328 just past third base. For this rematch of the 1969 World Series, the teams wore the uniforms from that series -- the Mets in their home cream uniforms with pinstripes and the O's in their road grays. The Mets looked to complete the three-game sweep of the O's and had shut them out the past two games. It wasn't a huge crowd but there were plenty of O's fans (they yelled "O" during the National Anthem, as they do at Camden Yards).
7:10: First pitch. Temperature: 94 degrees.
Would Dillon Gee continue the trend of dominant Mets pitching? Yes. Gee struck out nine Orioles and until the eighth inning had only given up one hit -- to O's starting pitcher Brian Matusz (his first career major league hit). We thought we might be looking at a complete game shutout but a Nick Johnson infield single (surprisingly, he did not injure himself busting it to first base) and a two-run Wilson Betemit home run drove Gee from the game in the top of the eighth. Frank Francisco loaded the bases in the top of the ninth and allowed a run in typical Francisco fashion (his ERA is 5.14 and his WHIP is over 1.5) but the Mets hung on to win, 4-3. At least the Yankees didn't lose any ground to the O's, Rays or Jays on Wednesday.
We had a moment of excitement when a foul ball came right at us in the second inning. I ducked like a little girl and the guy in the row behind me caught it easily. I don't think I could have caught it -- the trajectory was just right for my neighbor. That was by far the closest I've ever come to even thinking of catching a foul ball on the fly.
On the music front, the Mets also had some fun with the heat, breaking out "Summer In the City" and "Hot In the City" by Billy Idol. The team also announced a special promotion tied to the gametime temperature of 94 degrees. A limited number of field tickets for the Subway Series would be sold for $94. At that moment, I wished it had been 65 degrees.
10:07 p.m.: Two hours and 57 minutes later, we left Citi Field after the Mets completed the sweep and celebrated the end of our all-day baseball odyssey.
Here are the totals from the two games: Total game time: 6 hours, 18 minutes. Total pitches: 634. Total hits: 34. Total runs scored: 22. Total pitchers used: 18. Total home runs: 10. Total strikeouts: 32.
11:05 p.m.: I return home almost exactly 11 hours after leaving for Yankee Stadium earlier in the day, exhausted, sweaty and overwhelmed with photos.
I'd love to say I'll do this next year, but who knows if the scheduling gods will smile upon me again?