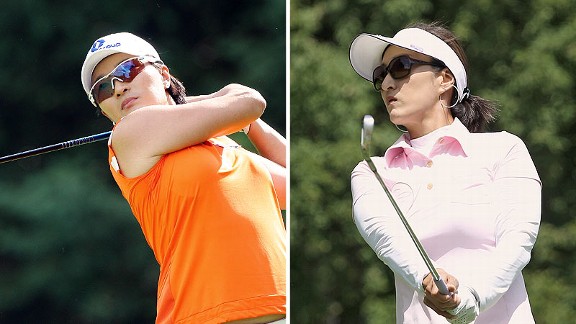 Getty ImagesWhile Grace Park, right, relishes the final moments of her career, a rejuvenated Se Ri Pak leads by one and is gunning for her sixth major.
PITTSFORD, N.Y. -- Grace Park poignantly said goodbye … but it's not quite time for her to leave yet. Most weren't expecting to say hello to Se Ri Pak this week … yet here she is atop the leaderboard at the LPGA Championship.
Two of South Korea's most popular female sports figures were a bit like two carts passing on the golf course Friday as Locust Hill Country Club showed the fangs it lacked the last two years at this major.
In the second round, Pak shot a 1-under 71 for a 3-under total of 141. She leads by a stroke over a group of four players: fellow South Korean Inbee Park, Germany's Sandra Gal, Japan's Mika Miyazato, and the American "pink panther," Paula Creamer.
In April, Pak sustained a shoulder injury from a fall that she thought might keep her out of this tournament. But, as she said after the first round, she is feeling better than she anticipated.
"Right now, it's still not 100 per cent the way I was before," Pak said. "I'm slowly better every day. I'm just trying to be myself out there."
While Pak is attempting to be her old self, her compatriot Park is about ready to find her new self.
Storms are expected here Saturday afternoon, necessitating a 7 a.m. start with competitors hitting off both the No. 1 and 10 tees. But Park will be happy to be swinging in the rain once more in her career, if it comes to that. She is retiring after this event, and when she finished her round at 6-over 150, she thought Friday might have been the end.
"Early on this week, I was going out to lunch and dinner with my friends, and everybody was saying, 'Oh, it's our last time,' " Park said. "They were crying. I was crying. Then yesterday, I was fine. I think I was in that tournament mind again.
"Today, the back nine, I started to feel little butterflies and get little tears in my eyes. I was very emotional on the back nine, and I shot 3 under. I should have gotten more emotional more often."
Park laughed at that, just as she had earlier when she saw reporters waiting for her after her round.
"What's going on?" she joked. "Am I winning the tournament?"
At the time, she wasn't sure that 6-over would get her to the weekend, but it turned out the cut line was 7-over. Still, while she waited to find that out, Park had the opportunity to say an early farewell.
In 1998, Pak was the first big success on the LPGA tour for her country, and she will always be the "Mother Superior" of Korean golf. But Park, whose prescient parents anticipated her gift and the path for her to fulfill it, wasn't far behind Pak on the LPGA tour. Her rookie year was 2000.
Pak is an LPGA Hall of Famer who has won 25 titles on the tour. Park, plagued by back, neck and hip injuries, still won six times and pretty much set the bar for elegance. With her carriage and impeccable fashion sense, Park is easily identifiable from a long way down the fairway.
But she won't be making those walks much longer. Park, who turned 33 in March, worked hard in the off-season to prepare for a good 2012 campaign but realized recently it just wasn't going to happen.
"After getting my health back and playing every event last year, I wanted to give it one last chance at becoming one of the top golfers again," Park said. "But the reality was, my game just wasn't there. It wasn't fun playing. I know my work ethic, my heart, is still there. But not seeing the results was really painful."
Park's parents moved her to Hawaii when she was 12, and then two years later to Arizona -- where she later attended Arizona State -- to prepare her for a career in golf and to learn English. That's a trail she blazed for South Koreans.
"Golf back in the '90s or '80s wasn't well-known in Korea," Park said. "My parents became avid golfers, and they saw potential in me.
"It's amazing the changes there have been [with the LPGA]. Not just with the Korean players, but the Americans and Europeans. The field is younger. The skills have really escalated. It's not just an American-based tour, it's a worldwide tour now. I'm glad I was able to participate in this and be recognized as one of the pioneers of Korean women's golf."
Meanwhile, Pak is known as the ultimate "game-changer" for the tour, because she had so much success and was the single most pivotal figure influencing the Korean influx in pro golf.
Pak, who will be 35 in September, is still thinking about winning majors. Park, who will get married in the fall, is wondering what else life holds for her.
"I picked up this game when I was 8 years old, and have been competing since I was 10," Park said. "I really never had any time off. I don't even know what I like doing, because I pretty much devoted my whole life to being the greatest golfer I could be."
For two more days, she will keep doing that. Pak is focusing on the next 48 hours, too, but not because it will end her career. Rather, it could further enhance it, bringing her a sixth major.
"I'm playing really well, actually," Pak said. "I'm really happy about it."