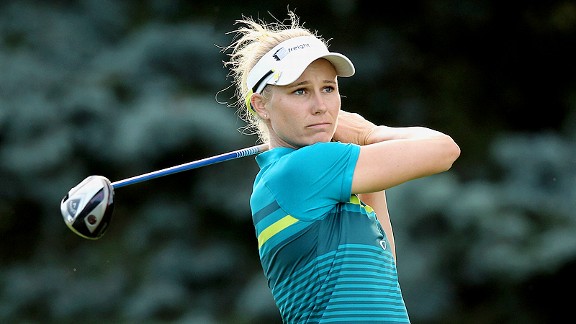 Scott Halleran/Getty ImagesFollowing a tip from her adviser to play with more gusto, Ryann O'Toole fired a 69, tied for the lead.
PITTSFORD, N.Y. -- Ryann O'Toole likes to spend some of her free time on pursuits that are a bit more dangerous than chasing the little white ball around. The California native enjoys surfing and snowboarding.
One of her advisers, Bob Rotella, gave her a tip by phone on the eve of the LPGA Championship: play golf with the same gusto with which she attacks the snow and the waves.
"Don't hold back," O'Toole said. "He tries to get a little arrogant side to come out of me."
To that end, O'Toole had something to crow about Thursday. Her score of 3-under 69 tied her with Spain's Beatriz Recari and Italy's Giulia Sergas for the first-round lead.
A UCLA grad, O'Toole is 25 and among the "twenty-somethings" trying to establish herself as a regular contender on the LPGA tour. She was on the U.S. Solheim Cup team last year and also had a top-10 finish at the U.S. Women's Open.
She's got the game to be a winner, but said she's still finding her way mentally, hence her work with Rotella, the noted sports psychologist. She's trying to be less conservative and more adventuresome, even if that's not advice that would work for a lot of golfers. Still, she's not getting ahead of herself.
"It's one day. I've learned so many times over, take it as it comes," O'Toole said of her good start. "I like hard courses. I focus a little more."
Speaking of focus, though, defending champion Yani Tseng of Taiwan seemed to be lacking that. She was frustrated after her round of 4-over 76, which left her tied for 80th, quite a ways from the total of 19-under that she posted in winning here at Locust Hill Country Club last year.
"I know it's my mental problem," Tseng said. "I'm hitting so well on the driving range. When I get on the first tee, it's just something wrong with it."
Tseng appeared to possibly have a problem with her forearm or wrist that was being addressed before she teed off. But she dismissed that as just a little tightness that had nothing to do with her poor round.
"I was very disappointed because I love the golf course," she said. "I know I can have a low score here, and I didn't do great today."