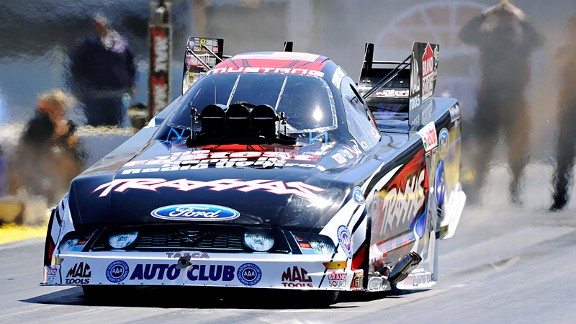 Josh Holmberg/Cal Sport MediaCourtney Force, who comes from a racing family, is in ninth place in the Funny Car category of NHRA.
I'm a 23-year-old California girl living my dream in the male-dominated sport of NHRA Drag Racing. I compete in the Nitro Funny Car class; these are 8,000 horsepower race cars that go over 300 mph in four seconds. To put this into perspective, each of a Funny Car's eight cylinders is more horsepower (just in that one cylinder) than an entire NASCAR.
I grew up watching my dad, John Force, race his Nitro Funny Car. I watched him blow up, catch fire and flip upside down while drag racing, but that was normal to our family, and my dad always came out OK. As kids, my sisters and I knew that our dad's job was dangerous, but we loved being out at the racetrack to support him and travel around the country with him. I was always a "track kid" out there with the crew guys, running around getting grease all over me, and I loved it. I looked up to my dad and loved what he did. I knew by the time I was 7 years old that I was going to grow up to be just like him and race a Funny Car, and I couldn't wait until the day I got to race him. I used to draw pictures of race cars and of me racing my dad and made sure Castrol and all of his sponsors were penciled in on the sides.
I got the opportunity to race my dad for the first time at the second race of the season in Phoenix, Ariz., in a first round matchup. During qualifying the day before race day, my dad kept trying to mess with me on the Christmas tree during staging to throw off my routine a little and see if I could "handle the pressure." This was my dad's way of teaching me a lesson. When I learned I was racing him in the first round, I thought to myself, "I'm going to have a little fun with this." This was the moment I had waited for since I was a little kid and it was finally happening. I would be racing my dad (the current points leader) in a Funny Car in the class he has dominated for the past 15 years. I pulled up to the line, knowing my dad's staging routine since I studied it growing up, and decided I was going to use it to my advantage. I pulled in, lit the pre-stage bulb and waited. My dad has always been the type to stage his car last, and I wanted to change it up. I waited until he pulled his Ford Mustang in to light his stage bulb, and I immediately followed. I must have thrown him off his routine, because as a father he thought, "She must be having car trouble," and by that time I was already staged and the tree came down. Right away I had the starting line advantage over him. His car blew the tires and he went up in smoke as I went on to take the win and advance into my first semifinal round.
My dad always complained that he wanted sons so they could carry on his name and follow in his footsteps, but instead he ended up with four girls who wanted to be involved in racing, three of which wanted to drive cars just like him.
When I turned 16, I begged my parents to let me go to Frank Hawley's Drag Racing School so I could get licensed in a Super Comp Dragster, which goes about 170 mph in nine seconds. I earned my license and raced in that category for about three years before moving into the Top Alcohol Dragster ranks, where I raced my 270 mph rail car for another three years. I went through all the necessary steps I could to be in the right position to enter into the professional world of racing. I followed in my sister Ashley Force Hood's footsteps and have done everything possible to take advice and learn from her experience. I'm so lucky to have Ashley, my dad and my teammates Robert Hight and Mike Neff as mentors while I'm racing in my rookie season this year. NHRA Drag Racing is a family sport and it really shows.
I'm currently in my ninth race in the NHRA Full Throttle Drag Racing Series and am one of two women in the professional Funny Car category. My team had a great weekend out in Englishtown, N.J., in my Traxxas Ford Mustang Funny Car this past weekend. I ended up qualifying in the 13th spot and had to beat some of the best guys on the circuit to get my car into the semifinal round. It was the second time I've been in a semifinal round this year, which is awesome! We've had a consistent race car, but I'm still out there learning on every pass, trying to get more and more experience, patience and seat time to become a better race car driver.