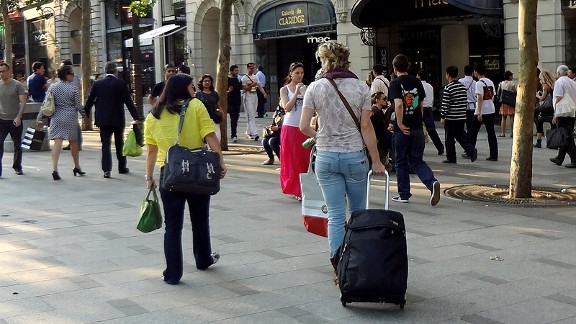 Courtesy of Joanne GerstnerKim Clijsters, pulling the rolling bag, may not be playing at the French Open but she's in Paris.
PARIS -- I was out for a walk this evening on the beautiful Champs Elysees, trying to overcome my brain-deadness from a long overnight flight and hardly any sleep.
It seemed like the rest of Paris was out for a stroll too, as the wide sidewalks were crowded with people leisurely walking and window shopping. I wasn't in the market for a new ostrich handbag for $20,000 Euro (but I do want to meet the person who buys that perfect purple bag).
I was people watching, something that is always fascinating in Paris. I spotted a distinctively curly-haired woman get out of a taxi -- former No. 1 tennis player Kim Clijsters. She was clad in jeans, dragging her own rolling suitcase, looking like another tourist coming to marvel at Paris.
I didn't see her husband, Brian Lynch, or their daughter Jada. Clijsters isn't playing in the French this year, due to injury. And she just announced her intended retirement after the U.S. Open, so we likely will never see Clijsters play at Roland Garros again.
For a split second on a Parisian sidewalk, we were within 5 feet of each other. She smiled at me, I smiled back, and that was it. She moved into the main sidewalk area, blending perfectly into the crowd without anybody recognizing her.
Bye Kim.