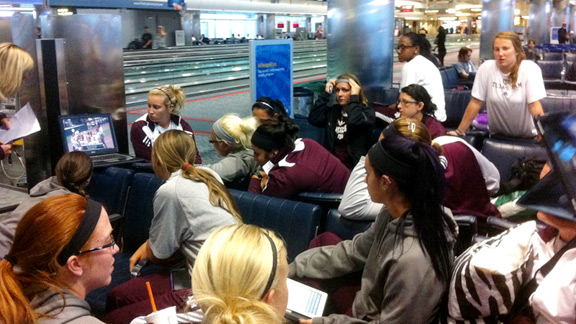 Texas A&M University
Howdy! This has been an awesome week so far and it isn't even half over! We had a great series against Boise State (we swept the three-game series) that had a wonderful outcome on our season.
Sunday was originally going to be a bit of a stressful day for us because we were going to be traveling during the Selection Show. We were not supposed to arrive in Houston until after 8 p.m. and we still had a two-hour drive to College Station. Needless to say, it was a scramble to figure out how we could watch the show. It was important to everyone that we find out the results as a team; there were also threats to take away phones so no one ruined the surprise.
Luckily, it never came to that; our plane out of Denver had some maintenance problems and we ended up having a six-hour layover there. So, we loaded the show up on a laptop and the whole team crowded around to find out our postseason fate. The reason we were so excited/nervous was because we had received a brief lesson in how RPI works, and it was calculated that if we swept Boise State, we could potentially jump to the No. 8 spot by no more than .002 points. So much goes into the calculation of RPI, so there was no way for us to be that precise on a pre-show guess, but we were nervous just the same.
When the show began and the top 16 seeds were being unveiled, we all stopped breathing after they showed Tennessee as the No. 7 seed. Then, when the words "Texas A&M No. 8" flashed across the screen, the entire team exploded. Everyone in the Denver airport was probably wondering what was up with those people in maroon, but we didn't care. It was so exciting!
We all sat around and followed the bracket, writing it on napkins and McDonald's bags or whatever we could find (school is out, so no one has notebook paper anymore). This is such a huge opportunity for our team and we couldn't be more excited to have the opportunity to host Regionals and Super Regionals. The only group of people who might be just as excited as we are would be the Softball Sugar Daddies here at A&M. Each player on the team has a guy who wears a shirt with their name and number. They all come to our games and give us the best game-day atmosphere in the country. They are who we play for -- our 12th Man!
So, this week, we will work harder than we ever have to give the 12th Man a great tournament and show the country it should keep its eyes on Texas A&M softball!
Thanks and Gig Em'!