OVER-SHADOWED
Teammates who outshine you. Coaches who leave you hanging. The NBA's age requirement. Just facts of life for young hoops stars, right? But what if it's your life? Bill Walker has always played outside the spotlight--and it's not working out real well.
by Eric Adelson

Late in Kansas State's loss to Oregon in November, Bill Walker hustled downcourt, head turned back toward the ball, arm raised in the air. He looked like Randy Moss in Oakland, eyes wide and pleading. When the ball never came, Walker stared at the floor and pursed his lips in frustration. It wasn't the first time the play and the game had seemed to go on without him.
Walker, despite once looking like one of the most awesome forces in basketball, has always watched the ball go elsewhere in the most crucial moments—first to lifelong pal O.J. Mayo, now to current "it" man Michael Beasley. He is a star unseen. The story of Billy Walker is not of the pressure of 10,000 glares, but of the pressure of none.
Not that there haven't been moments. Amazing moments, actually. As a prep, his dribble-drive moves were legendary—bounce, bounce, left, right, left, step back. His crossover was so vicious that crowds cheered before he hit the lane. His hops were really what got him noticed, especially by the guys—Kevin Love and Greg Oden includedmdash;he was leaping over. But moments are all he's had.
Most of us are defined by the person we are. Bill Walker has always been defined by the person he isn't.
BILL IS NOT O.J.
They met in elementary school, before either played basketball, and they were instant best friends. Once they hit the court, O.J. brought flair, Bill muscle. Walker was actually more versatile, but no one comes to the gym to see versatile. "People like to see guys score a lot," Walker says. "I did other things." Everyone heard about Mayo first—in a local paper in sixth grade, in a national magazine in seventh, on Wikipedia by high school—and it was Mayo whom LeBron, Melo and thousands of others came to watch when he and Walker moved from Huntington, W.Va., to Cincinnati and won two state titles at North College Hill High School.
Walker did get some attention. Fans couldn't help but notice how he flew toward the iron like a 6'6", 220-pound magnet. "He was so explosive," says Mayo. "It was incredible." Rivals.com ranked Walker sixth in the Class of 2007, which will likely go down as one of the best prep groups ever. "He was Vince Carter reincarnated," says Sonny Vaccaro. "He did unbelievable things." One NBA GM watched Walker at a summer camp and decided he was an even better long-term prospect than Mayo.
Walker didn't play above the rim, he played above the square above the rim. He was strong, aggressive, cocksure. O.J. wooed with a sweet smile. Bill had a snarl, which not everyone loved. "He's a suspect guy," says one scout, who still thinks Walker is on the verge of a meltdown. Still, it was a minority opinion. Says Scout.com's Dave Telep: "There was little doubt he was on track for the NBA."
But Walker remained the ideal complement, never demanding the rock, a footnote in one more story about Mayo. Yes, there were moments. Mayo was hurt for one game, and Walker scored 50. When Mayo returned, though, the ball was waiting for him. "I wasn't frustrated," Walker says. "I'm not a jealous person." He didn't care about leading a team or hoarding attention. He just wanted to run with Mayo forever. "That was the plan," Walker says. "We talked about it every day."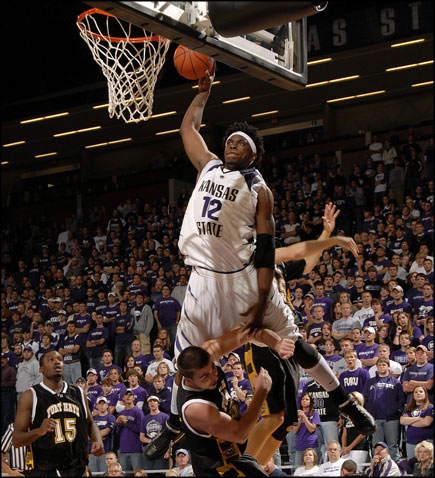 Scott D. Weaver/KSU Sports Information
Walker sure doesn't look like a second option.
Then the plan went wrong.
BILL IS NOT HUGGS
Before Bill and O.J.'s final high school hurrah, before they sat down to decide which college campus they'd grace together, Walker's senior season was taken away from him. The Ohio High School Athletic Association ruled that he'd played twice as a freshman—once in Kentucky and once in Ohio—so he was ineligible to play as a senior and, just like that, everyone's favorite package deal was undone. Mayo, suddenly without his teammate, detoured back to West Virginia. Walker, who met the NBA's 19-year-old age requirement, wasn't a full year removed from high school and couldn't have declared for the 2007 draft even if he'd wanted to. He could have played AAU ball, though, working on his game while waiting for his postprep year to expire, but he'd have been the first to choose that route, and that's not his style.
"If you give them each a road map," says Reebok's Chris Rivers, who has known Walker and Mayo for years, "O.J. will say, 'I see another road and I'm gonna take it.' Bill's going to follow the path he's given." It was up to Bob Huggins to offer Walker somewhere to go.
THESE DAYS, WALKER IS LIMITED TO THE OCCASIONAL DRIVE. HIS MAIN CONTRIBUTION IS THROWING IT TO BEASLEY, WATCHING HIM DUNK AND POINTING AT THE BIG MAN AS HE BACKPEDALS DOWN THE COURT.

The coach denies it, but most everyone figured he'd been recruiting Walker all along because he wanted Mayo, too. What is fact is that Huggins wanted both. Having been recently forced to resign at Cincinnati, he was freed from the NCAA's rules about contacting recruits. So he went to their games, talked to their families and got to know them. And when Huggs landed at Kansas State in 2006, Walker graduated NCH early to join him. Didn't matter that he'd never heard of the school; Walker never really considered looking for a more high-profile program. He was loyal to Huggins, calling him "a coach who understood my dreams." So what that the coach was bound to get more credit in Manhattan than Walker ever would. Walker had been down that road before.
Walker joined the K-State team on Dec. 16, 2006, as the most celebrated player ever to wear the uniform. Wildcats fans had never experienced the hoops mania traditionally reserved for the team down I-70 in Lawrence. A day later, Walker dropped 15 on Kennesaw State and, for a moment, all eyes were on him. As usual, it was fleeting. Three weeks later, Walker jump-stopped against Texas A&M and felt a pinch in his knee. A torn ACL—the second of his career—shelved him for the season. Walker went from emerging menace to cautionary tale.
Three months later he was watching the news when he learned Huggins had quit Manhattan for Morgantown. The coach had called Walker the day he got the K-State job, but the phone didn't ring the day he signed with West Virginia, or the next. They finally spoke later that week. "It was very hard for me," says Huggins. "Bill and I are more than coach and player. Bill and I are friends." Walker wasn't sure, not at first. "I was mad," he says. But like always, he stayed true. "I had to let it go."
BILL IS NOT BEASLEY
When he came back healthy and ready to play this fall, with a little chip on his shoulder to boot, Walker expected to be new coach Frank Martin's go-to guy. Before long, though, it was clear that true frosh Michael Beasley, a power forward from Prince George's County, Md., whom Walker mostly got the best of during their AAU careers, was the star of the team. By Christmas, Beasley was putting up 26 and 14 and setting college hoops ablaze. Meanwhile, Martin put Walker at wing for much of the season, even though the perimeter is where opponents have always prayed he'd go. Worse, these days, Walker, a step slower, is limited to the occasional drive; his main contribution is throwing it to Beasley, watching him dunk, then pointing at the big man as he backpedals down the court. Fans will see plenty of K-State highlights this spring, but Walker won't be the focus of most of them.
Beasley is already firmly ensconced enough to poke fun at Walker, calling him "an old man." But Walker still has supporters. "He hasn't played for basically a year," says Huggins. "It's amazing what he's accomplished." But the hard truth is Walker may never accomplish what his talent once promised. "He used to do wild stuff all the time," Beasley says, remembering Walker's AAU skills. "In practice, it's just in spurts now."
Only moments.
During that Oregon game, one NBA scout—there for Beasley, of course—had this to say about K-State's other star: "I don't like him at all." Even Reebok's Rivers says, "Bill Walker and the NBA can't be in the same sentence—not as things stand now."
BILL IS NOT THE COMMISH
But Walker's name has been paired with the NBA in one sentence: Bill Walker is the first casualty of the NBA's one-year rule. Had he been born two years earlier, he'd have played a lead role in a Bill Simmons draft diary and would now be stealing PT on some team in David Stern's NBA. Getting paid. It's not as if Walker has a nest egg to fall back on. His single mother, Nancy Sloan, has kept her family afloat by doing shift work at Wendy's, Kroger and now Lowe's, hoping that one day her son could cash in on his talent. But the NBA made him wait, and now he's damaged goods. "It makes no sense," Walker says of the rule. "It's messing with people's livelihoods." Meanwhile, Beasley, like Mayo and Huggins before him, may already be thinking about leaving Billy to fend for himself.
Walker isn't worried. He's got a road map for his future, and it leads back to Huntington, W.Va, and a small white house at 1023 Minton Street that Sloan bought when she and her two young kids were homeless a decade ago. She put down $250 on the place—an advance from her Wendy's job—then moved their belongings in a shopping cart. When she opened her new door, though, she and the kids cried. Cockroaches swarmed in the refrigerator, and the smell of dead cats wafted from beneath the floor. "That," Walker says, "was the worst experience of my life." They fixed it up and made it a home. But to remind himself that there are worse things than being buffeted about as a second fiddle, Bill writes "1023" on all of his basketball shoes.
Walker may be a sure thing turned long shot, destined to toil in someone else's shadow, but he's not interested in your pity. "How many people from my neighborhood have been to college?" he says. "How many have been on national TV?"
So while he continues to hunger for the ball at game's end, he'll accept that someone else will be the hero. And though some will continue to call him "suspect," he'll stay true to those who have left him behind. Let others overlook his moments, doubt his decisions and marvel at the wonders of Stern, Mayo, Huggins and Beasley.
Billy Walker is still on the court