EVERYBODY LOVES BYNUM (EVEN KOBE)
Not too long ago, Lakers big Andrew Bynum was little more than trade bait. Nice what a bunch of double-doubles can do for your reputation.
by Chris Broussard
Andrew Bynum's eyes inflate to the size of basketballs. Inside this vehicular paradise, the exotic-car lover is having a hard time just trying to keep his cool. "Is that a Bugatti?" he squeals, three seconds after walking through the front door of the exclusive Beverly Hills showroom. "Can I see if I fit?" He doesn't like the answer. "I'd have to cut you off here or here for you to fit," says the host, playfully touching the seven-footer at the knees and shoulders. It is a sad Bynum who turns away from the $1.75 million supercar, but as his eyes roam, his fever returns. "Think I'll fit in there?" he asks, crouching to check out the leather Versace insides of a black Lamborghini. "You guys have a tall kit?" Sorry; rejected again. "That's okay," he whispers. "I'm a Ferrari guy anyway."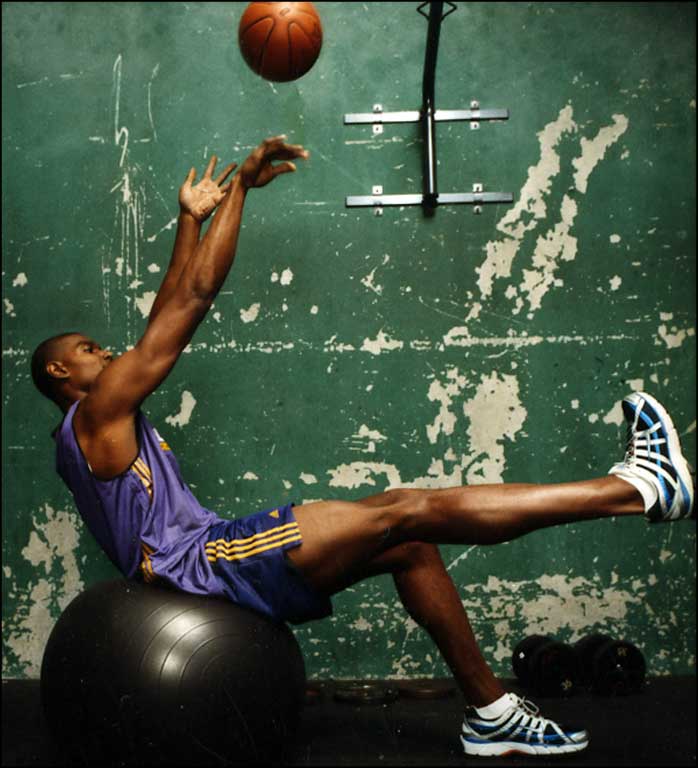 Tom Fowlks
Meet LA's new favorite son.
Actually, today Bynum is a Bentley guy. For a 50th-birthday gift that's sure to garner points with his roommate—Mom—the Lakers' 20-year-old center is ordering a custom Continental Flying Spur. Knowledgeable about even the smallest details, he pieces together a $225,000 showstopper with a magnolia (cream) exterior, saddle (rust) interior—and a refrigerator in the back. Janet McCoy is going to love it. "Last year I got her a little ring from Kay Jewelers," he says with a laugh. What a difference a year makes. Heck, what a difference a few months make.
In June, Bynum was viewed as a thorn in Kobe's side, the primary reason the game's best player wasn't competing for championships alongside either Jason Kidd or Jermaine O'Neal. Both the Nets and the Pacers had offered their franchise players in deals that included Bynum, but the Lakers would have none of it. And Kobe was hot, his frustration captured on a video shot by three fans outside a Newport Beach mall. With Kobe venting profanely, the clip was soon a YouTube fave. Andrew Bynum? Are you f—ing kidding me? Andrew Bynum? F—ing ship his ass out. We're talking about Jason Kidd …
Sorry, Drew, nothing personal.
---
On a clear day, you can see the Hollywood sign from the roof of Bynum's five-bedroom house in Westchester, some 10 miles away. But on this day, no one was sightseeing. Less than two weeks after "the Kobe video" went viral, Bynum's inner circle convened an urgent sitdown. Larry Marshall, Bynum's mentor of seven years, was, as always, front and center. He'd been there for Bynum from the start, believing in him when no one else did. A trucking-company owner, he was also Bynum's AAU coach and the first to tell Janet that her huge, slightly awkward son would one day play in the NBA; the first to suggest that the Jersey kid leap from prep to pro. He helped Bynum shed 34 pounds before the 2005 draft and gave the Lakers the idea of hiring Kareem to work with him on a daily basis afterward. Now, as Marshall sat in Bynum's living room with Janet and Andrew's older brother, Corey Thomas, his mind raced. How would this teenager take to being publicly humiliated by the game's biggest superstar? Would it send him sulking, or worse, destroy his confidence and irreparably set back his development?
"WHEN I FIRST CAME INTO THE LEAGUE, SHAQ WASN'T WAITING FOR ME," KOBE SAYS. "I HAD TO GO. THAT'S THE SENSE OF URGENCY ANDREW NEEDS TO PLAY WITH."

Marshall began cautiously but firmly. "Are you going to take this as a negative and cry about it?" he asked. "Or are you going to take it as a challenge? You need to show Kobe he should be glad to play with you, that you can deliver a championship, that you can be the player he needs you to be—even if he doesn't know it yet." He went on: "Kobe did us a favor, son. He made you a household name. You couldn't buy better publicity."
It was Knute Rockne, Jim Valvano and Pat Riley rolled into one, and Bynum appreciated it. Only he didn't need the lift. While everyone around him was busy being angry and fretting over his feelings, Bynum was fine. Really. To this day he hasn't even seen the video. Really. Mostly, he brushed off the drama, believing absolutely, positively that Kobe spoke only out of frustration, not a dislike for him or his game. Which isn't to say that the whole business didn't motivate him at least a little bit. "I don't ever want anyone to blame me for my team's problems," he says.
Bothered by his struggles during the second half of last season, Bynum hired a personal trainer months before Kobe's eruption. But there were times when the star's harsh words helped push him through his off-season, five-hour-a-day, six-day-a-week training regimen: more than 90 minutes on the outdoor track in the 100° heat of Atlanta, 90-plus in the weight room and 90 more on the court with trainer Sean Zarzana and former NBA players. "I bet there are only five to 10 guys in the league who worked as hard as I did," Bynum says.
The effort hasn't gone unnoticed, least of all by No. 24. Without question one of those "five to 10 guys" Bynum alluded to, Kobe has no tolerance for a weak work ethic. Push it full throttle, put in extra work both in practice and on game days, and you'll get his respect and support. These days, Bynum has both.
Fresh from the Lakers' morning shootaround before an early-season matchup against the Celtics in Boston, Kobe was lifting at the Sports Club/LA. It's been his pregame routine for years, and rarely has he been joined by a fellow member of the purple-and-gold. But as he rose from one of his reps, he saw something that made him smile: a young center and his trainer entering the gym. "Love to see that," Kobe shouted. After watching Bynum work for a while, Kobe strode over to Zarzana to give him a pound and a huge hug. "Yo, G, he looks incredible," he said. "Please keep him working."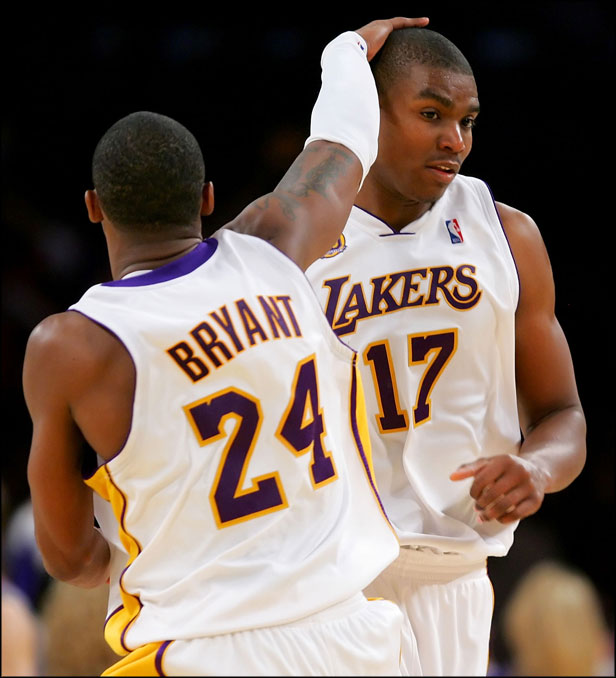 Lisa Blumenfeld/NBAE/Getty Images
Kobe has learned to love his young big man.
Kobe says the video incident led people to misunderstand his relationship with Bynum. He says when Andrew was a rookie, he told him he could be "phenomenal," and he worked with the young big sometimes after practice last season. When the star apologized quickly with a text message and later in person during training camp, he said his comments came out of respect for Kidd, not disrespect for Bynum. Revisionist history or not, nowadays Kobe and Bynum often can be seen on the bench sharing laughs during a surprisingly successful run that has put the Lakers firmly among the West's elite. Kobe's current characterization of their relationship is "big brother-little brother."
That sounds about right to Robert Lara, the Lakers head of security and a S.W.A.T. officer in nearby Torrance. Lara, who has grown close to Bynum—even taking him to fire shotguns at a local range on occasion—says, "Andrew is really a lot like Kobe. They're both smart and analytical. They don't want just to be told to do something; they want to understand how to do it and why to do it that way."
With the pair's court chemistry developing quickly, Lakers screen-and-rolls often end with Bynum slams off Kobe lobs. Kobe now sees he might have the big man he needs to get the Lakers back into title contention. But at 29 years old and in his 12th season, Bryant has no time for "potential"; he wants a big body he can go to war with—now. So he consistently challenges Bynum to play beyond his years. "Look, I had to deal with the same thing," Kobe says bluntly after a recent practice. "When I first came into the league, Shaq wasn't waiting for me. I had to go. At the age of 20, 21, I had to be a championship guard. That's the sense of urgency Andrew needs to play with."
Bynum is cool with that, but he'd have Kobe know he's still 19 months younger than when Kobe won his first ring. "He's definitely pushed me to be a better player faster," Bynum says. "But even by his standards, I still have time to develop." To be fair, as productive as he is—13 ppg, 10 rpg and 2 bpg in only 29 minutes—Bynum is still as raw as a North Dakota winter, the bulk of his points coming off putbacks and alley-oops. Once the man-child masters a jump hook and turnaround J-not to mention his apprehension about using that sky hook Abdul-Jabbar has been teaching him—well, look out.
And by the way, there is no longer much debate around the NBA about whether the Lakers should have pulled the trigger on moving him. Remember that O'Neal deal? Bynum has thoroughly outplayed him twice this season. And Kidd? "I don't think they're a championship team with Kidd, Kobe and no big man," says one league exec. "And the way Bynum is playing, it looks like they'll have a great center for the next 15 years."
---
About the only question left about Bynum is this: Does he love the game enough to fulfill his mountainous potential? Bynum thinks concerns about his fire are hogwash. He reminds skeptics that he's been playing basketball since he was 5, dreaming of making the NBA since he could follow a game on TV. He has stories about sneaking out of his mom's two-bedroom apartment in Plainsboro, N.J., on school nights to join his brother and friends for midnight runs and says that while his prep pals were thinking about proms and skating toward graduation in the spring of 2005, he was rising at 5 a.m. to run wind sprints at the Jersey shore. And he doesn't love the game? What, just because he's a late bloomer? "I think people get thrown because I'm kind of like Tim Duncan, laid-back," Bynum says. "I have the fire. I'm just not crazy demonstrative."
"HE'S PUSHED ME TO BE A BETTER PLAYER FASTER," BYNUM SAYS OF KOBE. "BUT EVEN BY HIS STANDARDS, I HAVE TIME TO DEVELOP."

Look deeper. All the tools are there: footwork (Bynum played competitive tennis through the 10th grade), intelligence (he graduated from high school with a 3.6 GPA and has a keen interest in physics), tutelage (his one-on-ones with Abdul-Jabbar are into their third year), length (he can touch the rim from his tiptoes), soft hands (he catches lobs like Randy Moss) and athleticism (he's one of the few bigs with the agility to stay with Golden State's small lineup). In Bynum's predraft workout, he wowed Lakers scouts with quickness off the floor comparable to that of recent slam-dunk champs Gerald Green and Nate Robinson, amazing for a man his size.
Lakers coach Phil Jackson says Bynum could blossom into a world-class big. "We'd like to see Andrew get into that elite group—Wilt, Bill Russell, Kareem, Olajuwon, down to Patrick Ewing—where he can change the game by himself," Jackson says. The big man sure looked the part on Christmas, collecting a career-best 28 points to go with 12 boards in a demolition of Amaré Stoudemire. After slamming in an alley-oop as the Suns center clung helplessly to his arm, Bynum hopped around like he was on a pogo stick, grinning and nodding in a "Who's the man-child now?" sort of way. The Lakers love that kind of emotion, no one more so than rookie Javaris Crittenton, the only Laker younger than Bynum and his closest friend on the team. Crittenton constantly coaxes Bynum to unleash his inner beast, imploring him on dunks to "try and break the rim, try and break somebody's hands."
The inner beast is coming. Bynum's inner geek, however, is already on the loose. The Lakers' heir to the Big Aristotle really is a big Aristotle—maybe Pythagoras—building computers in his spare time. The owner of four or five laptops and several PCs, he recently turned $17,000 worth of disconnected parts into a high-powered network. (Mom isn't crazy about all the hardware, but once Andrew moves out this summer, that won't be an issue.) His creation can do everything from make movies to program hip-hop beats. But Crittenton isn't about to let Bynum's gentler, intellectual side exist in peace. "I'm never going to let him live down spending all that money on a computer," Crittenton says. "If I spend $17,000 on a computer, it'd better talk to me, do my work, all that."
Bynum, though, has no plans to hide his less-beastly qualities. Even at 20, he's too much of his own man for that. You're talking about a Gen Y NBA player with no tattoos—and no plans to get any. "When I'm 50, I might not want something written on my arm," he says. He doesn't smoke or drink—or have any plans to once he's legal. He's got no posse; most of his best friends are away at college. One is studying to be a doctor, another is majoring in business marketing. Bynum himself says he'd be studying computer engineering if he weren't dunking on folks' heads for a living. And having promised his mom he'd earn a degree, he took math and history classes at Loyola Marymount last summer. He got B's.
---
The closest thing Bynum has to a vice is his obsession with automobiles. He began to devour car magazines as a youngster, and soon after becoming the youngest NBA draftee ever, he bought a GMC Yukon. Whoever sold it to him wouldn't recognize it today; he's pimped it so hard it's now the baddest truck on the street. With several LAB (Lee Andrew Bynum) nameplates set around the body, a supercharger beneath the hood, blue LED lights along the running boards, tinted windows, 24-inch rims, seven TV screens and four 15-inch speakers in the trunk, Bynum's ride has taken first place at two local car shows.
Minutes after leaving the Bentley dealership, Bynum is showing off his creation, pumping the volume on his Rockford Fosgate sound system to pound Cassidy's "My Drink N' My 2 Step." He laughs when a passenger, eardrums and cheeks bouncing to the beat, asks about safe decibel levels. Then, just like that, the party's over. A motorcycle cop flashes his lights and motions for Bynum, who was nowhere near speeding, to pull over. With dusk approaching, the officer walks up holding his light stick toward Bynum's face. When he asks for his driver's license, insurance and registration, Bynum politely asks permission to reach for them in his pocket and console. Documents in hand, the cop heads back to his bike. Upon his quick return, he is in a noticeably nicer mood. He says something about the LEDs, a minor infraction, and lets Bynum off with a warning.
Clearly the cop thought Bynum was something he's not. Kobe made that mistake once too.