By Scoop Jackson
Page 2
They asked me to intro self. To take 900 words to explain I.
Well, first off – I is not that important. I am just a writer from Slam, XXL, NBA and Nike who found his way into ESPN's backdoor. Lucked up. Spit a few verbs, convinced 'em that Stephen A. wasn't the only one. So instead of wasting space on Page 2 ducking my own sic, I figured if I told you some of the things I believe in, that would give you a better idea of what I intend to flip once a week for the Worldwide Leader. Because it ain't where you at; it's where you coming from that matters. Right?
I believe Allen Iverson is the best player in the game.
I believe Tim Duncan, Kevin Garnett, Kobe Bryant and LeBron James are better than him.
I believe Minnesota should have traded Randy Moss ... last year.
I believe Ty Willingham deserved to get fired, but Notre Dame was subliminally anti-ethnic in the way they did it.
I believe there should be a women's sports network.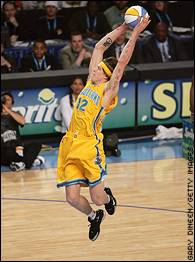 Before now, Chris Andersen was best known for his failed dunks.
I believe most athletes cheat on their wives and girlfriends.
I believe owners cheat more.
I believe Biggie's "Either you sling rock or got a wicked jump shot" is the best sports lyric ever.
I believe Chris Andersen should be banned from all dunk contests.
I believe there will never be an African-American commissioner in professional sports.
I believe throwbacks will never go out of style.
I believe every word Barry Bonds said in his press conference.
I believe that steroids can't make you hit .370 ... twice!
I believe LIVESTRONG wristbands are cool, but a Rolex Oyster Perpetual Daytona is much cooler.
I believe Muhammad Ali is more significant than Jackie Robinson.
I believe Sean John shoulda got the NBA merchandising deal instead of Reebok.
I believe Phil Knight is the most powerful man in sports next to Wes Wesley.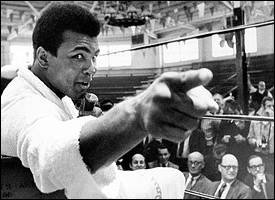 "I am STILL the greatest." Just ask Scoop.
I believe fans are oftentimes more arrogant than the players.
I believe GMs win championships, but destroy dynasties.
I believe in Michelle Wie.
I believed Phil Taylor of SI when he told me I'd never write for them because my style was too player-friendly.
I believe a positive word has much more impact than a negative one.
I believe Danny Fortson, Troy Hudson and Spree need someone to tell them the truth about their hairstyles.
I believe Roger Federer might be the best – not greatest – tennis player we will ever see.
I believe Roy Jones Jr. needs to stay outta the ring.
I believe "Cornbread, Earl and Me" and "The Bingo Long Traveling All-Stars and Motor Kings" are the greatest sports movies of all time.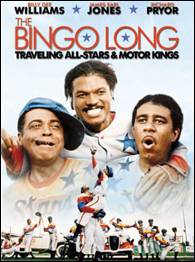 Don't be bringing that weak 'Hoosiers' stuff in here.
I believe in college academics more than college athletics.
I believe college athletes should get paid. A lot.
I believe anyone who tries to mix sports and hip hop doesn't know the difference between ballers and ballers. Get it?
I believe someone in professional sports will come out.
I believe white men can jump, they just choose to pay others to do it for them.
I believe marketing has ruined sports.
I believe marketing is the best thing to ever happen to sports.
I believe it's hypocritical for alcohol companies to sponsor NASCAR drivers.
I believe PS2s and Xboxes do more damage to athletes than bad coaching.
I believe Santa Claus got booed in Philly for a reason.
I believe Eva Longoria should have been in the MNF skit.
I believe if T.O. was white, he'd be a national hero.
I believe no one should pull for a team just because it's from their hometown.
I believe John Chaney needs to call it quits.
I believe the NHL will never recover.
I believe the NBA will not learn from the NHL.
I believe you should not have to stand for the national anthem if you do not want to.
I believe sense of humor is the true lost art in sports.
I believe Pete Rose should be in the HOF. (It isn't like he was the only one gambling – he just was the one who got caught).
I believe the greatest rivalry in sports is not Red Sox/Yankees, UNC/Duke, Ali/Frazier or Borg/McEnroe; it's Pat Summitt/Geno Auriemma.
I believe Kobe got railroaded but he put himself in that position.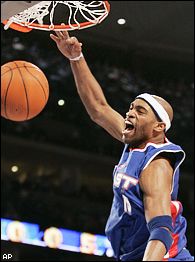 AP
It's an age-old NBA rule: Get out of Toronto, become a new man.
I believe Vince Carter and TMac had reason to "dog it" in Toronto and Orlando.
I believe if Cowboy Troy got a chance to perform during halftime of the NBA All-Star Game, Pastor Troy should get the same op next year in Houston.
I believe the New England Patriots stopped believing in themselves and won their last Super Bowl.
I believe what Rush Limbaugh said was true – stupid, but true.
I believe all baseball records pre-1950 should have asterisks by them because the Negro Leagues were not able to compete.
I believe Ali Moe should be in the League.
I believe every time you hear "first black" in sports, it's an affirmation that racism in sports still exists.
I believe Ron Artest ...
I believe Dave Chappelle should host the next ESPYs.
I believe golf is more addictive than crack or crystal meth.
I believe there is only one No. 36 in basketball, and it's not Rasheed Wallace. It's Meadowlark Lemon.
I believe there is crying in baseball.
I believe The National Sports Daily should come back.
I believe hitting major league pitching is the hardest thing to do in sports.
I believe Shaq is better than Wilt was.
I believe in Pedro Martinez.
I believe if Dan Gilbert were black, with his college-days criminal gambling arrest, he never would have been allowed to purchase the Cavaliers – or any other NBA team.
I believe I will never be on "The Sports Reporters."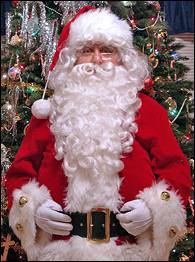 Punk got just what he deserved in Philly
I believe Air Force 1s are overrated. I believe I have more than 100 pairs.
I believe USC with Mike Williams would have beat all but five NFL teams.
I believe there will be another Michael Jordan, but there will never be another Larry Bird.
I believe until she has a child, Serena Williams is the sexiest female athlete alive.
I believe Chauncey Billups has the most beautiful wife in the NBA.
I believe "It's not sports, it's ESPN" sounds better than HBO's slogan.
I believe Donald Young Jr. is someone you need to know right now.
I believe basketball is the metaphor for life.
I believe, in the words of Ice Cube, I'll be the n----- you'll love to hate.
I believe this is only the beginning ...
Scoop Jackson is an award-winning journalist who has covered sports and culture for more than 15 years. He is a former editor of Slam, XXL, Hoop, and Inside Stuff magazines; and the author of "Sole Provider: 30 Years of NIKE Basketball," "Battlegrounds: America's Street Poets Called Ballers" and "LeBron James: the Chambers of Fear." He resides in Chicago with his wife and two kids.