By Skip Bayless
Page 2
The other night, I sat in front of my TV, riveted by a Little League World Series game as if it were some future-shock thriller co-directed by Steven Spielberg and Wes Craven.
This was California vs. Florida, two literal hotbeds where baseball talent grows on palm trees. This was fireballing California slugger Kalen Pimentel, a 12-year-old who's growing a beard, vs. Florida's Dante Bichette Jr., the former star's son who nonchalantly admitted on ESPN that girls chase him back to his hotel room in Williamsport, Pa., but that the security on his floor stops them.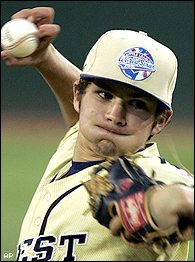 Kalen Pimentel is one big boy -- nice stubble!
At 12, I was still trying to figure out why my coach made me wear a terribly uncomfortable cup when I played catcher.
Bichette turned down an interview request from ESPN's Harold Reynolds earlier that day because he wanted to sleep in. Yes, a 12-year-old blew off ESPN's most respected ex-player analyst.
Was it enough that Pimentel began throwing the equivalent of 98 mph, big-league fastballs? No, he threw almost as many breaking balls as fastballs. With a full count on Bichette, Pimentel threw him a curve …
… a sharp-breaker on the outside corner that Bichette pulled through the hole between third and short for a hit.
Pimentel is listed at 5-foot-8 and 150 pounds, but he looks as if he could be a couple of inches taller and 20 pounds bigger. Either he has rare genetics, or he already has put in some serious time in the weight room. Hank Aaron never had an upper body like this kid's.
Pimentel has hit two LLWS grand slams. When he swings, he and his plutonium bat make the park seem about the size of a batting cage. In fact, many of these kids crush home runs that look as if they would easily make the left-field bleachers at Yankee Stadium.
Bling is the sound of bat detonating ball, as well as what these junior rock stars surely don after nationally televised games.
Outside The Lines
Steroids and Little League ... together, they're not a completely foreign thought anymore. Outside The Lines (Sunday, 9:30 a.m. ET, ESPN) talks to some players at the Little League World Series, and their parents, about steroids and the game.
Are the fences made-for-TV short? Or is this the Tom Emanski Effect? Have the Emanski hitting videos created younger and younger Stepford sluggers who coil perfectly on their back legs and generate optimum leverage and power while benefiting from lighter and hotter bats launching rocket-fueled balls?
Pimentel says rival managers have often asked him to produce his birth certificate, which he gladly has done. He says his mom is 6-foot and his granddad is 6-8. He says he hasn't shaved the stubble on his chin because his teammates think it's cool.
You figure his wife and kids must like it, too.
Sorry. That was a bad joke. Wasn't it? Please tell me it was.
And oh yeah, Saudi Arabia's Aaron Durley is 6 feet, 5 inches tall.
Please tell me I'm not watching Speilberg/Craven's "When the Clock Strikes 12."
Please tell me what I had after watching Wednesday night's game was a bad dream, not a premonition.
I dreamed I was preparing for my morning show on ESPN2, "Cold Pizza," when a researcher handed me this story:
LITTLE LEAGUE SUPERSTAR BUSTED
Bruiser Jones Jr., who led California to the Little League World Series title while pitching three no-hitters and batting .967 with eight home runs, has been disqualified, for two reasons.
Not only has Jones tested positive for the designer steroid ZXT, but his birth certificate has been proven to be fake. He's only 8 years old -- too young to play in the LLWS.
"Bruiser didn't knowingly take steroids," his agent, Scott Boras, said. "And we will fight the age limit in court. Bruiser obviously was physically mature enough to compete at this level -- he was the biggest kid in the tournament."
Bruiser is listed at 6-2, 200 pounds. He signed with Nike a year ago, and has played professional baseball for the St. Paul Saints.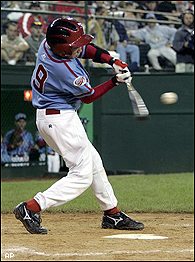 Dante Bichette Jr. reaches out to launch one.
Said Bruiser's father, Bruiser Sr.: "He could have dominated the Little League World Series when he was 5 or 6."
Line drives off Bruiser Jr.'s bat put an opposing pitcher and a third baseman in the hospital during the LLWS. And two paternity suits were filed against him. Yet TV ratings shattered previous highs, and games routinely drew sellouts of 65,000 in Williamsport's new ballpark.
I'm no hypocrite. I readily admit I can't take my eyes off the LLWS. But I can't decide whether I watch because I'm amazed at how good (and big) these kids are -- or because I'm so alarmed by how the Little League World Series is taking on all the characteristics (good and bad) of the big-league World Series.
ESPN's "Baseball Tonight" aired live from Williamsport the other night. Ravech, Kruk and Gammons, elevating the exploits of 11- and 12-year-olds.
Hey, maybe I'm just jealous.
I played on powerhouse Little League teams when uniforms consisted of jeans, T-shirts and caps. We weren't the Yankees or the Red Sox. We represented our grade schools and we were stuck with their goofy nicknames.
We were the Mayfair Chipmunks and we played the Madison Magpies and the Kaiser Kangaroos.
Some parents came to games, some didn't. To my knowledge, none of my friends was pushed to perform by a "stage" dad. It was hard enough to get our parents to take us all to Dairy Queen after we run-ruled another overmatched opponent.
OK, I wish my parents had cared more, and that the girls had chased me home, and that my games had been nationally televised.
But in my wildest 12-year-old dreams I couldn't have imagined the impact that televised sports would eventually have on parents.
When I was a kid, I could watch one nationally televised baseball game a week, Saturday's "Falstaff Game of the Week" with Dizzy Dean and Pee Wee Reese. Now I can watch every game every night, and I know exactly how many millions of dollars each player makes.
And so do parents everywhere. Now parents see how famous they can get for raising a star athlete. After all, Earl and Tida Woods have become household names.
It was their son who sent parents everywhere completely over the edge.
When Tiger Woods took the 1997 Masters by electrical storm, parents began to see the video of baby Tiger swatting golf balls on "The Mike Douglas Show." Suddenly, a kid couldn't be too young to start taking lessons.
When Nike began bombarding America with commercials featuring kid after kid saying, "I am Tiger Woods," many parents took it literally.
Now we have Michelle Wie and Freddy Adu and the LLWS. Now parents everywhere are buying their kids the best equipment and instruction almost as soon as they can walk. Now nearly every parent thinks he or she can hit the Tiger Lottery.
I don't have children, but I'm surrounded by friends who do. When my friends start talking about their kids' playing sports, I no longer know my friends. The maternal and paternal drives completely disengage their ability to reason. Their kid is the best -- or at least he will be when he or she matures. And deaths in the family don't keep my friends from attending their kids' games.
My friends always seem more nervous about the games than their kids!
Watching the LLWS is driving my friends even crazier. For many of them, getting a "parent" close-up at the LLWS has become their goal in life. Look, there's Kalen Pimentel's mom in the stands! There's his dad in the dugout!
It seems that every other week I read another story about a psycho Little League parent beating up or even shooting an umpire or a coach or another psycho parent.
Do you think Kalen feels exploited right now? He appeared to be having the time of his life the other night -- until his miked-up manager, obviously grandstanding for the TV audience, chewed him out on the mound for arguing balls-and-strikes calls and hanging a curveball. Kalen looked like he wanted to deck the guy -- and Kalen is probably capable.
Will Kalen burn out on baseball at 15 or 16? Maybe. By then, will other kids catch up to him in size and strength? Maybe. Is he as good as he'll ever get? Maybe.
It's also extremely possible he'll need Tommy John surgery by then. Dr. James Andrews, the foremost expert on pitching-arm injuries, says the Tommy John surgeries he has performed on pitchers ages 16 and under has risen fivefold since 2000.
Little League baseball should outlaw breaking balls by simply having them called balls. Dante Bichette wouldn't let his kid throw a curve during the regular season -- and he says he won't let Dante Jr. ever pitch again after the LLWS.
Finally, the LLWS has let itself get so prime-time huge that, soon, it will have to start testing for steroids. Do not laugh. If nothing else, suspicious rival parents will begin insisting on it.
Remember: Dr. Gary Wadler, a leading expert on teenage steroid abuse, says it has reached epidemic proportions as far down as the middle-school level. So you don't think with the mounting pressure on kids to reach the LLWS, some haven't resorted to injecting the juice that has fueled so many of their big-league idols?
I will bet you my precious old Mayfair Chipmunks cap that some of the kids in this year's LLWS have used or are using steroids.
I just saw a LLWS commercial. "Little League baseball," it says, irony dripping, "has always been about the important things in life."
I feel as if I've just watched the movie's chilling fade-out.
Skip Bayless can be seen Monday through Friday on "Cold Pizza," ESPN2's morning show, and at 4 p.m. ET on ESPN's "1st & 10." His column appears twice a week on Page 2. You can e-mail Skip here.