READERS' CORNER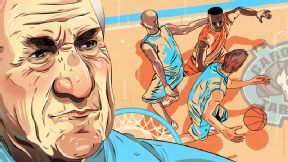 PRECIOUS MEMORIES
Dementia has taken its toll on former North Carolina coach Dean Smith, but family and devoted friends stand by the beloved coach. Tommy Tomlinson
• Just Cheer, Baby: A Raiderette cheerleader named Lacy T. recently filed a lawsuit in search of fair pay. She might just end up changing the system. Amanda Hess
• Jim Irsay -- like father, like son? : Colts' owner was sensitive to his father's substance-abuse issues. Elizabeth Merrill
• The Whistleblower's Last Stand: In Mike McQueary, some see a hero who brought down a monster. Others see a liar who railroaded a legend. Don Van Natta, Jr.
• Out Route: Tony Gonzalez did not lead Atlanta to a Super Bowl and ride off with a ring. A final season spent with the tight end tells a much different tale. Seth Wickersham
• Back to Earth: As he prepares for his fifth and likely final Olympic Games, U.S. skier Bode Miller wonders whether anyone will ever understand him. Wayne Drehs
• Wardrobe Malfunction: Ten years ago, 90 million people watching Super Bowl XXXVIII saw Janet Jackson's breast for nine-sixteenths of a second. Our culture would never be the same. Marin Cogan
• Generation June: Fury, anarchy, martyrdom: Why the youth of Brazil are (forever) protesting, and how their anger may consume the World Cup. Wright Thompson
• Tommy Morrison's latest big fight: Former heavyweight contender has waged battles inside and outside the ring. Elizabeth Merrill
• Portrait of a Rescue: A photograph captured the swift response after the Boston Marathon bombings. It also showed Devin Wang doing what she could to help. Bonnie D. Ford
• Breaking Good: Even after he was sent away as a monster, Joe O'Brien held on to the dream that he would coach again. Paul Kix
• The Match Maker: Bobby Riggs, The Mafia and The Battle of the Sexes Don Van Natta, Jr.
• The Losses of Dan Gable: Wrestling's most famous winner is taking on one final battle: To save his sport and all he's ever been. Wright Thompson
• Trouble Beneath the Surface: Triathlons have hit the mainstream and brought along an increasing number of deaths. What's happening? Bonnie D. Ford
• Marathon of Their Lives: One runner was known as Superman. One was nine months' pregnant. At Mile 26, their paths diverged. David Fleming
• Unity With The Universe: Can a fly rod really hold the secret of life? A paralyzed man and his wife are proving the answer be yes. Wright Thompson
FROM THE ARCHIVES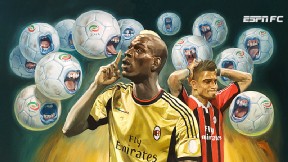 WHEN THE BEAUTIFUL GAME TURNS UGLY
A journey into the world of Italy's racist soccer thugs. Wright Thompson » Video

| ESPN FC
HERE & GONE
The strange relationship between global soccer superstar Leo Messi and his hometown of Rosario, Argentina. Thompson » Watch


In Spanish » ESPN FC »
OTL SCHEDULE
| Day | Network | Time |
| --- | --- | --- |
| Monday | ESPN2 | 5:30 p.m. ET |
| Tuesday | ESPN2 | 5:30 p.m. ET |
| Wednesday | ESPN2 | 5:30 p.m. ET |
| Thursday | ESPN2 | 5:30 p.m. ET |
| Friday | ESPN2 | 5:30 p.m. ET |
| Sunday | ESPN | 9 a.m. ET |
OTL PODCAST

The Outside the Lines team investigates the most important trends and topics in sports.
OUTSIDE OPINION
Have questions, comments or a show idea? Viewers please call us at 1-866-ESPN-OTL (866-377-6685).
LISTEN TO THIS …

THE SPORTING LIFE, Fridays, 10 p.m. ET
Jeremy Schaap hosts this ESPN Radio program, which probes issues in sports and tells compelling stories. Listen