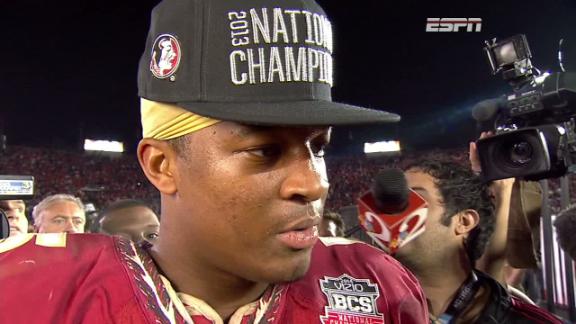 Jameis Winston Talks Bowl Victory
Florida State quarterback Jameis Winston comments on his team's 34-31 victory over Auburn in the BCS title game.
Jameis Winston Talks Bowl Victory
PASADENA, Calif. -- Nobody has made more fun of the BCS than me. I've mocked it. Insulted it. Said it was so screwed up that it sees a therapist twice a week.
So I have only one thing to say to the BCS after Monday evening's national title game:
Thank you.
Thank you for the perfect ending to 16 years of an imperfect BCS system.
[+] Enlarge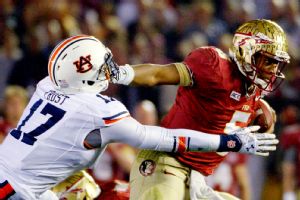 AP Photo/Mark J. TerrillQB Jameis Winston helped push Florida State down the field toward a championship.
Thank you for a game-changing fake punt, a 100-yard kickoff return, another late comeback by you-know-who, a career-defining, last-minute, game-winning drive by the Heisman Trophy owner.
Thank you for Florida State 34, Auburn 31.
This was the best national championship game since the 2005 season, when Texas beat USC on this same Rose Bowl field. This was the kind of game that you never erase from your DVR. The kind of game that grandparents tell their grandkids about.
Check that. It was the kind of game that a grandkid told his grandparents about. At least, that's what Florida State tight end Nick O'Leary did afterward as he embraced Jack and Barbara Nicklaus on the confetti-strewn field.
The greatest golfer of all-time wore an FSU cap and a proud smile as he posed for family photos with O'Leary. And if you looked hard enough, you'd swear he was near tears.
Auburn fans know the feeling. With just 79 seconds remaining in the game, the Tigers held a four-point lead against an FSU team favored by double digits. Hold on to that lead and Auburn wins its second national title in four years and extends the SEC streak to an eight-peat.
More from ESPN.com

The last BCS game provided plenty of entertainment and was a fitting way to say farewell to the BCS, Gene Wojciechowski writes. Story

---

Precocious freshman Jameis Winston displayed a new skill: the ability to pull off a win despite not having his best stuff, Ivan Maisel writes. Story

---

Florida State had waited long enough and claimed its first national title since 1999, Heather Dinich writes. Story

---

For the first time all season, the Auburn Tigers -- the team of destiny -- ran out of miracles, Chris Low writes. Story
• Sharp: Perfect ending to perfect game
• Anderson: FSU ushers out BCS era
• Pierce: Auburn miracles will endure

---
We revisit the most captivating images from the 2014 BCS National Championship. Gallery

---
Instead, Heisman Trophy winner Jameis Winston, who had played like Ja-miss for large chunks of the game, led the Seminoles from their own 20-yard line to Auburn's end zone. The game was closer than a pair of Biggest Losers crammed into a Smart car, and FSU -- and especially Winston -- delivered when it mattered most.
The fourth quarter alone had five scores and three lead changes. It had a 100-yard kickoff return by FSU's Kermit Whitfield, who I swear could outrun Renegade in a race. It had the kind of drama that left Seminoles defensive end Mario Edwards Jr. in a postgame daze.
"I'm speechless," he said. "I'm just lost."
As the rest of his teammates stood on a stage at midfield for the trophy presentation, Edwards stood 20 yards away, by himself, trying to comprehend what had just happened. He looked at the end zone scoreboard and shook his head in disbelief.
"We showed the world we had the answer," Edwards said.
And the answer was Winston, who, as it turns out, is forced to figure out a way to lead FSU's offense down the field in late-game situations on a regular basis. Every week, said Edwards, the Seminoles' coaches put 1:15 on the clock at practice, tell the first-team defense to play like it counts, and then dare Winston to engineer a score.
"I was ready," Winston said afterward. "I wanted to be in that situation."
So thank you for that. And for FSU coach Jimbo Fisher, whose audacious fake punt call with less than five minutes left in the second quarter, and with the Noles down 21-3, was the momentum changer of the game. FSU later scored on the drive.
Thank you for the bizarre, what-if moments: the underthrown Nick Marshall pass to a wide open Ricardo Louis that cost Auburn a walk-in touchdown on the first drive of the game; an Auburn missed field goal; an Auburn stat sheet that showed the Tigers ahead on everything -- first downs, rushing yards, total yards, total plays, third-down conversions, sacks, time of possession -- except points.
"Obviously, we're going to look back and say, 'We could have done this, could have done that,'" Auburn tight end C.J. Uzomah said. "This is going to sting."
Sting? It's going to leave a bruise that might take years to heal.
Thank you for Tre Mason's 195 rushing yards, the highest total by a running back in a BCS Championship. His response as he stood in the somber Auburn locker room?
"It would be a lot better if I was holding up the crystal ball," he said.
Thank you for a game and a final drive worth remembering.
[+] Enlarge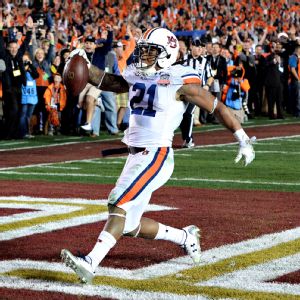 Jayne Kamin-Oncea/USA TODAY SportsJunior Tre Mason nearly ran Auburn to the national title, rushing for 195 yards and a late touchdown.
Thank you for FSU wide receiver Kelvin Benjamin, who said of his game-winning reception: "[It] just makes it a memory we'll never forget."
As the goal posts were lowered and the confetti machines were positioned and T-shirts were handed out to FSU's players, a silver-haired, slightly hunched-over man emerged from the Rose Bowl press box elevator.
His name was Roy Kramer, and two decades ago, as the SEC commissioner, he helped create the BCS Championship.
"A great ballgame," Kramer said. "The way the national championship should be."
"The way the last BCS game should be?" I said.
Kramer paused and glanced up.
"Yes, sir," he said.
And then he disappeared into the crowd as they poured from the Rose Bowl tunnels. Nobody stopped him to say thank you.
Columnist / College Football reporter
ESPN.com senior national columnist
Joined ESPN in 1998
Author of "The Last Great Game"
SPONSORED HEADLINES
MORE COLLEGE FOOTBALL HEADLINES
MOST SENT STORIES ON ESPN.COM
BCS NATIONAL CHAMPIONSHIP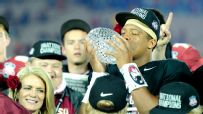 FSU's national championship win capped off an incredible bowl season. Recap » | Overview »
EDITORS' PICKS
Best visits from the final weekend.
Story »

Breaking down each SEC recruiting class.
Story »