February, 26, 2015
Feb 26
4:55
PM ET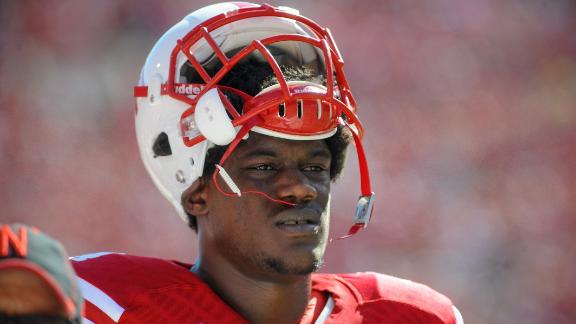 Taking a weekly look at various players who could tempt the
Washington Redskins
with the fifth overall pick in the draft, watching at least three or four of their games. As the draft gets closer, I'll post these reports more frequently and take a look at other rounds as well.
Player:
Randy Gregory
Position:
Defensive end/outside linebacker
School:
Nebraska
Height:
6-foot-6
Weight:
240 pounds
Projected round:
First round, top 10.
What I liked:
His athleticism. It's why he has a chance to develop into an excellent NFL rusher. Gregory has an explosive first step, especially when rushing to the inside, and he couples it with a good swim move. He was adept at forcing tackles to set wide, only to cut back inside. Saw him get a sack when he jumped over a cut-block attempt by the back. Saw him drive potential first-round pick
Ereck Flowers
(Miami) back to apply pressure. His two sacks that game did not occur against Flowers; he did take advantage of Flowers' slow hands in the run game. It was a good game for Gregory. He was doubled quite a bit in most games I saw. Did a pretty good job in open space, tackling receivers (showed it on one screen pass; kept his balance and composure and made a nice tackle). Showed he could rush standing up or with his hand on the ground – from both sides, too. When he got a good jump off the ball, or at least was on time, he would be a step ahead of his linemates. Saw him block a field goal with an inside rush.
What I didn't like:
His play against the run – at all. Gregory would not always get driven off the ball, but he would be controlled and turned to a side. In too many games, he got a late jump off the ball and that allowed the linemen to get his hands into him sooner and, therefore, control him. Gregory goes off player movement; on one snap I froze the frame and the ball is almost in the hands of the quarterback, who was in shotgun, before Gregory takes a step. He needs to add lower-body strength and learn to disengage blockers quicker. Saw him drop into coverage once in five games. But that can be taught. Occasionally he would get upright looking for the ball, losing his base and being driven. I would like to have seen him win more around the edge against good tackles. I didn't see him beat many left tackles to the outside, though he did have some strong rushes vs. Flowers. Wisconsin's tackles, especially right tackle
Rob Havenstein
with his long arms, maneuvered him in the run game.
Why they could use him:
Starting to sound like a broken record, but because I've focused on edge rushers early on for this series, it's become repetitive. The Redskins might lose
Brian Orakpo
to free agency and they lack depth at outside linebacker and do not have many legitimate pass-rushers. They wanted to improve it last offseason and that desire should not have changed.
How he fits:
Gregory would provide the Redskins more athleticism and speed on the edge. He would add explosiveness that they now lack on the outside. But he would not be a full-time player because of his need to add weight and strength and would likely be used as a pass-rusher. That's fine, considering how often they'll likely be in nickel. He would provide some versatility. Gregory would have to add 10 to 15 pounds to become an effective full-time outside linebacker.
Previous draft prospects