March, 28, 2015
Mar 28
2:00
PM ET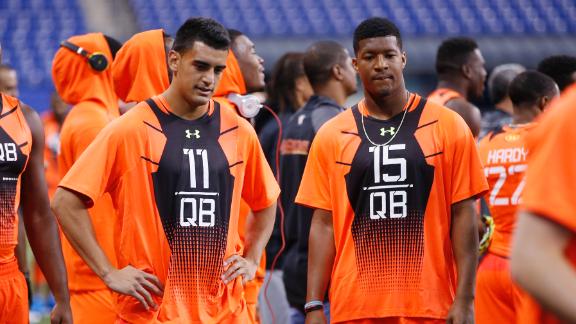 Three thoughts on the Washington Redskins hosting Oregon quarterback Marcus Mariota, per the NFL Network's Albert Breer:
Well, no kidding. Any team picking in the top five should host any player projected to go in that range. It's called due diligence. Even if you don't think you'll draft the player, it's wise to meet with them. That way, you can add more information to your book on him in case he's a free agent in a few years and you have interest. Good teams have lots of information on every player. Teams are allowed to have 30 players in for visits. Clearly they won't be drafting all of them.
The Redskins have said they would consider drafting Mariota at No. 5 – both coach Jay Gruden and general manager Scot McCloughan said so at the owners meetings. Listen, if it's a ruse, then you have to keep it going. And if it's legitimate interest, then you have to do your homework. Considering the team still has concerns/doubts/whatever about Robert Griffin III, it's not hard to imagine the interest is real. For what it's worth, Scott Frost is Oregon's offensive coordinator; Redskins coach Jay Gruden was an offensive assistant in Tampa Bay when Frost played there in 2003. And Mariota worked with Gruden's brother Jon earlier this month for his series on ESPN. Good insight is available -- yes, the word is Jon Gruden likes him, but he clearly loves quarterbacks and once was a big fan of Kirk Cousins, too (might still be, I don't know). My own guess is that Mariota will be gone by the time Washington selects. If he's that good, then someone will trade up to No. 2 to get him – or the quarterback-starved Tennessee Titans will take him. There was a lot of love for Mariota at the owners meetings, but we've entered the poker-playing stage of the draft, so who knows what teams really think.
I have not yet studied Mariota (on the docket for this week), but I have seen him play and I do wonder how he'll translate to the NFL. Half his highlights involve him running and there aren't many games where you can get a great feel for how well he'd do in the NFL. Scouts and evaluators I've talked to do like him (several have said he's better than Griffin, but if both were coming out now, the latter, in my mind, would have to go ahead of Mariota). But I don't know that they love him. That spread system has not been conducive to grooming NFL quarterbacks, but like Griffin, Mariota has talent that should translate and give him a chance to succeed. At that point it's about more factors than the system you played in college: smarts, leadership qualities, coaching, decisiveness, durability, etc.