September, 4, 2015
Sep 4
11:55
AM ET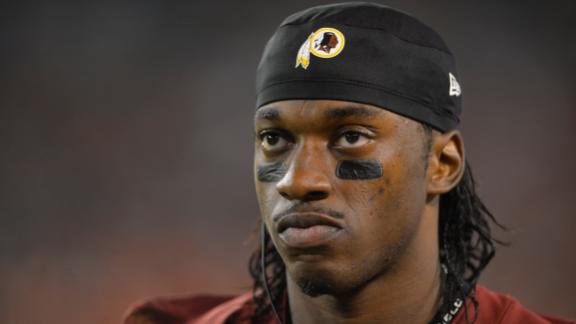 After quarterback Robert Griffin III visits the independent neurologist (a different one from last week) Friday, the Washington Redskins will have a decision to make -- if he's cleared, that is. It's believed they would not make a move until he is cleared.
The choice is simple: Does the organization see a future in Washington for him or not? Earlier in the week, coach Jay Gruden said he did see one, but that's hard to imagine. The football side hasn't seen the sort of growth needed to make a long-term investment in him (in terms of coaching). The question is, how does the business side view the situation? That's why there was genuine uncertainty among several in the organization over the direction this decision will go.
Griffin would count $6.7 million against the cap whether he's here or not -- the Redskins can absorb it considering they have $8.9 million in available space. Their quarterbacks as a group only would cost $8.9 million vs. the cap, which is 36 percent below the league average at this position, according to ESPN Stats & Information. Owner Dan Snyder was OK with not starting Griffin, but would he be fine with the team cutting him? He hired football people to make football decisions, but this remains his team and Griffin remains someone he views fondly.
But even if Griffin gets through the final cuts Saturday, there's still a chance he could be cut before the opener. The real deadline for making the roster is Tuesday, the day by which teams will have made their final moves.
If you see no future for a player, don't you owe it to yourself -- and to him -- to let him go? Let Griffin see if he can make it where he's wanted. You can argue all day whether it's fair or not, right or wrong, but the Redskins' coaches do not have full belief or confidence in Griffin; hence, the benching before the season opener (a decision supported by the organization). It doesn't matter what you or I or anyone outside thinks. Again, their issue boils down to basic fundamentals of the position. Pierre Garcon's drop had nothing to do with this move -- passes that weren't made; hesitation on throws and pocket presence all played a factor.
If it's over, then it's only fair to both sides to move on. As hard as it would be for some fans to see Griffin leave -- 2012 was that magical; the promise of him that strong -- it might be harder for him to stay at a place where he has no future.