January, 29, 2015
Jan 29
1:00
PM ET
PHILADELPHIA -- The danger signs are everywhere. It will be entirely up to Chip Kelly to avoid them and make this new order work in the
Philadelphia Eagles
' front office.
Kelly convinced Eagles owner Jeff Lurie that he could coach the team and handle all the important duties of a general manager, as well. Lurie shoved GM Howie Roseman aside and handed control of the football operation to Kelly. The first order of business was hiring someone to serve as Kelly's lead man on personnel.
Kelly will make the big decisions: who to draft, which free agents to go after, which current Eagles to bring back. What he needed was someone to gather and organize all the relevant information and present it in a way Kelly could quickly process and interpret.
[+] Enlarge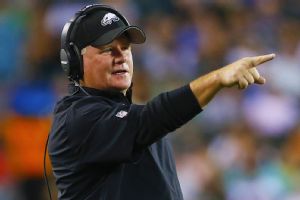 Rich Schultz/Getty ImagesChip Kelly will handle all the important duties of a general manager for the Philadelphia Eagles, and the team has promoted Ed Marynowitz, 30, to serve as Kelly's lead man on personnel decisions.
If Kelly had full control of what to eat for dinner, his new hire had to write the menu every night.
By promoting Ed Marynowitz, who was already working for the team, Kelly minimized some of the risks. A more experienced executive from another team might take a while to get in line with Kelly's vision for team-building. That can lead to misunderstandings and disagreements, which are always dangerous in such volatile relationships.
On the other hand, Kelly has been in the NFL for all of two years. Last year, he told draft-day stories about himself, making light of his own unfamiliarity with the process. Kelly said he suggested drafting Oregon defensive end
Taylor Hart
in the third round. Roseman, more familiar with the draft's inner workings, assured the coach that Hart would be there in the fifth round.
He was. The Eagles took him. Hart was inactive for all 16 games of the 2014 season. He didn't look like much of a fifth-round pick. He would have been a disastrous third-round selection.
Can Marynowitz fill that role? He has been in the NFL for all of three seasons. At 30, he is young enough to be Kelly's son. Will he be able to tell the coach he's about to make a mistake? Will Kelly listen? It is worrisome that the guy who did that last year was no longer able to work with Kelly.
The Eagles went through all of this back in 2001. Tom Modrak was the director of football operations when the team hired Andy Reid as head coach in 1999. After a couple years, Reid sought control of the player personnel decisions. Modrak had a clause in his contract that allowed him to leave the team for another job. As a tradeoff, the Eagles were also allowed to dismiss Modrak during the same window.
The Eagles used that option to let Modrak go. They gave Reid full control of the football operation. Sound familiar? Reid hired 33-year-old Tom Heckert to be his top personnel advisor.
The arrangement worked pretty well for a while. With Reid and Heckert collaborating, the Eagles went the NFC Championship Game after the next four seasons. They got to the Super Bowl after the 2004 season.
It worked because Reid trusted Heckert and listened to him. Reid made the final decisions, but he also knew what he didn't know. Heckert did the groundwork and Reid relied on that to make his decisions.
That explains the quote from Marynowitz that was included in the Eagles' news release about the move.
"We intend to build a collaborative and competitive work environment with our coaches, one built upon trust and respect with a focus on winning," Marynowitz said. "Our goal as a personnel department will be to develop a detailed process to maximize each segment of the scouting calendar in order to support and execute Chip's vision."
That is the objective. Marynowitz understands his part in the process. But nothing he does will matter much if Kelly doesn't trust him and utilize him properly.
Kelly wanted the responsibility of running the football side of the Eagles organization. He has it. Only he can make it work.