July, 26, 2016
Jul 26
5:00
PM ET
PHILADELPHIA -- When Philadelphia Eagles veterans report for training camp Wednesday, cornerback Eric Rowe may want to take some time and reintroduce himself to the coaching staff.
Rowe was the Eagles' second-round draft pick last year. He started the last five games of the season after Nolan Carroll broke his leg. It was reasonable to assume that Rowe had a chance to be a starter for the Eagles this season. And maybe he does, if the coaches remember him.
On Monday, head coach Doug Pederson didn't mention Rowe when he talked about the competition at cornerback. On Tuesday, defensive coordinator Jim Schwartz did the same thing.
"It's going to be fun to watch the corners compete," Schwartz said. "We have some guys that can cover. We have some guys that have a great opportunity here."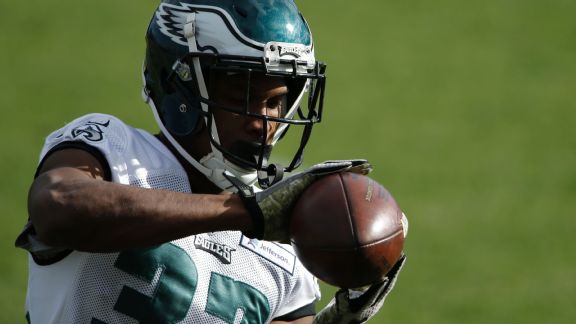 AP Photo/Matt RourkeCornerback Eric Rowe might be in the doghouse with the Eagles' coaching staff.
Schwartz was asked about Carroll and former CFL player Aaron Grymes. He volunteered a breakdown of the other cornerbacks on the roster.
"Just with the blend of veteran players, a guy like Nolan Carroll, who we talked about, (and) Leodis McKelvin," Schwartz said. "Some young guys that have some opportunities; Jalen (Mills) has done a nice job for a rookie so far, and Ron Brooks is going to have an opportunity.
"Guys coming off injury like Shep (JaCorey Shepherd), who has been out here. I think it's going to be exciting to watch those guys. If they show the ability to cover and they show that they will challenge guys, then we'll find use for all of them."
No mention of Rowe. When asked directly about Rowe on Monday, Pederson said something about Rowe's "competition level." He also said that Rowe had fallen behind during OTAs as he learned the new techniques that Schwartz requires of his cornerbacks.
It may be that the coaches are looking to light a fire under Rowe in order to raise that "competition level." It may be that they aren't all that impressed with what they've seen.
Normally, a second-round draft pick would be in a team's plans, especially since the Eagles traded up five spots in the second round to select Rowe last year. But that trade and the choice of Rowe were made by Chip Kelly and his personnel lieutenant, Ed Marynowitz. The current staff has no connection to the selection of Rowe.
There's no obvious conclusion to draw at this point. As Schwartz pointed out, the real evaluation of players begins this week when the pads go on and they start to hit. Rowe could open the new staff's eyes when that happens.
It just seems pretty clear that Rowe will need to do just that.