October, 17, 2014
Oct 17
5:00
PM ET
PHILADELPHIA -- The
Philadelphia Eagles
' bye week gives us a chance to catch our breath and contemplate some of the mysteries surrounding the team this season.
Here's one: Chip Kelly is the 11th head coach of the Eagles during the Super Bowl era. Can he really become the first coach to win one here?
Can he? It certainly looks like he can. Will he? Ah, well, that's where the rub has been for all of Kelly's predecessors, from Joe Kuharich to Andy Reid.
Reid casts a large shadow, for obvious reasons. When you coach somewhere for 14 years -- nearly one-third of the Super Bowl era, incredibly -- and you flirt with ultimate success as regularly as Reid did, then you get to be the best and worst kind of measuring stick for your predecessors. That's just the way it is.
[+] Enlarge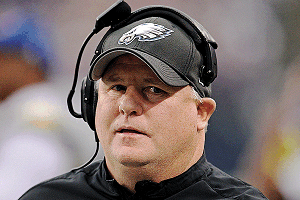 Brace Hemmelgarn/USA TODAY SportsIn his short time with the Philadelphia Eagles, coach Chip Kelly has shown he might have what it takes to win a Super Bowl.
Two years ago, during Reid's 14th and final season as head coach of the Eagles, the offensive line was plagued by injuries. The Eagles went 4-12 as Reid wound up playing
Nick Foles
at quarterback. It was a disaster.
Today, with Foles as his quarterback and an offensive line nearly as beset by injuries (and one suspension), the Eagles' record is 5-1. That's a start better than all but one of Reid's seasons, the one in which the Eagles actually went to a Super Bowl.
Does that prove Kelly is a better coach, or better-equipped to win a Super Bowl, than Reid? No. But it does illustrate one of the ways Kelly is different from Reid. And it is a difference that might translate into Kelly being able to close the deal and win an actual championship right here in Philadelphia.
In 2012, Reid's line was being coached by Howard Mudd, who had a very particular style of play. Unfortunately, most of the linemen Reid had assembled and coached over the preceding seasons were poor fits for Mudd's methodology. When the few who were capable of excelling under Mudd got hurt, the Eagles were left with a bunch of square pegs to fill the round holes.
Kelly always talks about tailoring his schemes to fit the players he has. He also practices at such a fast pace, there are many more plays run on the practice fields every day. That means all of his backups are getting regular work running his plays and learning to play together.
The line was obviously affected by the suspension of right tackle
Lane Johnson
and the injuries to left guard
Evan Mathis
, tackle
Allen Barbre
and center
Jason Kelce
. The Eagles' running game, so potent in 2013, was not nearly as effective. But look at pass protection, the first thing to fall apart when a line is struggling.
Foles was sacked five times in the season opener against Jacksonville. Since then? He has been sacked exactly twice in five games. Foles was sacked 20 times during his six-game tenure in 2012. Or think of that 2007 game at the Meadowlands, when left tackle Tra Thomas was a late scratch against the Giants. Winston Justice had to start that game. Donovan McNabb was sacked 12 times, six of them by
Osi Umenyiora
.
Reid never adjusted, never addressed the problem. He just stood on the sideline and watched his quarterback take a beating.
Foles hasn't been sacked that many times through six games. That's just one manifestation of Kelly's approach. He sees problems as challenges, not as obstacles. If things don't go as planned -- Tra Thomas' back hurts, or injuries afflict your offensive line -- you make the necessary adjustments and try to win. You don't stand on the sideline and wonder what hit you.
That trait might not guarantee that Kelly will win a Super Bowl as coach of the Eagles, but it is a trait found in most championship-winning coaches. It's a start.