March, 27, 2015
Mar 27
11:00
AM ET
PHILADELPHIA -- Chip Kelly does everything fast. His uptempo approach may work on the football field, but it remains to be seen if it is effective in other areas.
[+] Enlarge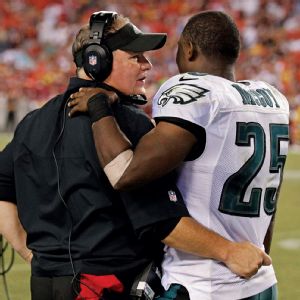 Alex Brandon/AP ImagesCould Chip Kelly and the Eagles have gotten more for LeSean McCoy?
When Kelly wanted to trade LeSean McCoy, it took about 30 minutes. That information came from Buffalo Bills head coach Rex Ryan. At the NFL owners meetings in Phoenix this week, Ryan said the Eagles called the Bills and offered them McCoy. In exchange, they asked for either linebacker Kiko Alonso or wide receiver Robert Woods, according to ESPN's Sal Paolantonio.
Woods, a 6-foot-1, 201-pound former second-round pick, caught 105 passes for 1,286 yards and eight touchdown in his first two NFL seasons.
The Bills were willing to part with Alonso, and the deal was done. The whole process took about a half-hour, according to Ryan.
But here's the thing: Could the Eagles have done better if they'd taken their time? It's efficient to trade the franchise's all-time leading rusher in 30 minutes, but is it smart?
On Wednesday, Kelly talked about some of the trades that have had huge impacts on franchises' fortunes. He cited the trade of Herschel Walker that kick-started the Dallas Cowboys' 1990s dynasty, as well as the 1999 trade in which the New Orleans Saints gave up their entire draft to get Ricky Williams.
The Walker trade was made during the 1989 season. The Vikings received Walker and four picks in the 1990 and 1991 drafts. The Cowboys received five players and a bumper crop of eight draft picks.
But that trade took a lot longer than 30 minutes to negotiate. The Cowboys talked to several teams, including the New York Giants. They got a substantial offer from the Cleveland Browns before the Vikings made their history-changing offer.
In 1988, his last full season with the Cowboys, Walker was 26 years old. He carried the ball 361 times for 1,514 yards.
In 2014, McCoy was 26 years old. He carried the ball 312 times for 1,319 yards. McCoy had led the NFL in rushing in 2013. He was the same age as Walker when he was traded and had accomplished more.
That doesn't mean the Eagles could have gotten what the Cowboys did for Walker. It is likely that no one will ever make such a lopsided trade again. But there is a large gap between getting five players and eight draft picks for a star running back and getting one linebacker for a star running back. Perhaps the Eagles could have closed that gap by spending more than 30 minutes on the process of trading McCoy.
Or maybe not. In 1989, running backs were valued quite a bit more than they are today. Just two years ago, the Cleveland Browns traded running back Trent Richardson to Indianapolis for a first-round draft pick. That trade was widely considered lopsided in favor of the Browns.
Maybe Alonso was as much as Kelly could have gotten for McCoy. It's just hard to know when the trade was carried out so quickly.