February, 5, 2016
Feb 5
3:00
PM ET
PHILADELPHIA – Jim Schwartz has a very good chance to be successful.
The Philadelphia Eagles' new defensive coordinator is already a proven coach in the NFL. So he has his own resume on his side.
But with the Eagles, Schwartz is walking into a situation that should allow him to make the maximum impact. He inherits a defense that wasn't very good for the last couple of years, but not because of a lack of talent. The problem wasn't even former defensive coordinator Bill Davis, really.
Basically, the Eagles defense was handicapped by playing for head coach Chip Kelly, whose no-huddle offensive scheme forced the defense to be on the field more than any other defense in the NFL.
Kelly might have blamed the defense's inability to force punts, but that contention doesn't hold up. In each of his three seasons in Philadelphia, the Eagles were dead last in time of possession. As for Kelly's belief that time of possession didn't matter, that it was really about the number of plays run? The Eagles defense was on the field for the most plays in 2013, second-most (behind Cleveland) in 2014, and the most again in 2015.
Enter Schwartz, who will be working for a head coach who plans to run a more conventional offense. Doug Pederson was offensive coordinator of the Kansas City Chiefs for the last three years. The Chiefs were ninth in the league in time of possession last season and in the middle of the pack the previous two years.
If they can be on the sideline for an extra three to four minutes per game, the Eagles defense will immediately benefit statistically. As linebacker Connor Barwin pointed out, their stats – yards allowed, etc. – were skewed by the time-of-possession disparity. The Eagles might have given up more passing yards than other teams, but they were on the field for 18 or 19 games' worth of plays.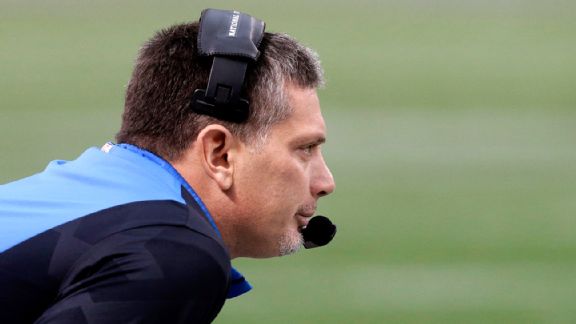 AP Photo/Jim MoneThe Eagles' defense shouldn't be on the field as often in 2016, which should immediately help Jim Schwartz's defense be more effective, at least statistically.
On top of the change in offensive philosophy, there is a change in scheme. Schwartz runs a 4-3 designed to free up players to be aggressive and use their natural ability. Fletcher Cox, who made the Pro Bowl in Davis and Kelly's 3-4 scheme, tweeted excitedly about the prospect of playing in a 4-3 again.
In a 3-4, Cox and the other defensive linemen have to take on blockers, hold their position and allow linebackers and defensive backs to make plays. In Schwartz's 4-3, Cox will be playing defensive tackle. In Buffalo, with Schwartz running a 4-3, defensive tackle Marcell Dareus had 10 sacks in 2014. Two years earlier, when Schwartz was head coach in Detroit, tackle Ndamukong Suh and Nick Fairley combined for 11.5 sacks.
It's no wonder defensive end Vinny Curry said this week that he wouldn't have signed his new contract extension if the Eagles had remained a 3-4 defense.
In 2014, the Atlanta Falcons gave up more yardage than any other defense (the Eagles gave up the fifth most). The Falcons ran a 3-4 defense under Mike Nolan that year. In 2015, new head coach Dan Quinn brought his version of Seattle's 4-3 defense. The Falcons went from the most porous defense in the NFL to No. 17.
The Eagles could make an even bigger jump. Their personnel is better than it was allowed to play in the 3-4 scheme, plus it was hampered by Kelly's hurry-up offense. Remove both of those impediments and the defense has a chance be significantly better.
And that means Schwartz has a chance to look pretty good.