August, 30, 2015
Aug 30
7:00
AM ET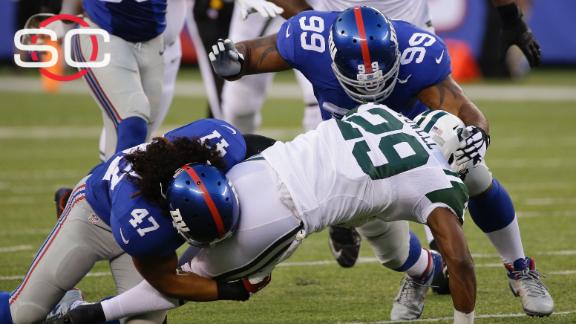 EAST RUTHERFORD, N.J. -- The pass rush needs to be better. The offense needs to move the ball with greater consistency. There were two many penalties in Saturday night's 28-18 preseason loss. And because of all those things, New York Giants coach Tom Coughlin is likely to play his starters for at least part of Thursday's preseason finale against the Patriots in New England.
"I usually end up playing them a little bit, yeah," Coughlin said after Saturday's game. "We're more than a week away from the start of the regular season."
Most teams give their starters the fourth preseason game off due to the risk of injury. But Coughlin has generally played Eli Manning and his first-teamers for at least part of the fourth preseason game. Last year, Manning and the starters participated in five preseason games, since they had the Hall of Fame Game as an extra one on the front end.
And while the results of preseason games don't merit any undue emphasis, the Giants feel as though there's something to be gained from seeing the field one more time in a practice game before taking the field for the regular-season opener Sept. 13 in Dallas.
"You don't want to feel unsure going into the season, especially when the first week is a division opponent," said cornerback Prince Amukamara, for whom Saturday was the first preseason game of 2015 after a groin injury kept him out of the first two. You want to feel ready. You want to feel right. You want to feel confident, like we're ready to take on an opponent for real. And personally, I don't feel like I'm there yet. We're getting there, but we're not there yet. So I feel it could be right for us to continue playing in the next game. Though it would suck for someone to get hurt in the fourth preseason game one week before Dallas."
That's the line Coughlin walks, and it's bit him in the past. Running back Andre Brown broke his leg in the final preseason game two years ago and had to miss the first half of the season. And given the Giants' injury issues already this camp, they can ill afford to lose anyone else of significance. But it would be a help to get wide receiver Victor Cruz on the field, as he has yet to see any preseason action following last year's serious knee injury and the calf injury that developed a couple of weeks ago. And one more tune-up could benefit everyone as long as they escape it healthy.