August, 25, 2015
Aug 25
4:50
PM ET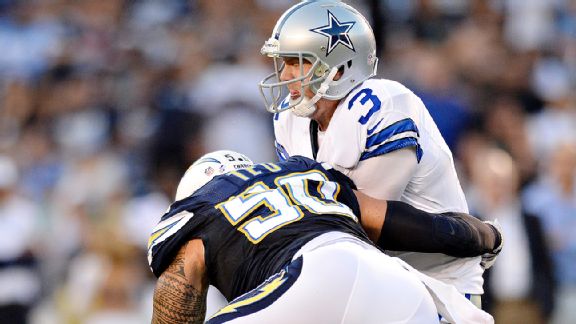 Jake Roth/USA TODAY SportsCowboys QB Brandon Weeden is slowly working his way back from a head injury.
OXNARD, Calif. -- Dallas Cowboys QB Brandon Weeden "technically" believes Sunday's concussion he suffered against the San Francisco 49ers was the third of his career.
While Weeden's balance and memory tested out fine, he had a headache that was enough to keep him off the field after taking a sack. Weeden has improved, which was evident by his attendance of Tuesday's walk-through even if he didn't participate.
"If you're ankle's hurt, yeah, I'm fine throw some tape on it. But you have a headache? Yes? All right, you want to be smart," Weeden said. "I'm 31 years old and I don't want to be 50 and not be able to know my kids' names. To me that's a lot more important than trying to play it out for one more series in a preseason game. It's not worth it. Super Bowl? Little different deal.
"But I'm good. I'm making good progress."
Weeden isn't sure if he will be able to play in Saturday's preseason game against the Minnesota Vikings. He has to follow the concussion protocol before getting cleared. Tight end Gavin Escobar was able to play against the 49ers after suffering a concussion in practice against the St. Louis Rams.
Weeden completed 2-of-5 passes for 7 yards in three series' of work.
"It takes time," Weeden said. "You can't really put a day on it. You just have to make sure you're symptom free, then you start the process and when that runs its course. When the trainers say, 'Hey, you're good to go today,' I'll throw my helmet on and go practice."
With Weeden out, Dustin Vaughan will take the second-team snaps followed by undrafted rookie Jameill Showers.