November, 1, 2015
Nov 1
7:45
PM ET
ARLINGTON, Texas – Say this for the Dallas Cowboys: They follow Jason Garrett's fight mantra.
Unfortunately, that didn't translate to a win Sunday against the Seattle Seahawks. The Cowboys suffered their fifth straight loss 13-12 after a Steven Hauschka field goal with 1:06 to play.
So far, the change to Matt Cassel at quarterback has not brought the boost the Cowboys needed when he replaced Brandon Weeden. The Cowboys were held without a touchdown for the second time in three weeks.
The comedy of errors offensively came to a head on the final drive. Cassel had a first-down pass knocked out of his hands, his second-down pass to Darren McFadden was too high, and he was sacked for 6 yards on third down because he was unaware Bruce Irvin was tracking him down from behind. The Cowboys had two cracks at fourth-down success, but their hope evaporated when Cassel's sideline throw fell incomplete.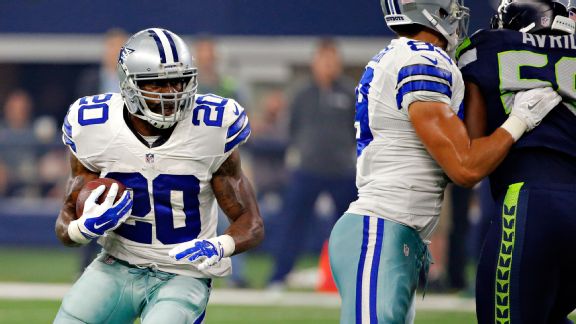 AP Photo/Brandon WadeDarren McFadden logged at least 20 carries for the second game in a row, but he wasn't as effective Sunday as he had been the week before.
With Tony Romo, the Cowboys were able to flawlessly execute in the hurry-up offense against the New York Giants, culminating in a touchdown pass to Jason Witten with seven seconds to play.
Without that play, the Cowboys would be winless at home this year. As it stands, they have lost three in a row at home and welcome the Philadelphia Eagles to AT&T Stadium next week. At 2-5, the Cowboys are beyond desperate for a win.
Slow welcome back: Dez Bryant's return brought energy to the crowd, but that didn't translate to the stat column. Bryant finished with two catches for 12 yards, with Richard Sherman shadowing him regardless of which side Bryant lined up on. The only time Sherman wasn't on Bryant was in the slot. Bryant's first catch came on a rocket screen in the slot, but Sherman was able to stop Bryant for a 2-yard loss. Sherman drew offensive pass interference on a deep ball, but it was a smart play by Bryant to break up a sure interception. This was just the seventh time since Garrett took over as coach that Bryant had two or fewer catches.
What were they thinking? Like they did against the Atlanta Falcons in the first game without Romo, the Cowboys were unable to attack through the air down the field. They took only a couple shots against the Seahawks. Before the Cowboys' final drive, Cassel had thrown for 97 yards. Bryant and Terrance Williams had a pair of 15-yard catches, but Cole Beasley was shut out for the second straight game.
One reason to get excited: The Cowboys had an honest-to-goodness takeaway Sunday. They had not had one since Week 2; that's a span of nearly 300 plays. Greg Hardy was able to tip a Russell Wilson pass to himself for a turnover. It was an extremely athletic play that Hardy seemed to time up a few plays earlier when reading Wilson's eyes. It was the first interception of Hardy's career and the first takeaway for the Cowboys in what felt like forever.
One reason to panic: For the second time in three games, the Cowboys failed to score a touchdown. They also did not reach the end zone in their 30-6 loss to the New England Patriots. After Hardy's interception, the Cowboys had to settle for a field goal after taking over at the Seattle 16. Even the return of Bryant was unable to spark much change. The good news? Romo can practice this week for the first time since breaking his left collarbone.
Carry the load: For the third time in his career, McFadden has had 20 carries in back-to-back games. Even so, he wasn't as explosive Sunday as he was in last week's loss to the Giants, in which he gained 152 yards on 29 carries. McFadden finished with 20 carries for 64 yards. The last time McFadden was called on this much was in the first two games of the 2011 season with the Oakland Raiders, when he had 22 and 20 carries to open the season.
NFC EAST SCOREBOARD
Thursday, 11/26
Sunday, 11/29