January, 27, 2015
Jan 27
12:00
PM ET
Cowboys reporter Todd Archer breaks down the Cowboys, position by position, analyzing what the players did in 2014, what they can do in the future and what the team can do to improve the position in 2015.
Under contract:
Joseph Randle
,
Lance Dunbar
, Ryan Williams
Free agents:
DeMarco Murray
,
Tyler Clutts
A look back:
In a word, Murray was phenomenal. The Cowboys wanted to be a physical team and Murray allowed that to happen. He led the NFL in rushing with 1,845 yards, setting a single-season franchise record. He also scored 13 touchdowns and opened the season with eight straight 100-yard games.
[+] Enlarge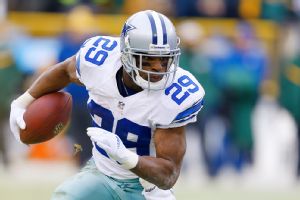 AP Photo/Scott BoehmDeMarco Murray rushed for an NFL-best 1,845 yards this season, nearly 500 yards better than second-place Le'Veon Bell.
He was helped by three first-round picks on the offensive line, but he also saved his best season for a contract season. And he played in every game for the first time in his career, working through a broken left hand that required surgery.
When the MVP and offensive player of the year awards are announced later this week, Murray should be in the conversation.
Because Murray was so good, the Cowboys did not give Randle or Dunbar much work. Randle, however, managed to average 6.7 yards per carry and scored three touchdowns on 51 carries. He had runs of 38, 40 and 65 yards. He ran hard and his pace was different than Murray's and caught defenses off guard. Dunbar did a decent job as a third-down back. His opportunities will be lacking just because of the depth of the Cowboys' offense but he has a good feel for setting up screens.
Clutts didn't have a carry during the season and caught just one pass in the regular season. He added his first touchdown in the playoffs. Williams' comeback from injuries was a good story in training camp and he spent the year on the practice squad.
A look ahead:
What happens to Murray will be the story of the Cowboys' offseason. Do the Cowboys pay him a nice reward or do they let him walk as a free agent? Depending on the day, hour, minute that answer can change.
Murray has value to the Cowboys for more than just his ability to run the ball. Finding how to come to a financial agreement with all those things considered will be difficult. It won't be impossible. The Cowboys can certainly afford Murray,
Dez Bryant
and make plays in free agency with their salary cap. If they don't keep Murray, it will be a decision that they don't want to overpay for a running back.
If that happens, then Randle will get a chance to prove he can be effective as a full-time back. There are those at Valley Ranch who believe he can be a 1,400-yard rusher, but they also acknowledge there is more to the position than running the ball.
Clutts could be brought back at a decent price as well.
A look out:
If Murray walks, then the Cowboys would figure to be players in the running back market. While everybody wants to connect the dots between the Cowboys and
Adrian Peterson
, who remains under contract with the
Minnesota Vikings
, the cost of business with a running back will be a factor. Peterson won't come at a discount and the Cowboys would have already passed on keeping Murray because they didn't want to fork over a lot of cap space to a running back.
The draft would figure to be the more logical spot. Wisconsin's
Melvin Gordon
looks to be a good fit for what the Cowboys want to do in the running game and with the 27th pick in the draft, they might be in a good spot to get value. There will be other runners that will gain attention between now and May as well.
Remember, Murray was a third-round pick.
The series:
Quarterbacks
Specialists