October, 20, 2014
Oct 20
6:14
PM ET
By
Danny Knobler
| Special to ESPNNewYork.com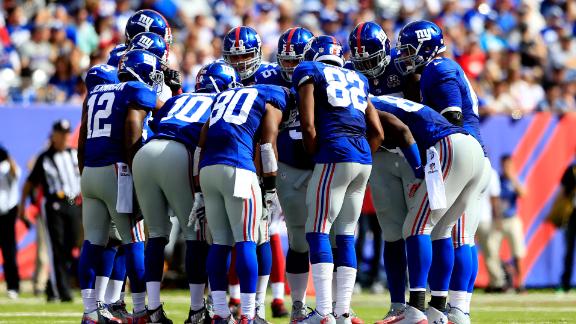 EAST RUTHERFORD, N.J. -- The view from the outside is that the
New York Giants
are basically what their 3-4 record says they are, an inconsistent team that might not be good enough to be a contender.
Jason Pierre-Paul
isn't buying it.
He looks at the Giants, and sees a team ready to go on a roll. He looks at the rest of the schedule and sees nothing but victories, despite a string of tough opponents in November.
"I think the bye [week] is good," the Giants defensive end said Monday. "What have we got, nine more games to play? Let's win all the nine games. I think we can do it.
"We've just got to believe."
Pierre-Paul
Pierre-Paul was one of the Giants' top performers in Sunday's
31-21 loss
to the
Dallas Cowboys
, playing so well that coach Tom Coughlin singled him out in Monday's team meeting. Pierre-Paul was credited with six tackles, including two sacks and three total tackles for loss, but he looked even better than that on the game film.
"He was dominant," cornerback
Prince Amukamara
said. "Just getting in the backfield and blowing things up, against the run, against the pass, you name it."
Pierre-Paul was on the field for all but two of the Giants' 62 defensive plays. His performance was even more impressive because he was lined up against Cowboys left tackle
Tyron Smith
, who was so good the week before that he was the first lineman in 10 years to win the NFL's Offensive Player of the Week award.
"[Pierre-Paul] played hard, and I thought he played well, both run and pass," Coughlin said. "His energy level was high. He had outstanding endurance. If you were going to find someone that gave the kind of effort you were looking for and played well, he would certainly be at the top of the list."
The problem for the Giants was that not enough of them have played well, at least not from week to week. They lost their first two games, won their next three, and now have lost two straight to division opponents. The
27-0 loss
to the
Philadelphia Eagles
was ugly, but Sunday's loss to the Cowboys left a bad taste, too.
"We basically let them win," Pierre-Paul said. "We made mistakes, and it cost us big-time. [But] there's a lot more football in the second half to play. We'll be ready."
The Giants will come back after the bye with a Monday night game against the first-place
Indianapolis Colts
, followed by Seattle, San Francisco and a rematch with Dallas. But Pierre-Paul isn't concerned.
"I think we're fine," he said. "Tough loss [to the Cowboys], but as far as a team, we know what we can do. It's like we told everyone, do what you want this week, get away from football.
"When we come back, it's time to turn it on."
There are nine games left, and for Pierre-Paul, that can mean nine wins.
He thinks they can do it.