October, 31, 2014
Oct 31
12:00
PM ET
PHILADELPHIA -- Timing is an issue whenever an offensive line has to undergo changes because of injuries. That's not quite what we're talking about here.
For the Eagles, it's always good timing when starting center
Jason Kelce
is able to return to the lineup. Kelce makes sure everyone on the line understands the blocking scheme and is on the same page as far as what the defense is doing. He is also significantly bigger and more agile than his backup,
David Molk
.
[+] Enlarge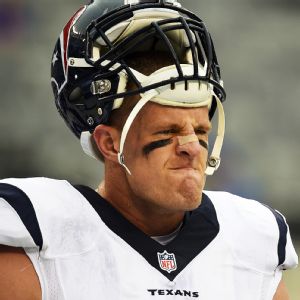 Alex Goodlett/Getty ImagesThe Eagles expect center Jason Kelce back just in time to help deal with J.J. Watt.
But Kelce is expected to return Sunday against the
Houston Texans
, a team uniquely qualified to exploit whatever problems the offensive line is experiencing. Defensive end
J.J. Watt
can move anywhere along the defensive front to line up across from any weak link.
"I think they move him around at so many different spots," Eagles coach Chip Kelly said. "I think you don't have a bead on when you can and when you can't handle in terms of pushing things to him and not pushing things to him. There's going to be some times where he's one on one and you're going to have to be able to block him in one-on-one situations."
This week, in a conference call with Philadelphia media, Watt talked knowledgeably about the biceps injury that right guard
Todd Herremans
is attempting to play through. That is one potential target for Watt. Kelce, who hasn't played in more than a month and is sore in the area around his surgically repaired sports hernia, is another. Left guard
Matt Tobin
, who has been starting in place of Pro Bowler
Evan Mathis
, is a third.
"He's certainly a guy that can wreck the game and he's proven it," Eagles offensive coordinator Pat Shurmur said. "He's taken interceptions back for touchdowns. He's a very difficult guy to block. He's going to be a tough challenge for our guys. And it's not like you can double him because he shows up all over the place; he's on the right, he's on the left, he's in the middle. I heard an interview at one point where I think that's part of their scheme, but then there's also a little bit of randomness in it that he can do, as well. "
The tackles,
Jason Peters
on the left and
Lane Johnson
on the right, are healthy, but Watt will surely try to find ways to get around them, as well. It is what he does. And now that
Jadeveon Clowney
is playing again, the Texans have a second elite pass rusher for the Eagles to contend with.
Second? Make that third or fourth.
"The one thing that I don't think people give them enough credit for is that
[Whitney] Mercilus
and
[Brooks] Reed
are really, really good," Kelly said. "So it's not like they don't have players at that position. I think they have a couple really good outside linebackers. And then obviously they move Watt around. If Clowney hadn't been gone, they use Watt a little bit more at defensive end. So they have some other players besides him.
"If your sole attention is just on stopping 99 [Watt], you can do a great job of stopping 99, but Mercilus, Clowney, Reed, all those other guys are very good football players, too. And it's a very sound defensive scheme. It's not just geared towards one guy."