September, 4, 2015
Sep 4
7:00
AM ET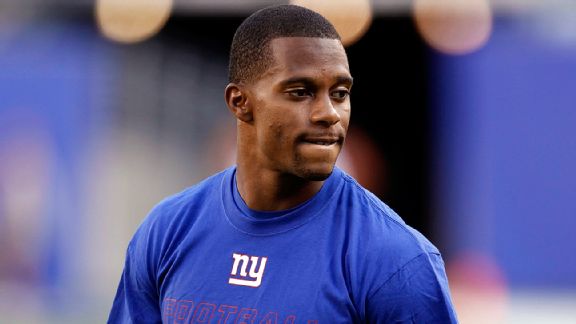 William Perlman/USA TODAY SportsVictor Cruz missed two weeks of camp with a calf injury and is still recovering from last year's knee issue.
Eli Manning was scheduled to play Thursday night in the New York Giants' preseason finale, but he did not. Neither did star wideout Odell Beckham Jr., who dressed but stood on the sideline with Manning while the rest of the first-team offense spent a couple of series trying to score against Patriots backups.
Giants coach Tom Coughlin said after the game that he "didn't want to play them, didn't have to play them," which was different from what he said about it earlier in the week. At halftime, in an interview with the local TV station broadcasting the game, Manning said, "I think the offense is ready."
The Giants had better be ready. Nine days will pass before the first Sunday of the regular season. Manning, Beckham and the Giants will play the Cowboys in Dallas on Sept. 13. The Cowboys went 12-4 last year, and the Giants haven't beaten them since 2012. It's about to get real. And while some things happened in the Giants' final tune-up that might make you feel OK about what's to come, a lot of questions remain with this team.
Jason Pierre-Paul is due back next week, but no one knows when he'll play or how. The pass rush needs him, even if it did generate some pressure Thursday against backup Patriots. Rookie Landon Collins played well at safety Thursday, but unless he's going to clone himself and play both safety spots, they still have questions to answer at that position. Middle linebacker Jon Beason is still hurt.
On offense, Victor Cruz has missed two weeks' worth of practice with a calf injury and still is recovering from last year's major knee injury. Rueben Randle's knee has been bugging him all summer. Thursday night, they were still shuffling pieces on the right side of the offensive line, and rookie left tackle Ereck Flowers had a rough game with penalties.
The Giants have a better idea what their roster will look like, but they have so many holes that they're liable to pick over other teams' cuts this weekend after they make their own. They'll show back up for practice Monday and get ready for the opener six days later in Texas. And when they arrive at AT&T Stadium that day, they'll surely feel ready to start the season.
But outside expectations for the Giants right now seem about as low as they've been in more than a decade, and they're going to have to look at lot more ready Sept. 13 than they've looked at any point this offseason if they want to avoid losing their season opener for the fifth year in a row.