June, 28, 2016
Jun 28
10:30
AM ET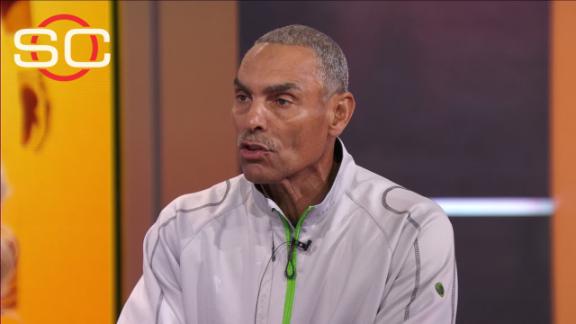 PHILADELPHIA -- Buddy Ryan became an NFL coach in New York. He became a champion in Chicago.
In Philadelphia, Ryan became something else entirely: a legend. And legends, unlike men, never really die.
Ryan, the man and the coach, died Tuesday at the age of 85.
Ryan's legend lives on, some 30 years after he became head coach of the Philadelphia Eagles. His status in this toughest of sports towns is hard to explain. Ryan never won a playoff game with the Eagles, but he built and unleashed a team that won a permanent place in the hearts of fans who never quite fully embraced more successful figures like Andy Reid and Donovan McNabb.
How did Ryan do it? By sheer force of personality. He arrived in Philadelphia just days after his Chicago Bears defenders carried him off the field after a Super Bowl championship. And he carried himself as if he were still up there, on the shoulders of his victorious troops.
During his first training camp, after a practice at West Chester University, Ryan grabbed a microphone and addressed bleachers full of fans. He told them that the Eagles would win the NFC East that year, and they would do it by sweeping their eight games against division rivals Dallas, Washington, New York and St. Louis.
The Eagles went 5-11 in 1986, Ryan's first season. There was no division title. That didn't begin to affect the coach's bluster. When NFL players went on strike in 1987, Ryan's message to his team was simple: Stick together. Whatever you do, do it as a team.
Led by defensive end Reggie White and quarterback Ron Jaworski, the Eagles followed their coach's advice. They held meetings at Jaworski's New Jersey golf club and spent their days picketing outside Veterans Stadium.
In other cities, star players with more money at stake were crossing picket lines. The league decided to play on, with teams assembled from players who had been cut a few weeks earlier. Ryan could not be bothered.
His men were out on the picket line. He went through the motions with his replacement team, but that was it. While other coaches were talking about the farcical replacement games as if they really mattered, Ryan didn't try to hide his contempt.
The Eagles' first strike game was against the Bears at Veterans Stadium. The scene outside the Vet was more compelling than anything that happened inside. A convoy of Teamsters drove trucks around the stadium. Striking Eagles players formed a picket line. The Bears thrashed the Eagles 35-3.
It all came to a head when the replacement Eagles went to Dallas to play the not-so-replacement Cowboys. Tom Landry's team had 18 players who crossed the picket line, including quarterback Danny White, running back Tony Dorsett and defensive stars Randy White and Ed "Too Tall" Jones.
Dallas won 41-22.
Two weeks later, the Cowboys played the Eagles at Veterans Stadium. The strike had ended a few days earlier. The Eagles had returned to their locker room en masse. On the field, they took revenge on the Cowboys team that had embarrassed their replacement team two weeks earlier. They sacked White five times and held Dorsett to just 32 yards rushing.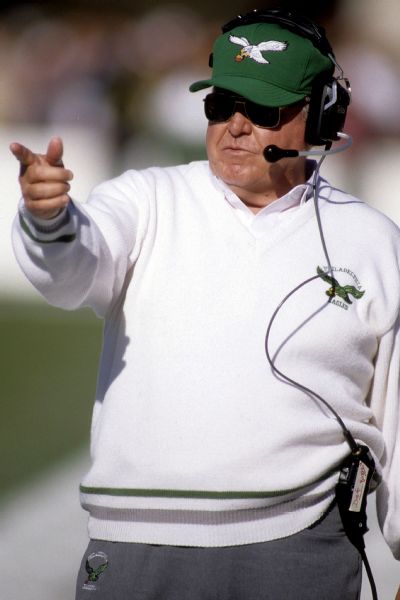 Focus on Sport/Getty ImagesBuddy Ryan went 31-17 in his last three seasons in Philadelphia, but 0-3 in the playoffs.
The Eagles led 30-20 as they lined up in the fourth quarter with time running out. Instead of taking a knee, quarterback Randall Cunningham dropped back and lofted a deep pass to wide receiver Mike Quick, who was streaking toward the end zone.
Quick drew a pass interference call. The game ended with Keith Byars plowing into the end zone from the 1-yard line. The scoreboard read 37-20. Ryan ran up the tunnel toward the Eagles locker room and spotted a knot of reporters in the hallway.
"F--- 'em," Ryan shouted.
And that expressed his attitude toward the whole thing. Ryan, who had been an Army master sergeant during the Korean War, believed in discipline and order. But there was also a rebellious Oklahoman under the surface. If Ryan respected someone, he was as loyal as could be.
If not? Well, Ryan's Eagles went 7-5 in 1987. The replacement team went 0-3. After the season, Ryan opened a news conference by unveiling "scab rings" that he awarded to team president Harry Gamble and his assistant, George Azar. The rings -- the kind of oversized items typically awarded to a top salesman or executive -- were not meant as compliments.
And that's where the cracks started to form. Ryan sided with his players during the emotional 1987 strike, but he also took their side in contract squabbles with owner Norman Braman. Ryan referred to Braman as "the guy in France," because Braman spent some of his time at a villa he owned there.
For the next three seasons, Ryan's Eagles went to the playoffs. They lost their first game each time.
After the 1988 season, the Eagles were NFC East champions and had to travel to Chicago to play the Bears. For Ryan, it was an emotional return to the city where he'd coached one of the NFL's most ferocious defenses. So everyone would know the Eagles weren't sneaking into town, Ryan had the team buses drive from O'Hare to Soldier Field. They circled the stadium, horns blaring.
The next day, a sudden fog covered the lakefront. The second half of the game was played in fog so thick, reporters were allowed to come down from the press box and watch from the sidelines. It didn't help. Players would run past and disappear into the mist.
The Eagles lost 20-12. The next year, they lost a wild-card game to the Los Angeles Rams, 21-7 at Veterans Stadium. A year after that, it was Washington, a team the Eagles had beaten at Veterans Stadium, 28-14 in November -- the infamous "Body Bag" game.
In January, Washington beat the Eagles 20-6 in a wild-card game at the Vet.
Ryan's contract was up. Braman, the man he had mocked and aggravated for five years, had no intention of offering Ryan another one.
"I never got fired for winning before," Ryan said.
Ryan had gone 31-17 in his last three seasons, but 0-3 in the playoffs. He had presided over a team that was fiercely loyal to the coach, but had been unable to come up big in the postseason. Meanwhile, NFC East rivals New York and Washington had won Super Bowls. The hated Cowboys had hired Jimmy Johnson and drafted Troy Aikman and were on the threshold of their 1990s dynasty.
Ryan left Philadelphia. He coached in Houston and Arizona, but never had quite the same impact in those cities.
In Philadelphia, Ryan is still a legend, a coach who took no guff and made no apologies. Ryan was the man who led that beloved but ultimately underachieving 1980s team: Reggie White, Randall Cunningham, Seth Joyner, Keith Jackson, Keith Byars, Andre Waters.
Those Eagles were larger-than-life heroes in a city where football passion is all the more intense after 55 years without a championship. At the center of that remarkable team and that unforgettable time was a man whose legend only grew after his departure.
Buddy Ryan.