February, 26, 2015
Feb 26
6:44
PM ET
Associated Press
[+] Enlarge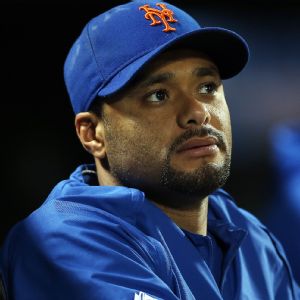 Elsa/Getty ImagesJohan Santana hasn't pitched in the majors since 2012 with the Mets.
DUNEDIN, Fla. -- The Toronto Blue Jays have signed two-time Cy Young winner Johan Santana to a minor league contract, hoping the former ace can make it back to the majors.
The Blue Jays announced the deal Thursday and invited him to big league spring training.
Santana turns 36 in March. He last pitched in the majors in 2012 with the New York Mets and has undergone two operations on his left shoulder in recent years.
Santana was in Baltimore's minor league system last year and tore his left Achilles tendon in June. He's made just one appearance since then, retiring six straight batters in January in the Venezuelan Winter League.
The four-time All-Star won AL Cy Young Awards with Minnesota in 2004 and 2006. He pitched the only no-hitter in Mets' history and is 139-78 lifetime with a 3.20 ERA.
February, 26, 2015
Feb 26
4:43
PM ET
February, 26, 2015
Feb 26
4:11
PM ET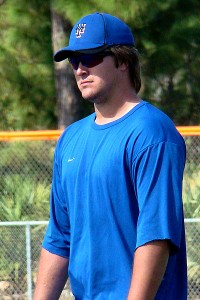 Adam RubinSean Ratliff, pictured in 2012 during his comeback attempt from a serious eye injury, has rejoined the organization as a coach.
PORT ST. LUCIE, Fla. -- Former Mets farmhand Sean Ratliff, whose promising minor-league career was derailed by a serious eye injury, is back with the organization. Ratliff, now 28, will serve as the hitting coach at short-season Kingsport.
Ratliff was drafted by the Mets in the fourth round in 2008 out of Stanford.
He hit .317 with 16 homers and 50 RBIs in 281 at-bats after a midseason promotion to Double-A Binghamton in 2010.
However, the following spring training, a scary incident occurred.
Ratliff, who was standing in the on-deck circle, was struck in the face during a Triple-A game in Jupiter, Florida, on a check swing off the bat of
Zach Lutz
. The blow broke six bones, nearly fully detached Ratliff's retina and left him immediately fearing he might lose his right eye.
Four surgeries later, Ratliff hoped to pick up where he left off in 2012. But he was forced to call it a career because his vision was not sufficient to compete after going 3-for-22 with Class A St. Lucie.
February, 26, 2015
Feb 26
2:05
PM ET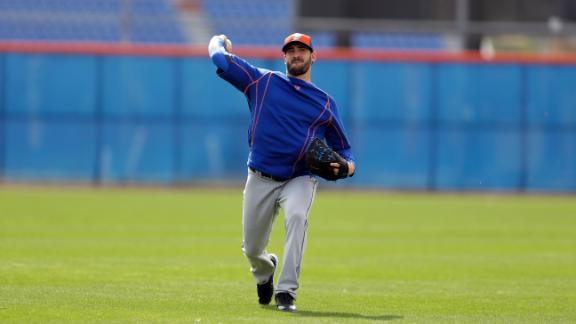 PORT ST. LUCIE, Fla. -- New York Mets right-hander Matt Harvey's first game since undergoing Tommy John surgery has been set for March 6, the team confirmed Thursday.
Harvey will face the Detroit Tigers in a Grapefruit League game at Tradition Field in Port St. Lucie, Florida.
Harvey's last game came on Aug. 24, 2013. He then was diagnosed with a torn ulnar collateral ligament in his pitching elbow and underwent elbow surgery two months later.
Harvey actually is due to face batters on Friday at Mets camp for the first time since the surgery, although the hitters will track baseballs but not swing because it is early in camp.
"How these things usually go is guys will stand in and kind of watch, monitor and track pitches -- which guys did last year," Harvey told ESPNNewYork.com, referring to late in the 2014 regular season as he was rehabbing. "I think once they start really getting the counts and have somebody behind there [umpiring], I think that's when [the significance] will start."
February, 26, 2015
Feb 26
1:43
PM ET
February, 26, 2015
Feb 26
1:33
PM ET
Bobby Parnell
will open the season on the disabled list, but he took a step forward Thursday. Parnell faced batters for the first time since undergoing Tommy John surgery last April 8.
The batters just tracked pitches and did not swing, but Parnell nonetheless viewed the day as a positive.
"It felt good to see some hitters in the box," Parnell said. "It means I'm making the right steps forward. It was a big step."
Said Terry Collins: "He's going to be a piece we're going to have to have. Like I said to him, 'You've got to still take it slow.' Hopefully by the end of spring training he gets into a couple of games."
PORT ST. LUCIE, Fla. --
February, 26, 2015
Feb 26
1:27
PM ET
Lucas Duda
will be prohibited from swinging a bat for at least another week.
Duda has been dealing with a strained intercostal muscle on his left side for the past couple of weeks. Originally, Collins hoped Duda would resume swinging within a few days of the beginning of full-squad workouts. Instead, more caution will prevail.
"Nobody is more upset than he is," Collins said. "He's a workaholic. He's bound and determined to be as good as he can be. He overdid it, and now he's got to back off. I said, 'Listen, we've got a long time to get you ready. We can certainly get that done. But you've got to be patient and get rid of this thing so it doesn't flare up again.'"
Duda has participated with position players in fielding drills.
PORT ST. LUCIE, Fla. --
February, 26, 2015
Feb 26
10:14
AM ET
[+] Enlarge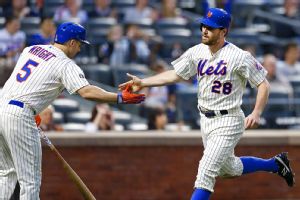 Rich Schultz/Getty ImagesDaniel Murphy, the Mets' lone All-Star last season, is likely to become a free agent after this season.
PORT ST. LUCIE, Fla. -- Second baseman Daniel Murphy, the lone All-Star for the New York Mets in 2014, likely is headed for free agency next offseason.
Murphy indicated Thursday that he was open to in-season extension talks between the club and agents Sam and Seth Levinson, although the second baseman did not want to be personally involved unless things got serious.
However, a team source told ESPNNewYork.com that no in-season extension talks are planned. While the source would not declare with 100 percent certainty that Murphy will be elsewhere next season, the expectation is the Mets will let him walk.
"As of right now, I'm a Met for this year for sure," Murphy said. "I'd love to be here in the future. That, again, is way in the distant future. I've got too much anxiety about today to worry about what happens in November."
The source noted that the Mets are deep in upper-level middle-infield prospects, with Dilson Herrera and Matt Reynolds -- and even Wilmer Flores, if he does not pan out at shortstop -- among the viable successors in 2016 at second base.
February, 26, 2015
Feb 26
10:09
AM ET
PORT ST. LUCIE, Fla. -- And now
Eric Campbell
can return to his normal position ... wherever that is.
Campbell, who had been getting a full-time crash course in catching since camp opened, will start working at his more customary positions now that the first full-squad workout has begun. That means working as a corner infielder and outfielder.
Campbell is expected to make the Opening Day roster as a righty-hitting utility player. The Mets have been training him as a third-string catcher for emergency situations, even though no Mets infielder or outfielder has played there since
Todd Zeile
in 2004 -- and that was at Zeile's request for nostalgia purposes.
The catching position was not 100 percent unfamiliar to Campbell. He said he has caught friends' throwing sessions during recent offseasons.
Campbell is unsure if he will play in a Grapefruit League game behind the plate, but he expects to at least get thrown into a minor-league game at the position before breaking camp.
"It was awesome," Campbell said about the catching tutorial. "[Coach] Bob [Geren] did a good job of taking me from Step 1 to where I'm at now. Obviously I'm not at the level of the other catchers, but I feel a little more comfortable now if something were to happen. And hopefully by the end of spring I'll be even more comfortable."