June, 25, 2016
Jun 25
10:39
PM ET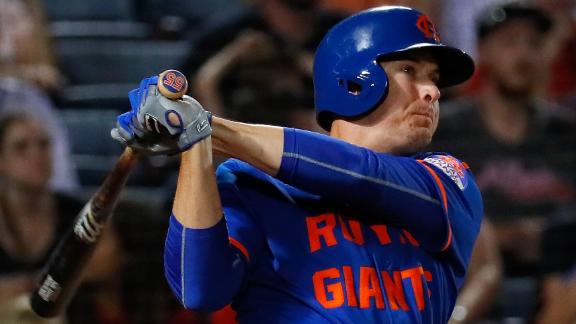 ATLANTA -- Jacob deGrom gets no support. No exaggeration.
DeGrom tossed eight scoreless innings on Saturday, yet came away with a no-decision and remained winless since April 30.
The New York Mets nonetheless salvaged a 1-0 win against the Atlanta Braves when Kelly Johnson -- a three-time former Brave -- delivered a pinch-hit homer against ex-Met Dario Alvarez to open the 11th inning.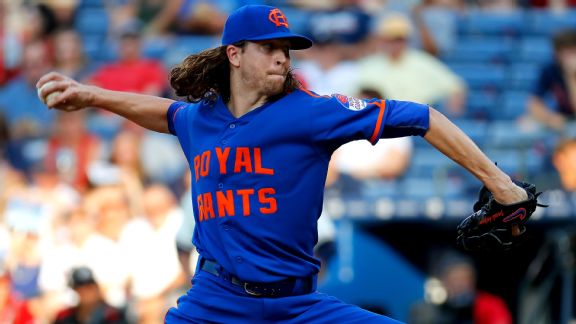 Kevin C. Cox/Getty ImagesJacob deGrom remained winless since April 30 despite throwing eight shutout innings on Saturday night.
The Mets moved within two games of the first-place Washington Nationals, who have lost seven straight games.
Earlier this month, Johnson was acquired by the Mets from the Braves for the second straight season.
"Any time you're playing against a former team, you get a little extra pep in your step and want to go in and prove yourself," Johnson said.
The Mets (40-33) have not scored in deGrom's past 21 innings on the mound. They have scored three runs -- total -- in the five games he has started in June.
When Johnson's homer got the Mets on the scoreboard, deGrom avoided becoming the franchise's first pitcher since Pat Zachry in 1980 to make three straight starts in which the Mets were shut out.
DeGrom, who allowed seven hits and one walk in a 100-pitch effort, is now winless in 10 straight starts. That matches the second-longest streak in Mets history by a starting pitcher who has allowed no more than four runs in any of those outings. The franchise record belongs to Dick Selma, who had 13 straight winless starts from 1965 through '67 while keeping the opponent to fewer than four runs in each outing.
"Everyone knows about our pitching," Johnson said. "You want to go out and score runs and give them just the confidence to go out there and throw their game and not have to worry about that kind of thing. Right now there's been a lot of those stretches where runs are hard to come by. Obviously they're picking us up in a big way. Hopefully we can help support them a little better going forward. For the time, it's good to grind out some wins, too. You learn a little bit about yourself."
DeGrom professed that the lack of support doesn't bother him.

"My goal is to go out there and put up zeroes and keep us in the ballgame," deGrom said. "And so I think that makes it easy for me."
Braves starter Julio Teheran fell an inning -- and a run of support -- shy of becoming the first pitcher since Bruce Hurst on May 13 and 18, 1992 to shut out the Mets in consecutive starts. Teheran followed a one-hit shutout this past Sunday at Citi Field by tossing eight scoreless innings this time. He departed at 110 pitches. Teheran has blanked the Mets for 24 innings over his past three starts against them.
The Mets signed Jose Reyes to a minor league deal and promoted 2011 first-round pick Brandon Nimmo from Triple-A Las Vegas on Saturday as they begin to lay the groundwork to try to reinvigorate the offense, as they did last July with the promotion of Michael Conforto and the acquisitions of Yoenis Cespedes, Johnson and Juan Uribe. Nimmo is due to make his major league debut on Sunday, while Reyes will begin a week to 10-day minor league stint later that day.
The Mets entered Saturday's game ranked 28th in MLB in runs scored, ahead of only fellow NL East members Philadelphia and Atlanta.
The Mets had a bona fide opportunity against Teheran in the third. Curtis Granderson was hit by a pitch to lead off the inning and advanced to third on Cespedes' single to center. However, Cespedes tried to advance to second on the play and ended up getting tagged out when he went in standing up. The Mets then stranded Granderson on third base when Neil Walker flied out.
There was more ugliness in the 10th. After Wilmer Flores singled to lead off the inning, Alejandro De Aza popped up a bunt attempt and then did not hustle out of the box. Reliever Jim Johnson alertly let the ball drop, then initiated a double play.
"Very surprising," manager Terry Collins labeled De Aza's gaffe. "No. 1, I've seen this guy play. The one thing that he is known for is how hard he plays. It goes to show you, everybody gets frustrated when they don't do the job. I've seen it happen a lot of times."
DeGrom used double plays to end three straight innings. That included deGrom stranding a runner at third base in the fourth when he coaxed a 5-4-3 DP off Adonis Garcia's bat. Garcia had another chance when he batted with the bases loaded and two outs in the sixth, but deGrom induced a fielder's choice grounder to Flores at third base.
"Jake got off to kind of a rocky start," Collins said, referring to deGrom's season. "But I think he's starting to round into shape a little better. His arm is finally feeling better."
What's next: Bartolo Colon (6-3, 3.00 ERA) opposes right-hander Bud Norris (2-7, 4.69) in Sunday's 1:35 p.m. ET series finale. Colon lasted only four pitches in his last outing. He was struck with a comebacker and suffered a bruised right thumb.