May, 4, 2016
May 4
7:46
PM ET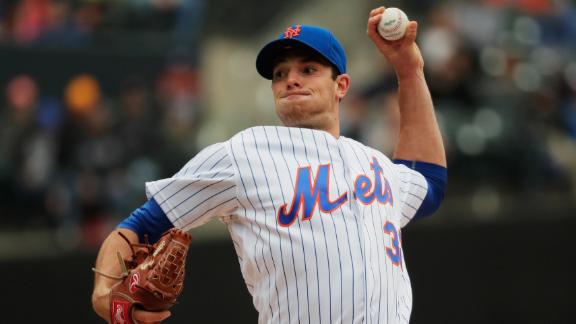 Whatever was bothering Steven Matz in his first start of the season, it's safe to say it has been fixed.
Matz improved to 4-0 with a 0.67 ERA in four starts since his rough 2016 debut for the New York Mets. His 7 2/3 scoreless innings in an 8-0 victory over the Atlanta Braves on Wednesday were a near duplicate for what Matt Wisler did to the Mets on Tuesday.
How is Matz doing it? Let's take inventory:
Strike-throwing machine -- Matz doesn't mess around. In this four-start streak, he's thrown all four of his pitches (fastball curveball, slider, changeup) for at least a 68 percent strike rate. He has 29 strikeouts and five walks in 27 innings in this span.
The curveball -- It's a pitch Matz uses sparingly, but wisely. He got a pair of strikeouts with it among the 13 he threw on Wednesday. In this four-start stretch, opponents are 2-for-18 in at-bats ending with a Matz curveball (a pitch he got to throw only five times when he was rocked by the Marlins in his debut).

Weak contact -- Matz's hard-hit rate in his past four starts of 8 percent is in line with his rate from last season. It ranks 13th best in the majors (out of 104 qualifiers) since April 17.
A little help -- Matz has benefited the most from his catcher's ability to get more called strikes for him than anyone else on the Mets this season. Matz has gotten about 10 more called strikes than the average pitcher would have gotten on the same pitches.
Wednesday's catcher, Rene Rivera, has rated well historically in that regard. He got Matz two called strikes above average against the Braves.
Matz has fared well with defensive-minded catchers in his brief career. In four starts with Kevin Plawecki and Rivera, he's allowed two earned runs in 26 innings.
Matz has gotten a little help and maybe a little luck when it comes to his defense. Opposing hitters are 8-for-16 when hitting a line drive against him (hitters typically bat .700 or better on line drives).
It's hard to get a full read on Matz, given that two of his wins came against the Braves and one came against the Indians, but he did hold a Giants team that entered Wednesday third in the National League in runs scored scoreless in six innings in his last start prior to this one.
A little sunshine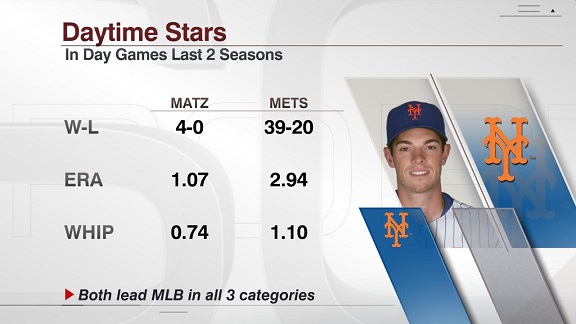 ESPN Stats & Information


Whether it's an odd quirk or there's something to it remains to be seen, but Matz is now 4-0 with a 1.07 ERA in five afternoon starts. He's allowed only 16 hits in 33 2/3 daytime innings.
He's giving teammate Jacob deGrom a run for his money in that regard. DeGrom is 13-2 with a 1.25 ERA in 21 career daytime starts.
Did you know?

Matz has eight wins in his first 11 appearances, the most by any Mets pitcher that early in his career. The previous mark of seven was set by Jason Isringhausen.
May, 4, 2016
May 4
6:50
PM ET
By
Roger Rubin, Special to ESPN.com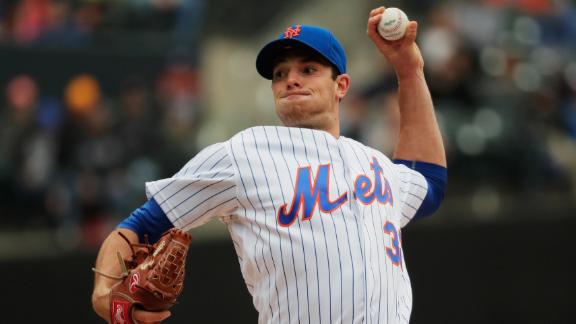 NEW YORK -- An unsightly start has become something to behold for Steven Matz. The New York Mets left-hander stumbled out of the gate on the season but now has hit the kind of stride every pitcher hopes for.
On Wednesday, he threw 7.2 scoreless innings as the Mets beat the Atlanta Braves 8-0 before 31,783 fans in a cold drizzle at Citi Field. He allowed just three base runners, two on two-out hits in the third and eighth innings and a hit batter in the seventh. He didn't issue a walk and struck out eight.
Matz' first start of the season was abominable, allowing seven runs and failing to get the final out of the second inning before being lifted. Since then it has been a different story. He's made four starts for a 4-0 record with a 0.67 ERA and 29 strikeouts in 27 innings.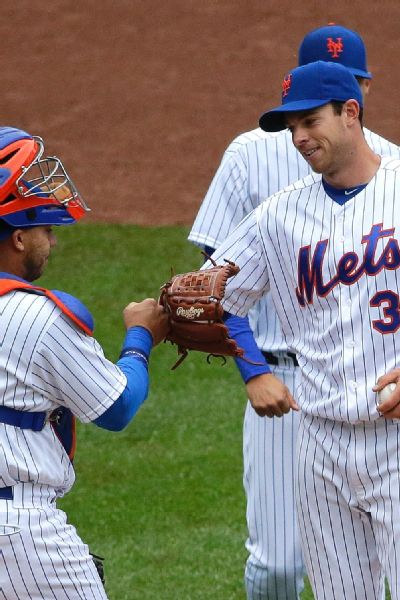 AP Photo/Frank Franklin II"All my pitches, I felt comfortable like I could throw them in any count. That was definitely a good day," Steven Matz said about his outing Wednesday against the Braves.
"Tough day to pitch, with the weather," manager Terry Collins said. "And he went out and did what he's been doing lately and that is throwing strikes and using all his stuff."
Matz added: "All my pitches, I felt comfortable like I could throw them in any count. That was definitely a good day."
Matz likes day games -- according to ESPN Stats & Info, he is 4-0 with a 1.07 ERA in five daytime starts -- but the 24-year-old is underselling how good he was in this one. He retired the first eight Atlanta hitters he faced before giving up a flare single in the third inning on a 1-and-2 fastball to pitcher Jhoulys Chacin. Then he retired the next 11 Braves before hitting Freddie Freeman with one out in the seventh. He got the next four before Erick Aybar's two-out single in the eighth ended his outing at 106 pitches.
He had the kind of rhythm, efficiency and success -- not to mention a light-hitting opposing lineup -- that could have put Collins in an unenviable position.
The premium on great young arms is at an all-time high. Already this season we have seen two young hurlers removed from games in which they were throwing a no-hitter because of their pitch counts. Dodgers manager Dave Roberts lifted Ross Stripling after 7.1 innings and 100 pitches on April 9 at San Francisco. Marlins manager Don Mattingly removed Adam Conley after 7.2 innings and 116 pitches four days ago in Milwaukee.
Collins has a Mets rotation with four of the best young arms in the game -- Matz, Noah Syndergaard, Jacob deGrom and Matt Harvey -- and that comes with a responsibility to keep them healthy and meet expectations to contend for the World Series again. Collins said before the game that he wanted Matz to stay around 110 pitches. Still, he knows he could be looking at similar situations to the ones Roberts and Mattingly encountered, and it sounds like he might go the same route.
"We've got to keep an eye on these guys. They're coming back probably first time all season on four days' rest, therefore we got to make sure they're OK," Collins said. "I get shutouts -- I know how important they are to guys -- but wins are the most important thing and to be able to go out there in four days.
"I know where Dave Roberts was coming from and where Don was coming from. You're talking about once-in-a-lifetime, throwing a no-hitter. There's a big picture involved here and the big picture right now with us, with the expectations that are with this club, is to make sure they stay healthy."
Matz conceded that when a pitcher is on the mound and doing well he won't want to come out of a game, but that maybe he isn't in the best position to judge. He said that there were signs of fatigue at 106 pitches.
"You don't feel it on the mound [but] I could tell by where my pitches were going and the sharpness of them, that I was probably getting a little tired," Matz said. "Out there you don't really feel it. It's something they notice in the dugout. I definitely understand that."
So how exactly did Matz find this groove that has him pitching at the top of the game?
Rhythm and routine might be the reason.
There was no game scheduled for three of the next four days after Opening Day in Kansas City, so his first outing of the season came with nine days off following his final spring-training start. Since then, all the starts have been on four or five days of rest.
Matz also likes to work quickly, as he did Wednesday, and he said, "I'm definitely a rhythm pitcher -- I try to stay in that rhythm and work quick, so that definitely does help me."
May, 4, 2016
May 4
4:00
PM ET
By
Roger Rubin, Special to ESPN.com
NEW YORK -- It's starting to look like a cause-and-effect relationship. Steven Matz takes the mound for the New York Mets and their bats turn ferocious to support him.
The Mets hit four home runs -- including a pair by Lucas Duda -- to back a sparkling outing by Matz in an 8-0 win Wednesday over the hapless Atlanta Braves before 31,783 at Citi Field. Asdrubal Cabrera and Rene Rivera also hit home runs, and Matz threw 7 2/3 brilliant two-hit innings.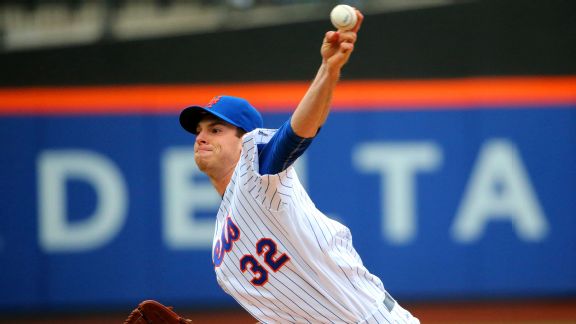 Anthony Gruppuso-USA TODAY SportsMets starter Steven Matz allowed just two hits over 7 2/3 innings in Wednesday's win over the Braves.
The Mets have 13 victories in their last 16 games and just won their sixth straight series. The last time the club won six series in a row was in 2006.
The last time Matz pitched, April 29, the Mets set a club record with a 12-run third inning in a 13-1 win over the San Francisco Giants. In his last start before that, the Mets scored eight runs -- the team's batters have been pounding opposing pitching the last three weeks.
The Mets have 38 home runs in their last 18 games. This time, homers came from predictable sources as well as surprising ones. Duda inserted himself into the race for the team lead with his two homers; he now has seven and trails only Neil Walker (nine) and Yoenis Cespedes (eight). For Cabrera, it was his second home run of the season. Rivera's homer was his first as a Mets player; the former Tampa Bay Rays catcher was called up April 26 after Travis d'Arnaud went on the 15-day disabled list with a strained shoulder.
This is the fourth time in 26 games that the Mets have hit four or more homers. They hit six on April 19 against the Philadelphia Phillies, four against the Phillies on April 18 and four against the Cleveland Indians on April 15.
The only hits Matz allowed were a two-out single to Braves pitcher Jhoulys Chacin in the third inning and a two-out single to Erick Aybar in the eighth. He also allowed another baserunner in the seventh when he hit Freddie Freeman with a pitch.
After a poor first start of the season -- where he couldn't finish two innings -- Matz has been excellent. In the four starts since then, he is 4-0 with a 0.67 ERA, and in three of those outings, he didn't give up a run.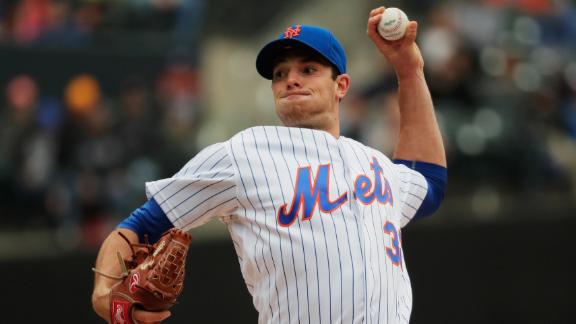 May, 4, 2016
May 4
11:30
AM ET
Associated Press
NEW YORK -- Braves right fielder Nick Markakis has left the team because of a family emergency, manager Fredi Gonzalez said before Wednesday's game against the Mets.
Gonzalez said Markakis called him Wednesday morning to say he needed to head home to Maryland. The veteran is expected to be back in time for Friday's home game against Arizona. Atlanta is off Thursday.
"Our thoughts and prayers are with him," Gonzalez said. "Hope everything comes out OK."
Chase d'Arnaud started in right field and rookie Mallex Smith led off Wednesday after hitting his first career home run from the No. 9 spot Tuesday.
Markakis is hitting .281 with no home runs and 20 RBI.
May, 4, 2016
May 4
11:00
AM ET
While playing high school baseball in Miami, third baseman David Thompson broke Alex Rodriguez's school home run and RBI records. He also set Florida's career prep long-ball record, unseating Prince Fielder for that distinction. After a successful career at the University of Miami, Thompson now is putting up gaudy numbers as a professional ballplayer with the Columbia Fireflies. Thompson, a fourth-round pick last June, is tied for the lead in all of minor league baseball with 27 RBIs this season.
"I wasn't expecting to have this many already," Thompson said. "It's been fun to come up with guys on base. Every game I'm coming up with guys on base, pretty much. I'm just trying to put the ball in play and find a hole somewhere."
Thompson isn't lying when he suggests he always has someone on base ahead of him. Teammate Vinny Siena, taken in the 14th round last year out of UConn, currently has a .475 on-base percentage, which ranks ninth in all of the minors. He has scored 21 runs in 24 games. Thirteen of Thompson's RBIs -- 48 percent -- have plated Siena.
"He's on base, I feel like, every time I come up to bat," Thompson said. "He's just so consistent. He's got a great approach up there -- sees pitches well and swings at his pitch. Every time he's up to bat, you feel like he's going to get on base or hit the ball hard somewhere."
Thompson hit a modest .218/.268/.320 in 228 plate appearances with Brooklyn after last year's draft. Team officials believe he was out of gas, having reported shortly after playing through the College World Series with the Hurricanes.
This season, he is hitting .278/.346/.467 in 104 plate appearances with Columbia in the South Atlantic League.
"I was tired, but I just had a bad year swinging at some bad pitches," Thompson said about his inaugural professional season. "I didn't play too well. I'm trying to put that in the past and move on and not think about that too much."
Thompson acknowledged that he is still trying to improve his selectivity at the plate after being more of a free swinger in college.
"Just trying to buy into the Mets' approach, which I've still got a lot to work on," Thompson said. "I'm still getting myself out too much by swinging at bad pitches. But I feel like I've gotten a lot better at swinging at my pitch instead of a pitcher's pitch. I'm still working on that. I'm still chasing too many balls. But that's where I'm working the most."
The Mets have been complimentary of Thompson's fielding at third base, although Thompson concedes he does not have a rifle arm. He twice had labrum surgeries and also had a procedure to address thoracic outlet syndrome, which involved removing a rib and troublesome vein.
"I've always considered myself a pretty good third baseman," Thompson said. "I get ragged on about my arm a lot. But my arm is feeling pretty good, and I feel like I can get the ball there in time. I've still got a lot of work to do to get better -- getting quicker. But I like playing third and feel like I do a pretty good job."
As for unseating A-Rod and Fielder in the prep record books, Thompson downplays the accomplishment.
"I don't compare myself to those guys at all," he said. "They're well-accomplished big leaguers. I hope to get to the big leagues one day. And then maybe I could talk about that a little bit."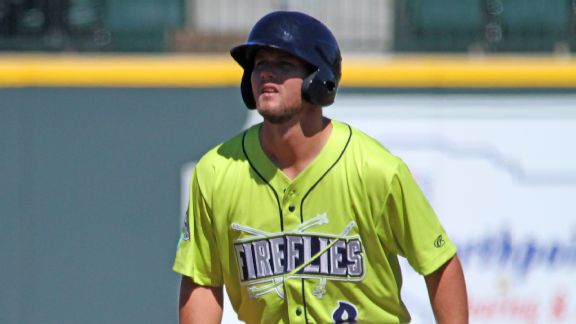 Jak Kerley/Columbia FirefliesColumbia Fireflies third baseman David Thompson is tied for the minor-league lead with 27 RBIs.
ORGANIZATION LEADERS
Average: Wuilmer Becerra, St. Lucie, .400; Ty Kelly, Vegas, .396; T.J. Rivera, Vegas, .356; Vinny Siena, Columbia, .351; Travis Taijeron, Vegas, .309; Amed Rosario, St. Lucie, .308; Gavin Cecchini, Vegas, .299; Niuman Romero, Binghamton, .295; Roger Bernadina, Vegas, .294; Tomas Nido, St. Lucie, .293.
Homers: Travis Taijeron, Vegas, 4; Marc Krauss, Vegas, 3; T.J. Rivera, Vegas, 3; Dominic Smith, Binghamton, 3; Amed Rosario, St. Lucie, 3; Jeff Diehl, Columbia, 3; Ivan Wilson, Columbia, 3.
RBIs: David Thompson, Columbia, 27; Dominic Smith, Binghamton, 20; T.J Rivera, Vegas, 19; Travis Taijeron, Vegas, 18; Amed Rosario, St. Lucie, 17.
Steals: Champ Stuart, St. Lucie, 9; Roger Bernadina, Vegas, 7; Amed Rosario, St. Lucie, 5.
ERA: P.J. Conlon, Columbia, 1.14; Robert Gsellman, Binghamton, 1.82; Gabriel Ynoa, Vegas, 2.05; Ricky Knapp, St. Lucie, 2.38; Joe Shaw, Columbia, 2.57; Casey Delgado, St. Lucie, 2.67; Sean Gilmartin, Vegas, 2.70; Andrew Barbosa, Binghamton, 2.82; Chase Ingram, Columbia, 3.00.
Wins: Casey Delgado, St. Lucie, 4; P.J. Conlon, Columbia, 3; Sean Gilmartin, Vegas, 3; Ricky Knapp, St. Lucie, 3.
Saves: Paul Sewald, Vegas, 3; Akeel Morris, Binghamton, 2; Beck Wheeler, Binghamton, 2; Ty Bashlor, Columbia, 2; Johnny Magliozzi, Columbia, 2; Kevin McGowan, St. Lucie, 2; Corey Taylor, St. Lucie, 2.
Strikeouts: Chase Ingram, Columbia, 30; Sean Gilmartin, Vegas, 28; Andrew Barbosa, Binghamton, 25; Robert Gsellman, Binghamton, 25.
SHORT HOPS
The third player acquired in the trade for R.A. Dickey with Noah Syndergaard and Travis d'Arnaud is off to a torrid start. Wuilmer Becerra, 21, is hitting a Florida State League-best .400 with 10 RBIs in 70 at-bats. Becerra had been serving as the designated hitter with St. Lucie because of shoulder soreness, but returned to right field on Tuesday for the first time since April 9. He has a nine-game hitting streak.
Columbia outfielder Tucker Tharp, a 30th-round pick in 2014 out of the University of Kansas, underwent surgery to repair multiple facial fractures after getting hit by a pitch by Lexington's Scott Blewett on April 28. Tharp's vision was unaffected, although he did suffer an orbital fracture.
Jeff McNeil, who finished second in the Florida State League in batting average in 2015, was expected to undergo sports hernia surgery. McNeil played three games with Binghamton before landing on the disabled list. McNeil had bulked up during the offseason, gaining 35 pounds.
A trio of first-round picks are heating up. Brandon Nimmo is 9-for-19 during his current five-game hitting streak to lift his average to .268 with Las Vegas. Gavin Cecchini is 13-for-22 during his current six-game hitting streak to lift his average to .299 with the Pacific Coast League club. Meanwhile, at Binghamton, notoriously slow starter Dominic Smith has raised his average 101 points, to .275, since April 20. Smith has 13 RBIs in his last 10 games.
The St. Lucie Mets are rallying around the wife of manager Luis Rojas, who has been diagnosed with breast cancer. The team recently posed for a photo in pink T-shirts that read "Team Laura." Rojas continues to manage the club.
Mets officials are pleased by right-hander Gabriel Ynoa's command with Las Vegas. Ynoa is 2-0 with a 2.05 ERA in five starts. Opponents are hitting only .204 and have not homered against him in 30T innings in the hitter-friendly Pacific Coast League.
The Mets are not ready to move 20-year-old shortstop phenom Amed Rosario to Binghamton just yet, but the internal discussions have begun. Rosario leads the Florida State League in total bases (54) and triples (five). He is hitting .308 with three homers and 17 RBIs in 104 at-bats with St. Lucie.
Dilson Herrera returned from a sore lower back with a bang. After being out of the starting lineup for a week, Herrera went 4-for-6 with a triple, two homers and five RBIs on Tuesday at El Paso.
Former independent ball pitcher Casey Delgado is 4-0 with a 2.67 ERA in four starts with St. Lucie. In each of his last two starts, he has been supported by a homer from fellow independent-ball alum Kevin Taylor. Delgado and Taylor were teammates at Traverse City in the Frontier League.
Kevin McGowan has a 1.23 ERA and 20 strikeouts in 14T innings with St. Lucie as he has transitioned from the rotation to a relief role this season. He has experienced increased velocity out of the bullpen.
The Florida State League officially began using pitch clocks this week after testing it in April. In the opening two games with it in effect, there were no automatic ball or strike calls involving St. Lucie. Josh Prevost did successfully contest an automatic ball call against him Monday and had it overruled.
Through five starts with Binghamton, Robert Gsellman has compiled a 2.93 groundout/flyout ratio -- the second-best among qualifiers in the Eastern League. He is 1-1 with a 1.82 ERA in five starts.
Recently christened Spirit Communications Park, home of the Columbia Fireflies, marks quite a change from the spacious stadium the Mets' South Atlantic League affiliate played in last season in Savannah, Georgia. Twenty-five homers have been hit in 14 games in Columbia. That long-ball total ranks eighth among minor league ballparks.
"Farm Report" appears on Wednesdays during the regular season.
May, 4, 2016
May 4
10:32
AM ET
NEW YORK -- Here are the lineups for Wednesday's 1:10 p.m. ET rubber game between the New York Mets and Atlanta Braves at Citi Field.
The Mets are bidding for their sixth straight series win.
Steven Matz is 3-0 with a 0.93 ERA in his last three starts.
David Wright sits the day game after the night game, while Rene Rivera starts for Kevin Plawecki behind the plate.
The Mets have been held scoreless for 16 straight innings.
Mets
Asdrubal Cabrera, SS
Michael Conforto, LF
Yoenis Cespedes, CF
Lucas Duda, 1B
Neil Walker, 2B
Wilmer Flores, 3B
Rivera, C
Matz, LHP
Braves
Mallex Smith, CF
Adonis Garcia, 3B
Freddie Freeman, 1B
Jeff Francoeur, LF
Chase d'Arnaud, RF
Daniel Castro, 2B
Erick Aybar, SS
Jhoulys Chacin, RHP
May, 4, 2016
May 4
6:30
AM ET
NEW YORK -- The New York Mets have won five straight series. They can make it six, which would be their longest streak since 2006, with a rubber-game victory against the Atlanta Braves.
Steven Matz (3-1, 3.86 ERA) opposes right-hander Jhoulys Chacin (1-1, 3.27) on Wednesday at 1:10 pm. ET in the series finale.
Matz is 3-0 with a 0.93 ERA in his last three starts.
After the game, the Mets depart for an 11-game trip to San Diego, Los Angeles and Denver.
WEDNESDAY'S NEWS REPORTS:
BIRTHDAYS: Miguel Cairo turns 42. ... Robinson Cancel is 40. ... Manny Aybar is 44.
TWEET OF THE DAY:


@AdamRubinESPN When is Wheeler due back again?? Ughh!

— John Tarzelli (@415JayTee) May 4, 2016
YOU'RE UP: Do you believe Harvey's struggles are related to last season's innings count?
May, 3, 2016
May 3
11:30
PM ET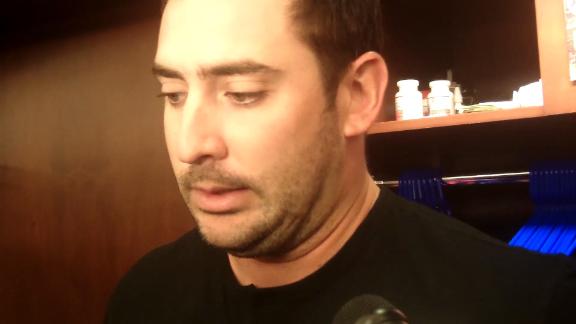 NEW YORK -- Mets right-hander Matt Harvey is still searching for answers to his sluggish start to the season.
"I'm giving up more hits, more runs -- kind of everything -- more than I ever have," Harvey said after Tuesday's 3-0 loss to the Atlanta Braves. "Obviously, it's frustrating. I've got to keep working."
Harvey was charged with three runs on eight hits and two walks in 5 2/3 innings Tuesday. He also uncorked two wild pitches. He dropped to 2-4 with a 4.76 ERA.
"Right now, I'm not feeling good with my mechanics. I'm not feeling good throwing the ball," Harvey said. "It's frustrating. I think I've said it before: I'm the one who is most frustrated here about what's going on. It's been a frustrating start, but we have a long way to go."
Harvey logged 216 innings last season. That was the most ever by a major league pitcher in a first season back from Tommy John surgery. Manager Terry Collins acknowledged postgame Tuesday that there could be a carryover from last season's workload, though Harvey refuted that suggestion.
"I don't think so," Harvey said. "I hadn't really looked into that. My body doesn't feel bad. I don't feel tired. I don't feel any downside from the workload last year. I think it's, right now, I'm just in a little funk with my mechanics. We're working to get rid of that."
Harvey's struggles have not come from a lack of work between starts.
May, 3, 2016
May 3
9:58
PM ET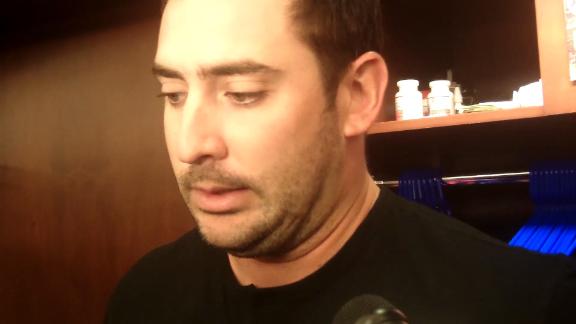 NEW YORK -- The Dark Knight's miserable season continued Tuesday for the New York Mets.
Matt Harvey surrendered only the sixth homer by an Atlanta Braves batter this season and was knocked out in the sixth inning in what became a 3-0 loss at Citi Field.
The Mets were held hitless by Braves starter Matt Wisler until Asdrubal Cabrera's one-out single in the fifth inning. Wisler ultimately tossed eight scoreless innings and surrendered no other hits. It marked the second time the Mets (16-9) were shut out this season. They also were blanked by Vince Velasquez and the Philadelphia Phillies on April 9.
Atlanta improved to 7-19 -- still the worst record in the majors.
Harvey (2-4) was charged with three runs, eight hits and two walks in 5 2/3 innings as his ERA remained an unsightly 4.76. He also tossed two wild pitches. Harvey stranded runners in scoring position in each of the first three innings. The game's opening run came in the fifth on a line-drive homer into the left-field corner by Mallex Smith. Atlanta entered the night with a dozen fewer homers than the 29th-ranked team in the majors.
Harvey has particularly unraveled in the middle innings this season. He now has a 6.00 ERA in the fifth inning and a 20.25 ERA in the sixth inning.
Harvey had been sick on Monday, but manager Terry Collins suggested before the game Tuesday that the Dark Knight was OK to make his scheduled start. Harvey was due to receive intravenous fluids before the game.
What's next: Steven Matz (3-1, 3.86 ERA) opposes right-hander Jhoulys Chacin (1-1, 3.27) in Wednesday's 1:10 p.m. ET rubber game. Matz has won his last three starts. He has compiled a 0.93 ERA during that stretch. The Mets are bidding for their sixth straight series victory, which they have not accomplished since also winning six straight in August/September 2006.
May, 3, 2016
May 3
9:54
PM ET
LAS VEGAS 15, EL PASO 6: Dilson Herrera went 4-for-6 with a triple, two homers, four runs scored and five RBIs in his first start in a week. Herrera had been slowed by a sore lower back. Sean Gilmartin allowed four runs on eight hits while striking out three in five innings. He improved to 3-1 and has a 2.70 ERA. T.J. Rivera and Travis Taijeron also homered for the 51s. Gavin Cecchini and Taijeron had three hits apiece. Box
BINGHAMTON 13, PORTLAND 2: Niuman Romero drove in five runs and Dominic Smith added four RBIs to lead the B-Mets to their 13th consecutive win at Portland's Hadlock Field. The B-Mets set season highs for hits (18) and runs and had four different players record three-hit games. Romero opened his big night by ripping a two-run double in the first inning. Smith followed by launching a two-run homer. Binghamton put another four-spot on the board in the fourth. With a run already home in the inning, Romero launched Teddy Stankiewicz's 2-1 offering into the right-field seats for his first homer this season. Andrew Barbosa picked up his first win. Coming off a 10-strikeout performance against Portland a week earlier, the southpaw set down eight of the first nine batters he faced. The lone blemish on Barbosa's tab came in the fourth when Portland scored two runs. Romero failed to cleanly field a potential inning-ending double-play grounder at shortstop. The B-Mets blew the game open with another four-run inning in the sixth against Sea Dog relievers Rob Wort and Luis Ysla. Smith laced an RBI single, Matt Oberste produced a run-producing double and Colton Plaia had a two-run single. Barbosa (1-0) allowed two runs (one earned) on three hits in five innings. Logan Taylor, Luis Mateo and David Roseboom combined for four scoreless relief innings. Box
BRADENTON 5, ST. LUCIE 1: Bradenton starter Alex McRae held the Mets to one run on seven hits over six innings. Junior Lopez tossed a scoreless seventh and Edgar Santana didn't give up a hit in the final two innings to close it out. The Mets had taken a 1-0 lead in the fourth on Wuilmer Becerra's two-out RBI single that plated Amed Rosario. However, the Marauders scored three runs in the bottom half against Chris Flexen. Elvis Escobar laced a two-run triple to make it 2-1. Escobar then scored on a sacrifice fly. Connor Joe homered on the first pitch of the home sixth to make it 4-1. The Marauders scratched their last run across against Kevin McGowan when Jerrick Suiter singled home Kevin Kramer in the seventh. Becerra finished 2-for-4 and raised his league-leading average to .400. Kevin Taylor reached base four times in the loss. He walked twice, doubled and singled. Box
Compiled with team reports
May, 3, 2016
May 3
8:47
PM ET