April, 27, 2015
Apr 27
1:22
AM ET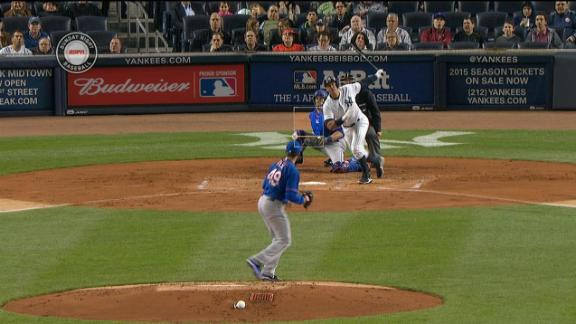 Alex Rodriguez could feel it building in the Yankee Stadium crowd in his final three at-bats -- the energy, the anticipation of something grand. When he ends up fighting his bosses over the $6 million they owe him for matching Willie Mays' career home run total, Rodriguez can talk about the sights and sounds of this Sunday night in the Bronx, where the people wanted to witness history, tainted or not.
"The buzz was incredible," Rodriguez said.
For good reason. With two outs in the first, his team already down a couple runs after Curtis Granderson homered and Daniel Murphy scorched a double that left Mark Teixeira performing an unscheduled exhibition of non-rhythmic gymnastics, Rodriguez had launched Jon Niese's 2-2 curveball over the right-center wall. Of course, this was more than the first shot fired in a comeback that would secure a 6-4 victory and take the Subway Series from a Mets team that swaggered into it with an 11-game win streak.
This was Home Run No. 659, the one that moved A-Rod inside Mays' on-deck circle. Rodriguez is supposed to collect $6 million for tying Mays at 660 and then the same amount in bonuses if he ever runs down Babe Ruth, Hank Aaron and Barry Bonds. The Yankees are saying they have no intention of paying up, that Rodriguez forfeited his right to the cash by getting suspended for serial PED use and making such a mockery of his numbers that the team won't be able to market the milestone for its own financial benefit.
April, 27, 2015
Apr 27
12:46
AM ET
By
Danny Knobler
| ESPNNewYork.com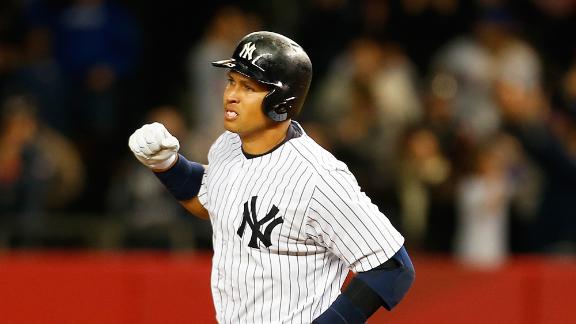 NEW YORK -- Good teams can play bad games. The key now for the New York Mets is to prove that Sunday night's 6-4 loss to the New York Yankees was just that -- a bad game that doesn't in any way represent what this team is.
"We got this ugly one out of the way," Michael Cuddyer said. "We're going to go to Miami and play better."
It's hard to imagine they could play worse. It's easy to believe they'll play better, given the way the season has gone for the Mets. Even with two losses in three games at Yankee Stadium, their 14-5 record through 19 games is the second-best in franchise history, behind only the 15-4 start by the 1986 team that won the Mets' last World Series title. For the record, that 1986 team also had a four-error game in April (although the Mets won that game).
This Mets team committed a season-high four errors Sunday, and also had a baserunner (Eric Campbell) get doubled off after forgetting how many outs there were.
"Just a bonehead play," Campbell said.
It happens, even to good teams. The Mets can still be a very good team, and even in an ugly game like this one, there were signs of that. Sunday's game included Curtis Granderson's first home run of the season, and also two hard-hit doubles from Daniel Murphy, who made a pregame adjustment at the plate in an attempt to shake the worst early-season slump of his career.
Murphy moved a little closer to the plate, in hopes of handling outside pitches better. He said afterwards that he felt the best he has in a while -- but he quickly turned the conversation back to the Chris Young double-play grounder he booted in the fifth inning. Murphy's error set up the Yankees' sixth run, just as Cuddyer's second-inning error had allowed the fifth Yankee run to score.
Cuddyer picked up an Alex Rodriguez drive and set himself to throw to second base, realizing too late that the Mets didn't have anyone there because there wasn't going to be a play there. Cuddyer tried to hold up, but the ball squirted out of his hand, anyway, allowing Young to score.
Cuddyer isn't a great defensive player, but his defense in left field isn't really a major concern, either. The same goes for Campbell, who has done well filling in at third base for the injured David Wright, even with his baserunning blunder and an error on defense Sunday.
The bigger concern Sunday, if there was one, was that the Mets had errors from both their middle infielders. One batter after Murphy couldn't handle the double-play grounder from Young, shortstop Wilmer Flores fielded another potential double-play grounder, from Alex Rodriguez. Flores stepped on second base for one out, but then air-mailed the throw to first base. It was Flores' fourth error of the season. Murphy, the second baseman, also has four. Murphy's four errors lead all second basemen. Three shortstops have more errors than Flores' four.
"We had a bad night," manager Terry Collins admitted. "Up until this point, they've played well. [Flores] had two bad games [in the first week]. Until tonight, he hadn't had an error since.
"For the most part, they've played pretty well."
For the most part, the Mets have played better than just pretty well. As Murphy said, they spent the last two weeks in New York and won 11 of the 13 games they played. You don't wipe out all those wins because of one ugly game.
"It's just a bad night," Collins said. "Just a bad night for us."
On Murphy's non-slide: Just before Campbell forgot how many outs there were, Murphy went in standing up at second base on a ground ball to shortstop and was tagged out by Gregorio Petit after a high throw from Stephen Drew. Murphy explained that his original plan was to slide into Petit to break up a double play, but that when he saw the high throw, he realized he couldn't do that.
"I didn't have anyone to slide into," Murphy said.
On Flores' ankle: Flores got a scare in the ninth inning when he was hit on the left ankle by an Andrew Miller pitch. Flores stayed in the game, and said he expects to be in the lineup Monday in Miami.
April, 26, 2015
Apr 26
10:57
PM ET
By
Danny Knobler
| ESPNNewYork.com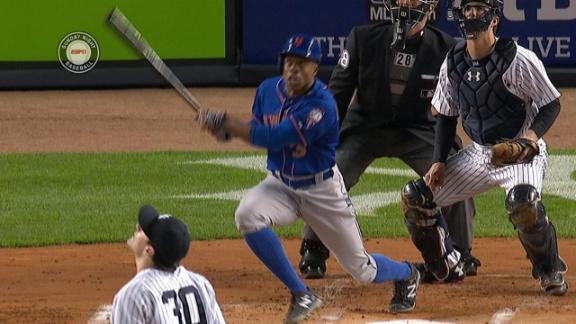 NEW YORK -- If the New York Mets hoped to show this weekend that they've taken over the town, it didn't happen.
The Mets showed off Matt Harvey in their win Saturday, but they got beat up Friday night and beat themselves in Sunday's Subway Series finale against the New York Yankees. The Mets committed a season-high four errors in a sloppy 6-4 loss.
Jonathon Niese wasn't at his best, but all four errors came in the five innings he pitched, leading to a pair of unearned runs and a bunch of extra pitches. Niese took the loss for the first time in four starts.
Curtis Granderson's leadoff home run was the Mets' offensive highlight, although Daniel Murphy's two doubles may be more significant in the long run.
The Mets are 14-5, and no one is going to complain about that record after 19 games. Losing two out of three to the Yankees in one weekend series is hardly a season-killer, but after the Mets' 10-0 homestand, their fans were certainly hoping for more.
Mistake night: The Mets didn't exactly look good for the Sunday night ESPN audience. They'd committed just nine errors in their first 18 games combined, but Sunday's errors were another reminder of their questionable middle infield. Murphy's fifth-inning error, which led to a run, was the fourth of the season for the second baseman (and that doesn't even count his mental mistakes). Shortstop Wilmer Flores also committed his fourth error of the season. Eric Campbell and Michael Cuddyer had the other two errors. Campbell also lost track of how many outs there were when he was running the bases in the sixth inning, and was easily doubled off first base on a routine fly ball.
Murphy getting closer -- at the plate: Murphy was off to the worst start of his career, and manager Terry Collins said Sunday that he thinks Murphy is showing the effects of missing so much of spring training with a hamstring injury. But Murphy also moved closer to the plate Sunday, in an effort to help him handle pitches on the outside part of the plate. Whether that was the answer or not, Murphy was on base three straight times, with two hard-hit doubles and a walk.
A Grand start: Before this year, Granderson had never gone more than eight games into a season without hitting a home run. He'd gone 16 this year, before sending Nathan Eovaldi's ninth pitch of the game into the right-field seats. It was the 29th leadoff home run of Granderson's career, and his fourth in eight games as a visitor at this version of Yankee Stadium. Granderson homered 63 times in 253 games at the stadium as a Yankee.
What's next: The Mets go to Miami to open a three-game series with the Miami Marlins on Monday night at 7:10 p.m. ET. Dillon Gee (0-1, 5.60), whose rotation spot could be in jeopardy, starts the opener against Marlins right-hander Jarred Cosart (1-1, 3.63).
April, 26, 2015
Apr 26
9:15
PM ET
By
Danny Knobler
| ESPNNewYork.com
LAS VEGAS 10, ALBUQUERQUE 4: Center fielder Darrell Cecilliani hit a pair of two-run home runs to lead the 51s to a win. Second baseman Dilson Herrera had two hits to raise his batting average to .371. He scored three runs. Starter Matt Bowman didn't give up a hit until the fifth inning. Bowman allowed two earned runs in 5 2/3 innings to win for the first time in four decisions. Noah Syndergaard, who missed a start last week because of food poisoning, will now start Monday. Box
BINGHAMTON 3, NEW HAMPSHIRE 0: Starter John Gant allowed four hits in seven scoreless innings for his first win of the season. Dario Alvarez and Jon Velasquez (fifth save) finished off the four-hit shutout. Gant faced one over the minimum for the first five innings, ending up with two walks and five strikeouts. Right fielder Jared King and catcher Xorge Carrillo homered for the B-Mets, who ended a three-game losing streak. Box
JUPITER 4, ST. LUCIE 3: Michael Conforto tied the score with a two-run home run in the sixth, but the Mets lost it when Kevin McGowan gave up a one-out walkoff home run to Jupiter's Brian Anderson. Anderson hit a three-run first-inning home run off Mets starter Michael Fulmer. Conforto, the Mets' first-round draft pick last June, has six home runs, 19 RBIs and a .348 batting average in 18 games. Fulmer allowed four hits, with no walks and nine strikeouts. Box
SAVANNAH 4, CHARLESTON 2: Starter Martires Arias pitched seven scoreless innings to lower his ERA to 2.12. Arias allowed four hits, didn't walk a batter, struck out five and picked a runner off. First baseman Jon Leroux hit his first home run of the season, while third baseman Pedro Perez had two doubles. Shane Bay pitched the ninth inning for his first save. Box
April, 26, 2015
Apr 26
7:22
PM ET
By
Danny Knobler
| ESPNNewYork.com
NEW YORK -- Daniel Murphy is off to the worst start of his career, and New York Mets manager Terry Collins thinks he knows why.
"Lack of spring training, more than anything," Collins said Sunday.
Murphy had only 17 at-bats in major league spring training games because of a right hamstring pull. The Mets got him a few extra at-bats in minor league games, but he didn't come close to the 50-60 at-bats the other regulars had.
Murphy entered play Sunday with just two hits in his last 19 at-bats, and with a .145 batting average and just a .459 OPS for the season. Among National League regulars, only Marlon Byrd and Chase Utley had lower batting averages, going into Sunday.
"He's got a track record," Collins said. "I'm not worried. We've just got to get him going."
Murphy has hit .286 or better in each of his last four seasons and has rarely had a month in which he hit worse than .250.
April, 26, 2015
Apr 26
7:07
PM ET
By
Daniel Knobler
| ESPN.com
[+] Enlarge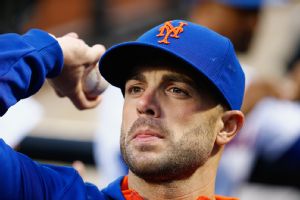 Al Bello/Getty ImagesDavid Wright is expected to resume baseball activities Monday, a little more than 10 days since suffering a right hamstring strain.
NEW YORK -- If all goes well, the New York Mets could have David Wright back in the lineup by the end of this week.
Wright, on the disabled list since April 15 with a mild right hamstring strain, reported to the Mets' spring training complex on Sunday and is expected to resume baseball activity on Monday. Wright is eligible to come off the DL on Thursday, but manager Terry Collins said it's unlikely that he would be ready to play that soon.
"If he's back by Saturday, that would be really good," Collins said, before the Mets played the New York Yankees Sunday night.
The Mets have won nine of the 10 games since Wright was hurt. Eric Campbell, who has played third base in Wright's absence, has reached base safely in all 10 games he has played.
April, 26, 2015
Apr 26
5:32
PM ET
By
Danny Knobler
| ESPNNewYork.com
NEW YORK -- Here are the lineups for the final game of this weekend's Subway Series, Sunday night at 8:05 p.m. ET at Yankee Stadium, on ESPN's Sunday Night Baseball:
Mets
Juan Lagares, CF
Lucas Duda, 1B
Michael Cuddyer, LF
Daniel Murphy, 2B
Eric Campbell, 3B
Wilmer Flores, SS
Danny Muno, DH
Jonathon Niese, LHP
Yankees
Brett Gardner, LF
Chris Young, CF
Alex Rodriguez, DH
Mark Teixeira, 1B
Carlos Beltran, RF
Chase Headley, 3B
Stephen Drew, SS
Gregorio Petit, 2B
Nathan Eovaldi, RHP
April, 26, 2015
Apr 26
3:36
PM ET
NEW YORK -- Major league veteran Brooks Conrad has signed with the New York Mets and been assigned to Triple-A Las Vegas.
Conrad, 35, has a .200 average with 19 homers and 73 RBIs in 460 career major league at-bats spanning six seasons. He has a .271 career on-base percentage in the majors.
The switch-hitting second baseman/third baseman was not with any organization to begin this season. He appeared in 13 games with the San Diego Padres in 2014.
The Mets were light on infielders at the upper levels of the minors with Eric Campbell and Danny Muno now in the majors and with T.J. Rivera and Gavin Cecchini sidelined at Double-A Binghamton.
"Plus, we like what he brings to the table and think he's a good addition to the organization," one team official said.
Conrad may be most known for committing three errors in Game 3 of a 2010 NL Division Series while with the Atlanta Braves, including a critical two-out error in the ninth that gave the San Francisco Giants a series-altering win.
April, 26, 2015
Apr 26
1:19
PM ET
By
John Fisher, ESPN Stats & Information
The first Subway Series of the season ends when the New York Mets face the New York Yankees at Yankee Stadium on Sunday Night Baseball.
Here are some of the statistical storylines the broadcast crew of Dan Shulman, Curt Schilling and John Kruk will likely be talking about starting at 8 p.m. ET on ESPN and WatchESPN.
Both teams are at least tied for first place in their respective divisions, and the Elias Sports Bureau says this is the first time the teams will meet when that is the case. The Mets have not been in first place at the time of a Subway Series since 2007.
The Mets are 14-4, tied for the best 18-game start in franchise history. The only other time they started 14-4 was 1986, when they won the World Series.
The Mets have won seven of the past 10 meetings with the Yankees.
Mets' Duda connecting on breaking balls in 2015
First baseman Lucas Duda is seeing the same amount of fastballs from left-handers as he did last season, but he's not missing breaking balls as frequently this season. He has missed 22 percent of his swings against breaking balls from left-handers this season compared to 53 percent last season.
Duda is swinging at these pitches more often (43 percent this season, 31 percent last season).




Defensively, the Mets have benefited from Juan Lagares' range. He has made the catch on 190 plays out of his zone the past three seasons, third most in the majors among center fielders behind Leonys Martin and Carlos Gomez. (A center fielder's zone is where at least 50 percent of center fielders make the catch.)
Fastball betrays Yankees starter Eovaldi
Nathan Eovaldi's fastball has averaged 95.3 mph in his career as a starter. Opponents are hitting .285 against him in his starts when an at-bat ends with his fastball. Last season, the major league average was .252 in at-bats ending with a 95-plus mph fastball.
Eovaldi gets strikeouts in 12 percent of at-bats ending with his fastball, compared with the 20 percent rate across all the majors last season in at-bats ending with a 95-plus fastball.
In at-bats that end on a fastball when Eovaldi is behind in the count, opponents hit .353 and slug .537 against him, which is in line with the major league averages for that situation.
The real trouble is when Eovaldi is ahead in the count. When an at-bat ends on a fastball when he's ahead in the count, opponents hit .226 and slug .279. The major league averages last season for 95-plus fastballs in this situation were .177 and .248.
Among pitchers who have made 80 or more starts since 2011, Eovaldi has the second-lowest average run support in the majors (3.38 runs per game).
Yankees' bullpen staying busy
The Yankees' bullpen ranks seventh in innings pitched and tied for second in innings pitched per game (63 innings, 3 2/3 innings per game).
The Yankees had 13 games in which they needed at least seven outs from their bullpen.
Rodriguez's long balls going a long way

Alex Rodriguez has hit four home runs this season and is two home runs from matching Willie Mays (660) for fourth on the all-time list.
The average true distance of Rodriguez's home runs, as calculated by ESPN's Stats & Information Group, is 424.8 feet. That's second-farthest among the 62 players with at least three home runs (Edwin Encarnacion, 429.5 feet).
April, 26, 2015
Apr 26
11:05
AM ET
By
Danny Knobler
| ESPNNewYork.com
FIRST PITCH: The New York Mets can show off for the whole country, with the rubber match of the season's first Subway Series featured on ESPN's Sunday Night Baseball.
Jonathon Niese (2-0 record, 1.50 ERA) and Yankees right-hander Nathan Eovaldi (1-0, 3.12) are the scheduled pitchers for the 8:05 p.m. ET start, as the Mets try to make it two of three over the Yankees and 13 of 14 overall.
Eovaldi is a familiar opponent from his time in the National League. He hasn't beaten the Mets in four starts since Aug. 8, 2012, although he has often pitched well against them. Niese is 1-1 with a 2.05 ERA in four career starts against the Yankees.
SUNDAY'S NEWS REPORTS:
Matt Harvey's first-ever start at Yankee Stadium went very well, as he allowed just five hits and came within one out of a complete game in the Mets' series-evening 8-2 win over the Yankees on Saturday. Harvey wanted to finish it, but Mets manager Terry Collins looked at the big picture and decided 107 pitches were enough. Read game recaps in the Post, Daily News, Times, Newsday, Record, and at NJ.com and MLB.com.
Harvey's history with the Yankees is well documented. Columnist Kevin Kernan of the Post says Harvey waited all his life for this game. Meanwhile, Mike Lupica in the Daily News says this win proves Harvey is the ace of the city. And columnist David Lennon in Newsday says Collins made the right decisions on Harvey Saturday. Columnist Steve Politi of NJ.com says Harvey is what the Yankees lack.
In the one matchup everyone wanted to see, Harvey got the best of Alex Rodriguez. Read more in the Daily News.
It may have been Harvey Day, but it was also Plawecki Day, because rookie catcher Kevin Plawecki hit his first major-league home run. Columnist Steve Serby of the Post was impressed. Read more in Newsday.
Michael Cuddyer is already showing the Mets how he plays the game, and it was his hard slide into second base that helped set up the Mets' four-run fourth inning off CC Sabathia. Read more in the Post.
It's not fair to say the Mets don't miss David Wright, but Eric Campbell has done a very good job filling in for the captain. Read more in the Post.
The Post claims Yankees fans are "hotter" than Mets fans.
From the bloggers: Faith and Fear revels in a joyous Saturday in New York sports, while the John Delcos New York Mets Report couldn't shake the thought that Harvey was showing off for his future team.
BIRTHDAYS: Mike Scott turns 60 Sunday. ... Amos Otis is 68. ... Scott Strickland is 39. ... Ricky Trlicek is 46. ... Lou Thornton is 52.
TWEET OF THE DAY:
Just hangin' at Yankee Stadium, watching the @Mets win!! #SubwaySeries #HarveyDay #Mets #LGM pic.twitter.com/RjNhzrXQyX

— Kim Lyons (@KimLyons2) April 26, 2015

YOU'RE UP: How important is it for the Mets to win this series?
April, 26, 2015
Apr 26
9:57
AM ET
By
MLB Vegas Experts
| ESPN Chalk
Each Sunday, ESPN Chalk's experts in Las Vegas will give their takes on the Sunday Night Baseball game, determining where the betting value lies. Here is the analysis for the matchup between the New York Mets and New York Yankees from Joe Peta and Andrew Lange.
April, 25, 2015
Apr 25
10:58
PM ET
ALBUQUERQUE at LAS VEGAS (ppd,): The game will be made up as part of a doubleheader Monday. Noah Syndergaard will start one of those games after dealing with food poisoning.
NEW HAMPSHIRE 10, BINGHAMTON 5: The B-Mets surrendered a season-high 20 hits en route to their third straight loss. Starter Luis Cessa (1-1) matched a career high by allowing 11 hits. He was touched for four runs in five innings. New Hampshire blew the game open by hanging five runs on reliever Jake Kuebler in the sixth. The Fisher Cats added a run against Chase Huchingson in the seventh. Binghamton had owned a brief lead after getting on the board against Matt Boyd in the first. Jared King led off the game by blooping a double down the right-field line. He scored two batters later when Jayce Boyd singled. The New Hampshire southpaw settled down and surrendered only two hits against the B-Mets' next 19 batters. Trailing by six runs, Binghamton scored two in the seventh, on an RBI double by Dustin Lawley and a run-producing single by Jairo Perez. The B-Mets added two runs more in the ninth, on a balk and King's sacrifice fly. Box
ST. LUCIE 4, FORT MYERS 3 (11 innings): Jeff McNeil doubled and scored on Matt Oberste's single in the 11th for a walk-off win. The extra-inning victory came a night after the teams played a 17-inning affair. Trailing 3-2 entering the bottom of the ninth, the Mets pulled even. Michael Conforto had a leadoff double and Maikis De La Cruz walked. After Oberste flied out, Victor Cruzado doubled. Conforto comfortably scored the tying run, but De La Cruz was thrown out at the plate trying to end the game in regulation. After a wild pitch put Cruzado at third base with two outs, Amed Rosario struck out and the game went to extra innings. Starter Rob Whalen allowed three runs (two earned) in 7 2/3 innings. Box
CHARLESTON 6, SAVANNAH 5: The Gnats raced to a 4-0 lead in the third with a four-run frame highlighted by John Mora's two-run triple. However, Josh Prevost (0-3) ultimately was charged with six runs (four earned) on eight hits in six-plus innings. Savannah committed three errors, including two by Prevost on pickoff throws. Charleston broke a 5-all tie in the seventh when Alberto Baldonado inherited runners on the corners with none out from Prevost and surrendered an RBI single to Dustin Fowler. Box
Compiled with team reports.