October, 7, 2015
Oct 7
11:00
AM ET
By
Mark Simon
| ESPNNewYork.com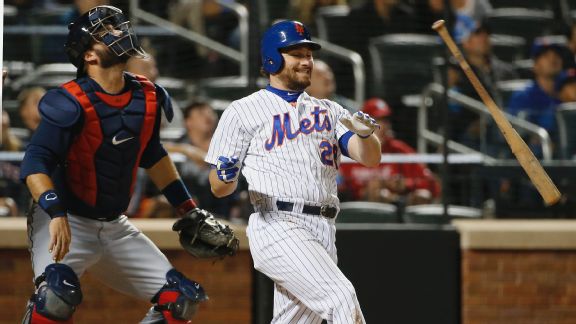 Kathy Willens/APThe Mets would give up more than 300 points in OPS against left-handers by playing Daniel Murphy over Wilmer Flores.
Barring something unforeseen, the New York Mets are likely to start a lineup that includes four left-handed hitters in Game 1 against Los Angeles Dodgers starter Clayton Kershaw: Curtis Granderson, Daniel Murphy, Lucas Duda and Jacob deGrom.
This plays out favorably for Kershaw, against whom left-handed batters have a .231 on-base percentage, with 77 strikeouts and five walks this season and a .190/.250/.308 slashline for his career. What adjustment could the Mets make to deal with this? One to strongly consider is to play Wilmer Flores over Murphy at second base.




Flores hit .310 with a .355 on-base percentage and .600 slugging percentage, with seven home runs in 100 at-bats against left-handed pitching this season. Murphy was .254/.284/.349 with one home run in 126 at-bats. The Mets are giving up more than 300 points in OPS by playing Murphy over Flores.
In terms of defense, Flores is the better option from a statistical perspective. Murphy has finished in the bottom six in defensive runs saved at second base in each of the last four seasons. He averages a defensive misplay or error every 30 innings, per video tracking by Baseball Info Solutions, and has had his worst season turning double plays (58 percent conversion rate).
We're not going to pretend that Flores is a great second baseman, but he rates better than Murphy. His career misplay and error rate at second base is one every 46 innings and his double-play conversion rate is 75 percent (33 of 44 opportunities).
There are all sorts of other questions that go into this. With the game on the line late, would you rather be able to send up Murphy or Flores as a pinch-hitter against Kenley Jansen? What kind of message are you sending to Murphy, one of the longest-tenured Mets, by sitting him? What should be made of Murphy's 3-for-10 against Kershaw? And would Flores be overanxious in his postseason debut?
That's why Terry Collins gets paid to make those decisions, not us. And no one said decision-making in the playoffs would be easy.
What lineup would you start against the Dodgers in Game 1? Share your thoughts in the comments.
October, 7, 2015
Oct 7
8:10
AM ET
NEW YORK -- Right-hander Dillon Gee's New York Mets career quietly ended Tuesday when he elected free agency.
Gee, 29, had the right to opt out after the completion of the regular season because he had more than three years of MLB service and did not return to the majors after being outrighted to Triple-A Las Vegas during the season.
Originally drafted in the 21st round in 2007 out of Texas-Arlington, Gee finished his Mets career with a 40-37 record and 4.03 ERA in 114 appearances (110 starts).
Despite being the Opening Day starter in 2014, the Mets treated him awkwardly this year. With Matt Harvey back from Tommy John surgery, Gee worked out of the bullpen early in Grapefruit League play during spring training. When Zack Wheeler required Tommy John surgery, Mets officials did not immediately place Gee back in the rotation. They instead had him compete with Rafael Montero.
Once Gee went on the disabled list with a groin injury and Noah Syndergaard arrived in the majors, Gee's role again became up in the air. He had an elongated rehab assignment, ever so briefly was part of a six-man rotation, then finally was designated for assignment on June 15.
Gee ultimately went 0-3 with a 5.90 ERA in eight appearances (seven starts) this season at the major league level.
Because Gee made $5.3 million this season, he would have been non-tendered on Dec. 2 had he not elected free agency.
Also becoming free agents across MLB through the same process are: Jeff Bianchi, Reid Brignac, Angel Castro, Casey Coleman, Ernesto Frieri, Conor Gillaspie, Javy Guerra, Brandon Kintzler, Michael Kohn, Steve Lombardozzi, Alfredo Marte, Justin Maxwell, Bradley Mills, Hunter Morris, Hector Noesi, Sean O'Sullivan, Jordan Pacheco, Andrew Parrino, Vinnie Pestano, Yohan Pino, Alex Presley, Todd Redmond, Michael Roth, Jhontan Solano and Everett Teaford.
October, 7, 2015
Oct 7
6:30
AM ET
NEW YORK --
FIRST PITCH: And now there is only one New York team remaining in the postseason.
The Houston Astros ousted the Yankees on Tuesday night in the American League's wild-card game with a 3-0 win in Bronx. So that leaves the Mets as the lone team still standing from the Big Apple.
The Amazin's will work out from 10 a.m. to noon ET Wednesday at Citi Field, then fly to Los Angeles immediately afterward.
Their division series against the Los Angeles Dodgers opens on Friday.
WEDNESDAY'S NEWS REPORTS:
BIRTHDAYS: Jose Cardenal turns 72. ... Brooklyn Cyclones right-hander Andrew Church is 21.
TWEET OF THE DAY:
@AdamRubinESPN crickets coming to Yankee stadium too

— Joe (@hof803) October 7, 2015
YOU'RE UP: Is Harvey missing Tuesday's workout a big deal?
October, 6, 2015
Oct 6
8:16
PM ET
AP Photo/Jeff ChiuDodgers manager Don Mattingly addressed Clayton Kershaw's spotty postseason resume, saying, "This year is this year."
LOS ANGELES -- The first three pitching matchups for the National League Division Series between the Los Angeles Dodgers and New York Mets are set.
The Dodgers announced their rotation Tuesday, hours after a team workout and days after the Mets announced theirs. There were no surprises. Three-time Cy Young Award winner Clayton Kershaw and Jacob deGrom will pitch Game 1, Zack Greinke and Noah Syndergaard will pitch Saturday's Game 2, and Brett Anderson and Matt Harvey will pitch Monday's Game 3. The first two games are at Dodger Stadium before the series shifts to New York's Citi Field for Games 3 and, potentially, 4.
Kershaw (16-7, 2.13 ERA) threw a bullpen session Tuesday at Dodger Stadium, two days after his Sunday start, his customary day to throw between starts. Anderson, who last worked Thursday, threw a simulated game Tuesday and will be on 11 days' rest when he faces the Mets.
October, 6, 2015
Oct 6
4:27
PM ET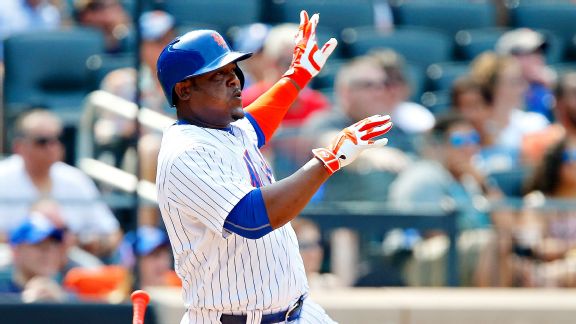 Jim McIsaac/Getty ImagesJuan Uribe suffered a chest injury Sept. 20 that will keep him out of the NLDS.
NEW YORK -- New York Mets general manager Sandy Alderson confirmed Tuesday that infielder Juan Uribe will miss the division series because of a cartilage issue in his chest that stemmed from diving for a ball on Sept. 20. Alderson also indicated that rookie left-hander Steven Matz's fate would be decided Friday, shortly ahead of the 1 p.m. ET deadline for the roster to be submitted. The GM added that the final roster would have 14 position players and 11 pitchers.
So here's a very educated look at what the division-series roster against the Los Angeles Dodgers should look like:
Starting position players (for Game 1 vs. left-hander Clayton Kershaw)
Lucas Duda, 1B
Daniel Murphy, 2B
David Wright, 3B
Ruben Tejada, SS
Michael Cuddyer, LF
Yoenis Cespedes, CF
Bench
Wilmer Flores, IF
Kelly Johnson, IF
Michael Conforto, OF
Juan Lagares, OF
Kirk Nieuwenhuis, OF
Rotation
Game 1: Jacob deGrom, RHP
Game 2: Noah Syndergaard, RHP
Game 3: Matt Harvey, RHP
Game 4: Matz, LHP*
Bullpen
Jeurys Familia, closer
Addison Reed, RHP
Tyler Clippard, RHP
Bartolo Colon, RHP
Jonathon Niese, LHP
Erik Goeddel, RHP
Hansel Robles, RHP
If Matz fails to make the roster because of a health issue, the Mets could slide Colon into Game 4. Or, if they're down in the series, deGrom could come back on short rest.
Alderson indicated that the Mets would fly an extra pitcher to Los Angeles with the team in case Matz is a no-go. He did not specify if that would be Sean Gilmartin or Carlos Torres.
October, 6, 2015
Oct 6
2:02
PM ET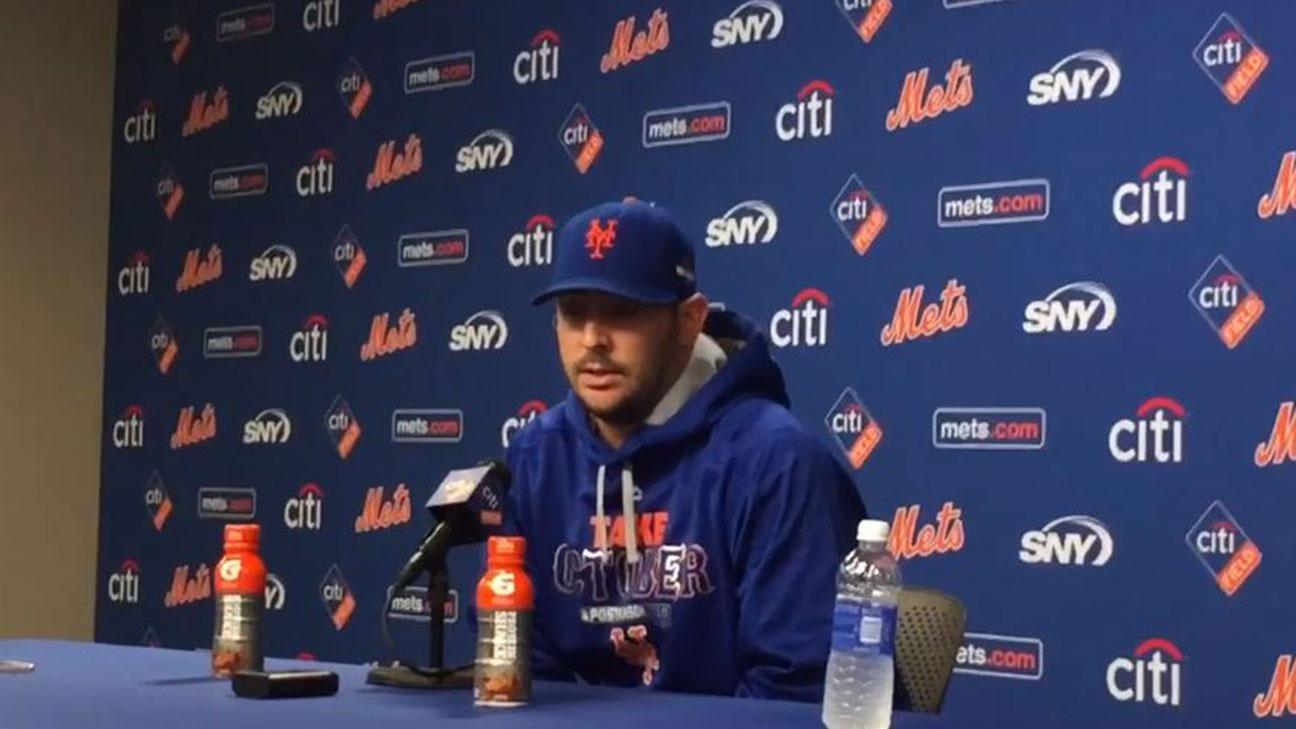 NEW YORK -- Mets ace Matt Harvey missed a mandatory team workout Tuesday at Citi Field.
Harvey later apologized to teammates for the unexcused absence, which apparently happened because he lost track of time.
"Obviously, today was not the greatest," Harvey said after arriving at Citi Field. "I know we had a mandatory workout. The last thing I ever want to do is not be here with my team. Basically, there's no excuse. I screwed up. I wasn't here. I showed up a little late. I've talked to [general manager] Sandy [Alderson] and I've talked to [manager] Terry [Collins] and my teammates and apologized to them and apologized to everybody. They understand. I'm here to get my workout in and be with the team.
"Unfortunately, today I screwed up. There's not really anything else to say. They know what happened. I told everybody and apologized to everybody and told them it's not going to happen again. It's never happened before. Unfortunately, it happened kind of at a bad time, a mandatory time. Truly, I just screwed up."
Harvey remains on schedule to pitch Game 3 of the National League Division Series against the Los Angeles Dodgers on Monday, when the series shifts to Queens.
Collins said Harvey would be fined for missing the workout, which took place from noon to 2 p.m. ET. The Mets' manager also indicated that Harvey called to say he was stuck in traffic.
October, 6, 2015
Oct 6
12:33
PM ET
NEW YORK -- New York Mets rookie left-hander Steven Matz threw a bullpen session on Tuesday at Citi Field. Pitching coach Dan Warthen indicated the session went well. So Matz is on track to throw 90 to 95 pitches in a simulated game in Port St. Lucie, Florida, on Thursday.
Matz had been dealing with spasms in his upper back. He received an injection on Friday to try to calm the issue.
The Mets hope Matz is healthy enough to pitch Game 4 of the division series against the Los Angeles Dodgers. Rosters need to be submitted by Friday at 1 p.m. ET.
The Mets alternatively could go back to Jacob deGrom on short rest in Game 4 if trailing in the series. Bartolo Colon also would be available.
October, 6, 2015
Oct 6
6:30
AM ET
NEW YORK -- FIRST PITCH: It's now three days until the New York Mets and Los Angeles Dodgers open their division series at Dodger Stadium.
The Mets will work out at Citi Field from noon to 2 p.m. ET on Tuesday. They will have another workout on Wednesday, then fly to Los Angeles immediately afterward.
The start times have been set for the opening two games. The opener will be held at 9:45 p.m. ET on Friday. Game 2 begins at 9:07 p.m. ET on Saturday.
TUESDAY'S NEWS REPORTS:
BIRTHDAYS: Jerry Grote turns 73. ... Gary Gentry and Gene Clines turn 69. ... Darren Oliver is 45. ... Robert Person is 46. ... Darin Gorski is 28.
TWEET OF THE DAY:
Should have done this before, Dodger fans, but be sure to follow @AdamRubinESPN for exhaustive coverage of the Mets in this series.

— Mark Saxon (@markasaxon) October 5, 2015
YOU'RE UP: Is home-field advantage really that big of a deal?
October, 5, 2015
Oct 5
5:12
PM ET
Associated Press
NEW YORK -- Eric Cooper will be the plate umpire for the AL wild-card game, and Jeff Nelson will call balls and strikes at the NL game.
Major League Baseball announced the umpires Monday for the wild-card and division series games.
Ted Barrett will be the crew chief Tuesday night at Yankee Stadium when Houston visits New York. Chris Conroy, Paul Emmel, Manny Gonzalez and Bill Miller also will work.
John Hirschbeck heads the crew Wednesday night when the Chicago Cubs play at Pittsburgh. Cory Blaser, Mike Estabrook, Jim Reynolds and Hunter Wendelstedt are on that crew.
Crew chiefs Gary Cederstrom, Gerry Davis, Dana DeMuth and Dale Scott handle the division series.
Davis, who has called a record 134 postseason games, will work the AL matchup between the wild-card winner and Kansas City. Lance Barksdale, Mike Everitt, Angel Hernandez, Ron Kulpa and Todd Tichenor are on that crew.
Scott will run the crew for the Texas-Toronto AL matchup with Dan Bellino, Vic Caparazza, James Hoye, Marvin Hudson and Alfonso Marquez.
Cederstrom will work the best-of-five NL series between the New York Mets and Los Angeles Dodgers with Chad Fairchild, Greg Gibson, Chris Guccione, Alan Porter and Jim Wolf.
DeMuth, who called his 4,000th big league game this year, will be joined by Mark Carlson, Phil Cuzzi, Brian Knight, Bill Welke and Mike Winters for the series between the NL wild-card winner and St. Louis.
Dan Iassogna and Mark Wegner will be the replay officials for the wild-card games. Tim Welke, Kerwin Danley, Paul Nauert and Brian O'Nora will work replay for the division series.