November, 25, 2014
Nov 25
11:15
AM ET
By
Mark Simon
| ESPNNewYork.com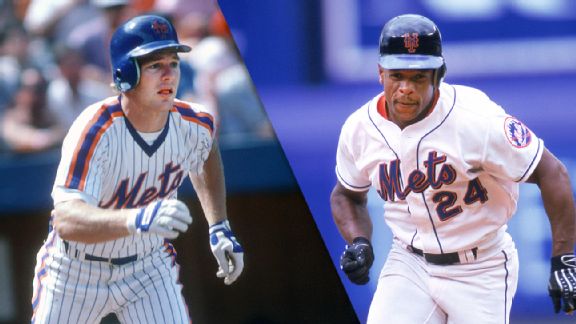 Getty ImagesLen Dykstra and Rickey Henderson are among those whose speed was greatly valued.
This is the fourth in a series of lists we will be generating related to the history of the New York Mets. We've previously covered the Mets' most notable home runs (part 1|part 2), best pitching performances (part 1|part 2) and best defensive players (part 1|part 2). Feel free to share your thoughts on this week's piece in the comments.
A few months ago,
we were talking to noted Mets fan Jerry Seinfeld
and got onto the topic of who would win a race from home plate to third base between
Jose Reyes
and Mookie Wilson.
"You have to do some sort of study on this," he said.
So here we are to try to end that debate. Only I wanted to broaden things a bit. So we're here to try to figure out the fastest players in Mets history.
But it's not as easy as simply pulling out a stopwatch, watching video or sorting stats.
The Mets have had a lot of fast players (as you'll learn), some of whom played for a while, others who barely had a cup of coffee. Finding footage isn't easy, let alone trying to find them running the same distance under similar parameters.
So I'm taking a "wisdom of crowds" approach. I've polled 16 people whose Mets-watching experience ranges from 30 to 50-plus years, and all of whom have a good sense of Mets history.
My experts include Mets play-by-play man Gary Cohen, ESPN's Jeremy Schaap and Steve Wulf, and noted Mets authors
Matt Silverman
and
Greg Prince
, along with friends and family.
Each voted on their top five, using a 5-4-3-2-1 point system. It was not an easy task. Cohen noted he whittled his final list down from an initial set of 35 names. Others wondered how to fit in obscure players, like some of the names below.
We'll note the top five by points tomorrow. Today, I want to give props to the other names who made people's ballots.
Tommie Agee
Tommie Agee wasn't just fast. He was bold. On July 24, 1970, with the score tied in the 10th inning in a game against the Dodgers, Agee became the only player in Mets history to record a walk-off steal of home.
Oh, and his speed helped him make a couple of
pretty nifty catches
, too.
Carlos Beltran
Beltran was fast, but didn't look fast, which might explain why he got only one vote in our balloting. Of note from a statistical perspective, his 86 percent stolen-base rate ranks best in Mets history.
Endy Chavez
Endy Chavez has played for seven major league teams, and best we can tell, when each team obtained him, the two things they praised in newspaper stories that day were his defense and his speed.
Chavez may be better known for the former, thanks to his all-timer of a catch in Game 7 of the 2006 NLCS, but his running ability was pretty good, too. The best usage of his speed as a Met (other than to hustle back to make that catch) came via a memorable squeeze play that
won a game in 2007.
Gene Clines
Clines, a longtime major league coach, stole as many as 80 bases in the minor leagues.
A writer for the
Hardball Times
described him as having sprinter's speed. He's not remembered fondly by Mets fans (mainly because he hit only .227 in 82 games for them), but he made a good enough impression to garner one vote in our poll.
Len Dykstra
Dykstra was a bit reckless both on and off the field, but he was fast enough to swipe 116 bases for the Mets and steal at nearly an 80 percent success rate for his career.
His speed was long-lasting and significant, as he graded a solid 7 on the 2-8 scouting scale on scouting reports surveyed in
1988
and
1993
.
He might not have beaten Mookie Wilson in a race, but he'd certainly have given it his best shot (and probably would have requested a rematch thereafter).
Rickey Henderson
The Mets got Henderson well past his prime years, but even at age 40, his speed had difference-making ability.
Henderson's 37 steals for the Mets in 1999 are the second-most ever by a player in his "age 40 or older" season (trailing only a 47-steal season by Davey Lopes).
Stan Jefferson and Herm Winningham
I'm putting these two together since they both were on Schaap's ballot and no one else's.
Each was what I call a "two-minute Met" who got in 14 games and was valuable as a trade chip.
Jefferson played in 14 games in 1986 before being included in the swap to the Padres the following offseason for Kevin McReynolds. He'd show off his speed the next season with 34 steals and seven triples.
Winningham's speed (he had as many as 50 stolen bases in a season in the minors) had value to the Mets well beyond the 14 games he played in 1984. Winningham was a piece in the 4-for-1 deal with the Expos that offseason that netted the Mets All-Star catcher Gary Carter.
The best display of Winningham's speed came on Aug. 15, 1990, when he hit three triples, including an extra-inning game winner for the Reds in a win over the Cardinals.
"We didn't see much of them in Mets uniforms, but I do recall the constant drumbeat from the announcer's booth marveling at their swiftness," said Schaap. "Winningham deserves acknowledgment for his role in the Carter trade, and Jefferson gets extra credit as a native New Yorker."
Cleon Jones
Jones' speed was at its peak before the Mets got good. He
reportedly ran the 100-yard dash in 9.7 seconds
in high school and became the first player in team history to steal 20 bases in a season when he swiped 23 in 1968. His speed is oft forgotten because he doesn't necessarily have the types of video highlights that his outfield mate, Agee, did.
Amos Otis
Better remembered as part of a disastrous trade with the Royals for third baseman Joe Foy, Otis has the fewest steals for the Mets of anyone on this list -- one in 67 games.
But he proved he was legit immediately thereafter, nabbing 85 bases in 95 attempts in his first two seasons with the Royals. He'd finish his career with 341 and leave a lot of Mets fans wishing he'd gotten them for their team.
Cohen, who was among two voters to mention Otis, recalled him as having "extraordinary speed" and noted that Otis nearly supplanted Agee in center field before being (unwisely) moved to third base. He would be dealt soon thereafter.
Juan Samuel
"He will give us a different offensive dimension," said team vice president Joe McIlvaine the day the Mets acquired Samuel for Dykstra and Roger McDowell in 1989.
Unfortunately, that wasn't a good dimension, as Samuel lasted only 86 games with the Mets (hitting .228 and recording 31 steals) before being traded to the Dodgers.
I think Samuel would have ranked higher had he not been part of one of the worst deals in team history. He averaged 42 steals and 10 triples over an eight-year period from 1984 to 1991.
Esix Snead
Blink and you missed Snead's 18-game major league career from 2002 to 2004 -- though based on the number of honorable mentions he received on ballots, he's well-remembered (though that may actually be for his role in a famous minor league brawl that netted him a lengthy suspension after leaving the Mets).
AP Photo/Ed BetzEsix Snead is among the fastest Mets.
Snead racked up 507 minor league stolen bases in nine seasons, including 109 in A-Ball in 2000 (Snead once opined he could have stolen 200 if he'd had a permanent green light). The problem was, he couldn't hit well enough to make keeping him on a team worthwhile (his minor league batting average was .231)
As Cardinals executive Mike Jorgensen (a former Met) told the AP in 2000: "When [Snead] was at the plate, he was a frog. But when he got to first base, he was a prince."
Darryl Strawberry
Strawberry may never have looked as fast as he actually was, as his 6-foot-6 frame may have obscured his gazelle-like speed. Strawberry's 191 steals rank tied with
David Wright
(who got no votes) for fourth in Mets history. He's the only player to have five straight seasons with at least 25 steals for them.
Frank Taveras
The Mets caught Taveras, a shortstop from 1979 to 1981, at the end of his career, and some of what got him on this list probably comes from his time with the Pirates, when he stole as many as 70 bases in a season.
Eric Young Jr.
I had Young higher on my ballot than anyone else (third-fastest), and perhaps there's some bias there due to recency, but he's the first player the Mets have had in a long time whose first-to-third speed reminded me of Mookie Wilson's.
Not only is Young fast, he gets points from me for being a smart baserunner. He's stolen bases at an 84 percent success rate in two seasons with the Mets. Over the past two seasons, he ranks fourth in Fangraphs.com's
advanced baserunning metric
.
Tomorrow: Mookie versus Reyes and the rest of the top 5