September, 30, 2014
Sep 30
10:00
AM ET
By
Mark Simon
| ESPNNewYork.com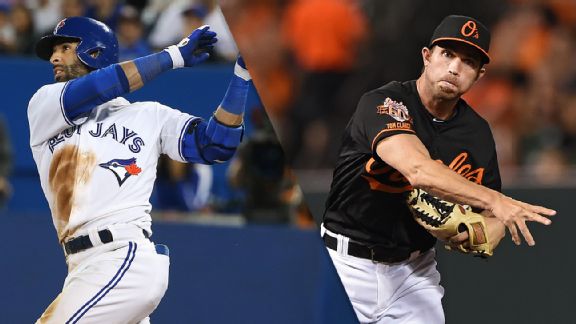 Getty ImagesHey Sandy Alderson, want to make your team better? Get
Jose Bautista
(left) and
J.J. Hardy
(right).
"The short answer is I don't know if there will be a dramatic spike or not. But I will say this: I don't feel that we will necessarily be constrained by the payroll next year. ... We're going to explore all of the options and see where it takes us. It may take us a while during the course of the offseason to full explore what those options are."

"Without sounding evasive, we have to improve the team by 10 wins, 12 wins. There are a number of ways to do that."
-- Sandy Alderson
We're not sure what the heck Alderson means with regards to the payroll, but the win-total improvement is pretty straightforward.
So how do the Mets go about improving that much?
Here's a plan:
Self-Improvement
The Mets can get better without spending a dime, if some of their younger players improve upon things with which they are currently struggling.
For example:
Wilmer Flores
could change his plate approach to be a little more receptive to walking. A 20-point on-base percentage increase would go a long way.
Dilson Herrera
can relax, both at the plate, where he struggled to hit heat, and in the field, where he seemed a little rushed.
Travis d'Arnaud
can improve his pitch blocking and his throwing accuracy.
Lucas Duda
, for as good as he was, still has a long way to go against left-handed pitching.
David Wright
, returning from injury, needs to cut down on his overeager swings.
Lastly, Mets pitchers could vastly improve both their hitting and their fielding.
This is the worst collective group of pitcher-hitting in Mets history. They finished the season with the team's worst-ever batting average, slugging percentage and OPS by pitchers. Much of that is due to
Bartolo Colon
, but
Zack Wheeler
,
Jonathon Niese
and
Dillon Gee
, we're looking at you here, too. They were a combined 10-for-143.
Throwing to the bases, among other things, has also been a challenge for multiple Mets pitchers. Baseball Info Solutions ranks them tied for the fourth-most Defensive Misplays & Errors in the major leagues with 39. Their -6 Defensive Runs Saved are fourth-worst in the National League.
Replace Bartolo Colon with Matt Harvey
The Mets would be well-suited to find a suitor for Colon early this offseason and accept a deal in which the return was minimal, so long as the contract, or most of it (one year at $11 million) is off the books.
That frees up the money for the Mets to make one dip into the free-agent market. It also provides the rotation spot that
Matt Harvey
steps into. Colon was worth -0.1 WAR this season when you combine his pitching (0.5) and his hitting/fielding (-0.6). If Harvey is anything close to what he was two seasons ago, his return will make for a four to five win increase.
Trade Daniel Murphy
As
Adam Rubin noted in late July
, the Mets' payroll is almost certainly going to increase just from the natural progression of its arbitration-eligible players. But seeing how the Mets operate, it's hard to expect a significant payroll boost.
The Mets can make little moves here and there to deal with that, with non-tender candidates including
Eric Young Jr.
and
Ruben Tejada
.
That's where getting out of Colon's contract, and talk of trading
Daniel Murphy
, who is projected to make upwards of $8 million in 2015, would create the flexibility the Mets need.
As good as Murphy has been, his defensive shortcomings (three straight seasons of -10 Defensive Runs Saved or worse) still neutralize his offensive successes (as good a year as he had with the bat, it was only worth 2.0 WAR). He's a good player, but the Mets have multiple options who could replace him at a cheaper cost in Herrera and Flores.
And if you're annoyed at the idea of trading a homegrown fan favorite, at least acknowledge what it could allow the Mets to do ...
Trade for a corner outfielder, sign a shortstop (or vice-versa)
The Mets' offensive needs are clear. They are also fillable, but you have to give up something (money, players and perhaps even a draft pick) to get something. The team has surpluses to deal with this if it maneuvers correctly.
Forget the likes of
Giancarlo Stanton
and
Troy Tulowitzki
. They're not coming. But there are other good options.
The first two calls the Mets should make this offseason are to the
Toronto Blue Jays
to inquire about trading for outfielder
Jose Bautista
and to the agent who represents playoff-bound
Baltimore Orioles
shortstop
J.J. Hardy
.
Obtaining Bautista would be a home run in many ways. He hits for power and provides a presence in the middle of the lineup. He's shown no signs of decline. He had the second-highest on-base percentage in the AL. And while he will turn 34, he is not over the hill.
He has a year and a team-friendly option, each at $14 million, and he can't veto a trade, since he's just shy of being a 10-and-5 player. (He's just short of 10 years of service time.)
Hardy is one of the better shortstops in baseball. He may not be a superstar, but he performs both offensively and defensively at a high level -- even though his power dropped a lot in 2014. Hardy has posted at least three Wins Above Replacement in each of the last four seasons. The only shortstop with more Wins Above Replacement than him in that span is Tulowitzki.
Convincing the Blue Jays to part with their face of the franchise will be an extraordinarily difficult task, considering they don't necessarily have a replacement lined up. That means the Mets have to overload the deal. Start with Wheeler and Murphy (the
Blue Jays admit to needing a second baseman
) and add the prospects (Brandon Nimmo and/or Kevin Plawecki, Steven Matz etc.) until GM Alex Anthopolous at least says "I'll think it over."
Getting Hardy will mean convincing a free agent that the Mets are a good fit. This will take both years and money. (We admit to having no idea, but three years and $33 million seems a good reference point.) It may also require the Mets forfeiting their first-round pick if the Orioles make Hardy a qualifying offer.
Yes, that's a lot to ask, but to it produces a lineup that looks like this:
Juan Lagares
, cf
Curtis Granderson
, lf
David Wright
, 3b
Bautista, rf
Duda, 1b
d'Arnaud, c
Hardy, ss
Herrera/Flores/E.Y. Jr., 2b
A bench that includes one of those unused infielders,
Kirk Nieuwenhuis
,
Matt den Dekker
and
Anthony Recker
.
With a starting rotation of Harvey,
Jacob deGrom
, Niese, Gee and Noah Syndergaard.
And a bullpen of
Jenrry Mejia
,
Jeurys Familia
,
Vic Black
,
Josh Edgin
,
Carlos Torres
,
Gonzalez Germen
, (eventually)
Bobby Parnell
and name that minor-league contract signee.
You have to pay the price.
Have a Plan 'B'
The Bautista-Hardy combo is going to be difficult to obtain. Backup plans require creativity, particularly in a weak free-agent market.
The best alternative we've been able to come up with at this point would be to construct similar (though less costly) deals to try to pry away
Yoenis Cespedes
from the Red Sox,
Jay Bruce
from the Reds or
Carlos Gonzalez
from the Rockies to play the outfield and sign
Hanley Ramirez
or
Jed Lowrie
, or sign
Nelson Cruz
or
Nick Markakis
and trade for
Starlin Castro
. Another way to go would be to trade for a high-end prospect (like Cubs shortstop Addison Russell), but that's both bold and risky.
Regardless, the goal needs to be to do better than you did in 2014, not rely on Rule V picks (remember
Brad Emaus
), signing the top minor-league free agent (
Greg Burke
), or rolling the dice on players well beyond their best seasons (
Chris Young
) to solve the problems.
Actions > Words
The Mets' slogan this offseason should simply be: "We're serious."
But that requires showing, rather than telling. It's one thing to say you're interested in the
Stephen Drew
's of the world. And admittedly, it's a good thing the Mets didn't sign him last winter.
It's another thing to do what it takes to get them.
You may not have liked the regimes of Steve Phillips or Omar Minaya -- mostly because of how they ended -- but one thing that those two did was: If they wanted someone, they did what it took to get them, whether it meant an extra few million dollars, or throwing in an extra prospect to close a deal. That's what the team across town does.
The bottom line from everything we have brought up is the Mets need to live up to the promise that 2015 is the year in which everything will come together. They need to be aggressive and smart and understand their fans will not be appeased by news of unproductive meetings taken with
Robinson Cano
's agent.
The opportunity is there for them to pounce and create a team that will flourish as the ones of the mid-1980s and late 2000s.
They seem to want to take advantage of it. But will they do so? We'll find out.