March, 31, 2015
Mar 31
8:05
AM PT
The second 10-day contract signed by guard
Jabari Brown
expired on Monday, so the
Los Angeles Lakers
need to let him go or offer a rest-of-season deal. Brown likely helped himself on Monday as he scored 22 points and dished out three assists against the
Philadelphia 76ers
.
March, 30, 2015
Mar 30
7:31
PM PT

By Baxter Holmes
ESPNLosAngeles.com
Archive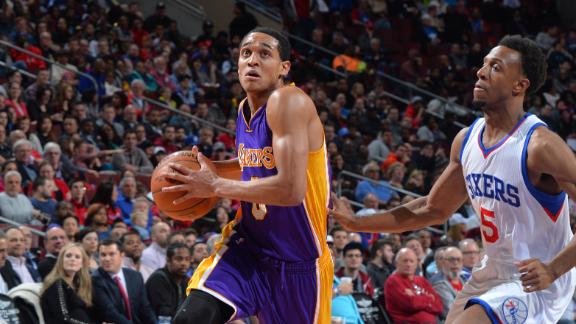 This issue came up last week, when the Los Angeles Lakers beat the Philadelphia 76ers at Staples Center in Los Angeles.
We wrote then that the Lakers' win could come back to haunt them if they end up losing their top-five protected 2015 first-round pick to -- who else? -- the 76ers.
And now, a week later, here we are again.
The Lakers beat the 76ers Monday in Philadelphia, posting a 113-111 overtime road win behind a huge game from rookie point guard Jordan Clarkson (26 points, 11 assists).
However, as was the case last week, it could end up being a costly Lakers win.
For a while now, both the Lakers and 76ers have been contending for the league's third-worst record -- and if the Lakers had finished the regular season in that spot, they'd have had a very strong chance (96 percent) of retaining their top-five pick.
However, after beating the 76ers twice in two weeks, it appears the 20-53 Lakers will finish the regular season with the league's fourth-worst record, meaning they'll have an 82.8 percent chance of retaining that pick.
And as the fine folks at ESPN Stats & Information pointed out, recent history says not to be too confident the Lakers will keep the pick should they enter the lottery in that fourth spot, even though 82.8 percent seems like a solid figure.
Over the past five years, teams that had a pre-lottery position of fourth dropped to sixth on two occasions: the Golden Warriors in 2010 and Washington Wizards in 2011.
In other words, there's a realistic chance the worst season in Lakers franchise history doesn't result in the only possible reward such a season could have brought them -- a top lottery pick and the promising young player who comes with it.
Instead, with their wins over the 76ers in the past two weeks, the Lakers could end up losing that pick to a franchise that's much better at losing when it needs to lose.
March, 30, 2015
Mar 30
7:12
PM PT
Associated Press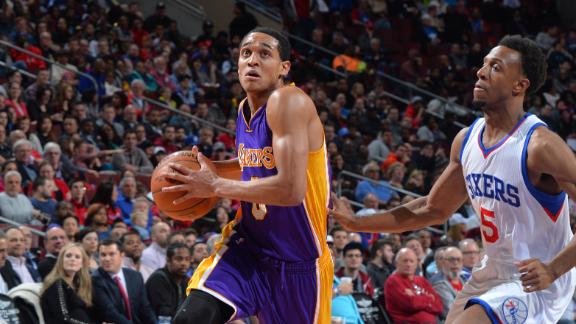 PHILADELPHIA -- Jordan Clarkson scored 26 points and made the tiebreaking basket with 0.7 seconds left in overtime to lift the Los Angeles Lakers past the Philadelphia 76ers, 113-111 on Monday night in a matchup of two of the NBA's worst teams.
Jabari Brown finished with 22 points for the Lakers (20-53). Wayne Ellington added seven of his 20 points in OT, including a 3-pointer that put the Lakers up 111-105 with 1:25 left.
Rookie Nerlens Noel led the 76ers (18-57) with 19 points and 14 rebounds for his ninth double-double of the month. He scored six points in the final minute of overtime to tie the game at 111.
March, 30, 2015
Mar 30
8:23
AM PT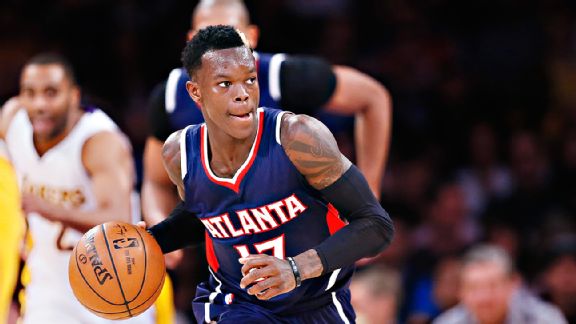 AP Photo/Danny MoloshokDennis Schroder should see more playing time with the Hawks locked in as the No. 1 seed.
April is almost always the most difficult month to project in fantasy basketball as youth movements and shutdowns go into full effect in the last few weeks of the season. Teams that are locked into the postseason may give their star players some extra rest to help keep them fresh for the playoff run. These scenarios can be awfully frustrating (particularly in head-to-head leagues), but they also create incredible opportunities to find unheralded breakout players. Conversely, teams that are out of playoff contention will often decide to give their younger players more playing time in the season's final frame as they look to evaluate talent for next season, although I should note that teams like the New York Knicks, Philadelphia 76ers, Los Angeles Lakers and Minnesota Timberwolves have been in tank mode for quite some time already.
March, 30, 2015
Mar 30
6:40
AM PT
By
Chris Paul -- as told to Arash Markazi
| ESPN The Magazine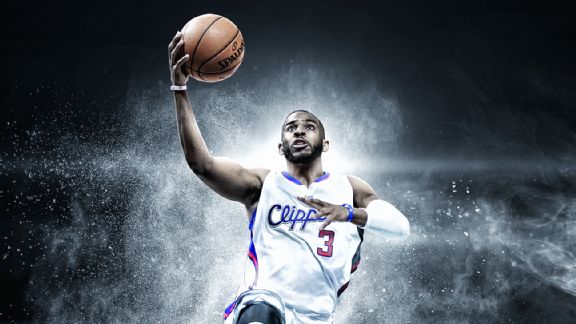 Photo illustration by Richard Roberts/Jae.C.Hong/AP ImagesESPN's NBA Forecast panel named the Clippers' Paul the best PG in the game.
This story appears in ESPN The Magazine's April 13 Point Guard Issue. Subscribe today!
The Ranking of the Guard

Overall Score

9.09

Leadership

9.29

Average: 6.10

Rank: 1st

Defense

8.42

Average: 5.93


Rank: 1st

Passing/Playmaking

9.61

Average: 6.80


Rank: 1st

Shooting/Scoring

8.77

Average: 6.65


Rank: 5th
I'M LIKE A maniac when it comes to basketball. I watch so much basketball. I just watch it and study it all the time. When we're on the road, I'm always on Synergy or YouTube, religiously, watching our games and all the shots I took. When I'm at home, I'll watch games on my iPad. They constantly update it for me, with every shot I've taken this season. A lot of times, I'll have someone drive me to the game so I can watch game film -- and so I don't get too mad about the traffic. From the time I get into the car until I arrive at the arena, my mind is always on the game.
When the game starts, that's when I become a different person. I "click out" during the jump ball. I have a lot of friends in the league, but they know: The moment that ball goes up, I'm different. On the court, I'm playing, so I'm more intense. It's like a different world. I'm going to do anything I have to do to win. It's a mindset.
March, 29, 2015
Mar 29
3:00
PM PT
Associated Press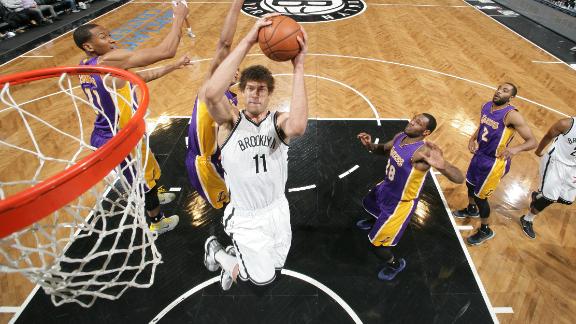 NEW YORK -- Brook Lopez had 30 points and 11 rebounds, and the Brooklyn Nets kept up their playoff push by beating the Los Angeles Lakers 107-99 on Sunday for their third straight victory.
Joe Johnson added 18 points, eight rebounds and seven assists for the Nets, who entered play a half-game behind Boston for eighth place in the Eastern Conference. The Celtics hosted the Los Angeles Clippers later Sunday.
Brooklyn won for the fifth time in six games to give itself a chance at a third straight postseason berth after an underwhelming first half of the season.
The schedule is favorable for a late-season run, with the Nets two games into a stretch that sees them play seven of nine at home -- with another just across the river at the league-worst Knicks.
Reserve Jordan Hill had 22 points and 16 rebounds for the Lakers.
March, 29, 2015
Mar 29
12:26
PM PT

With Steve Nash announcing his retirement, we're down to only 12 active NBA players who were drafted in the previous millennium.

March, 29, 2015
Mar 29
3:26
PM PT

By Marc Stein
ESPNLosAngeles.com
Archive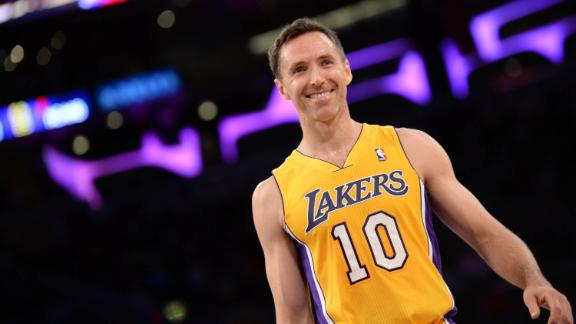 We've had a week to digest the official retirement of future Hall of Fame point guard Steve Nash.
Which means we've also had a week to digest how small the pool of players who were drafted in the 1990s is getting.
We're down to 12 active NBA players, in fact, who were drafted in the previous millennium. According to the list compiled by ESPN.com's tireless Adam Reisinger:
1995: Kevin Garnett (No. 5 overall pick)

1996: Kobe Bryant (No. 13)

1997: Tim Duncan (No. 1)

1998: Vince Carter (No. 5), Dirk Nowitzki (9), Paul Pierce (10), Nazr Mohammed (29)

1999: Elton Brand (No. 1), Andre Miller (8), Shawn Marion (9), Jason Terry (10), Manu Ginobili, (57)
You'll note that the three most-tenured players on this list can be found today with their original teams, although KG's circumstances are obviously different from Kobe's and Timmy's. While Bryant and Duncan, like Nowitzki, have played for only one franchise throughout their entire careers, Garnett took a detour from Minnesota of nearly eight years before the Timberwolves reacquired him in February on trade deadline day.
There are five current players in the NBA, meanwhile, who were born after Garnett was drafted. They are: Dante Exum, James Young, Noah Vonleh, Aaron Gordon and Bruno Caboclo.
And there are two players in the top 20 of Chad Ford's Big Board for 2015 -- Devin Booker and Malik Pope -- were born after Kobe and Nash were drafted in 1996.